**This post contains affiliate links. All opinions and recommendations are wholeheartedly my own.
If you follow All Mimsy Home on Facebook or Instagram, you know we are completing our own Office Makeover in between client designs, teen carpools, shoulder surgery recovery (Fireman's, not mine), dinner prep, and moose hunting.
You will understand, then, if the process develops in stages. 🙂
I'll show you Before pics first, then move on to our design for this space.
The first photo (a low quality phone image) is how our office looked for the last few years. Cozy, yet dark.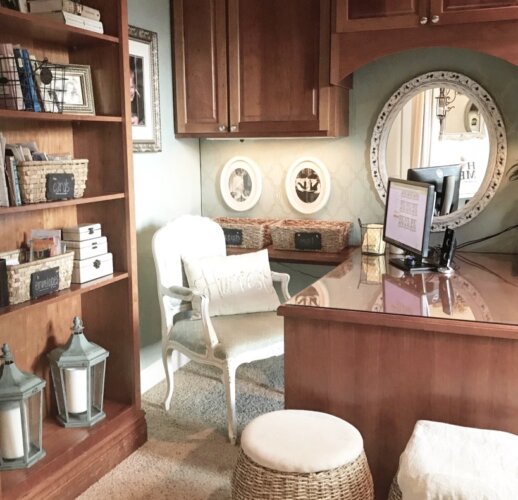 A couple things to note:
The large bookshelf on the left swings outward to reveal a "secret room" in which the previous owner stored hunting gear and guns (we do live in Alaska, after all).
The room is carpeted.
The desk sports a full support panel on the end instead of actual legs.
It's hard to see, but the back wall is stenciled by yours truly with a gold paint pen…a very rewarding, subtle DIY from years ago.
The next photo shows the room after new flooring was installed last year (Home Depot's Winterton Oak), the large bookshelf on the left wall was removed to transform the secret room into a much-needed pantry, and the walls were painted Sherwin Williams Silvermist.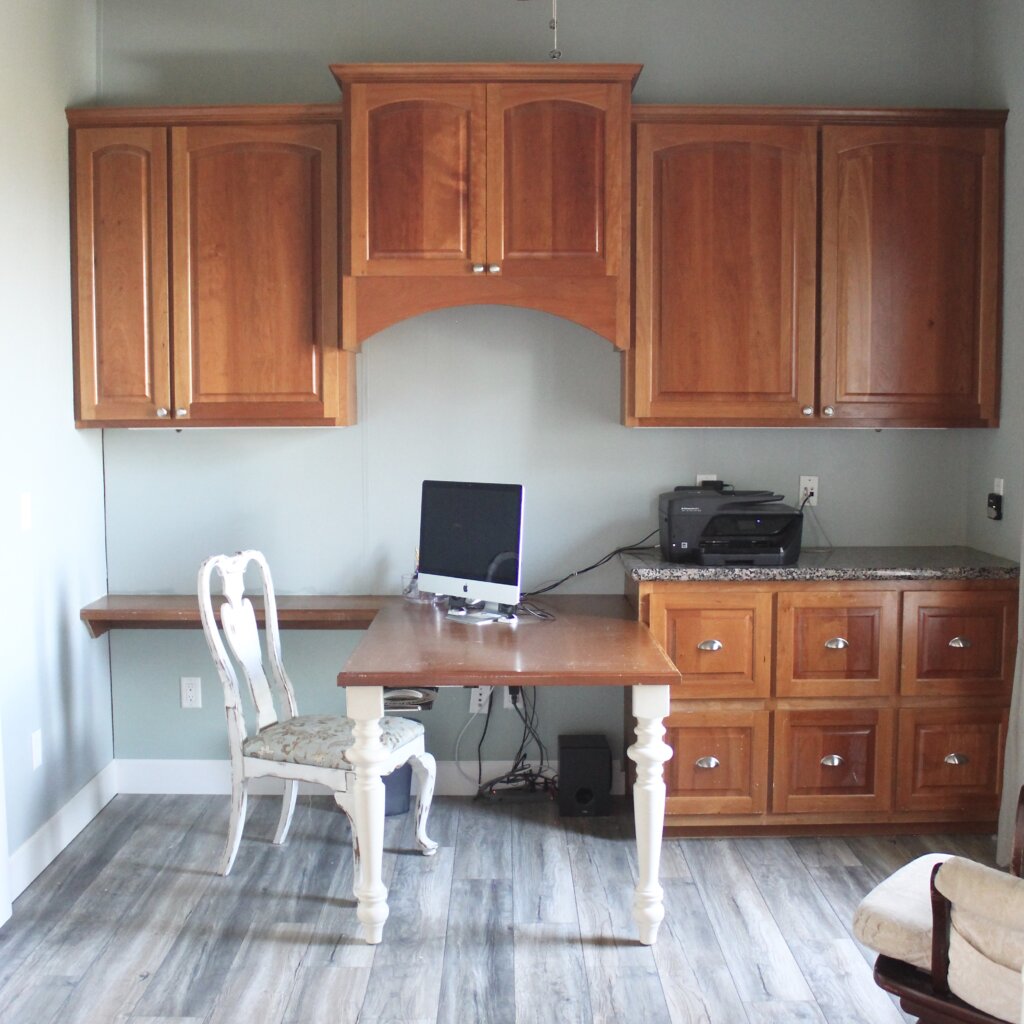 The room's north-facing window ushers in natural light, a welcome blessing during Alaska's long, dark winters.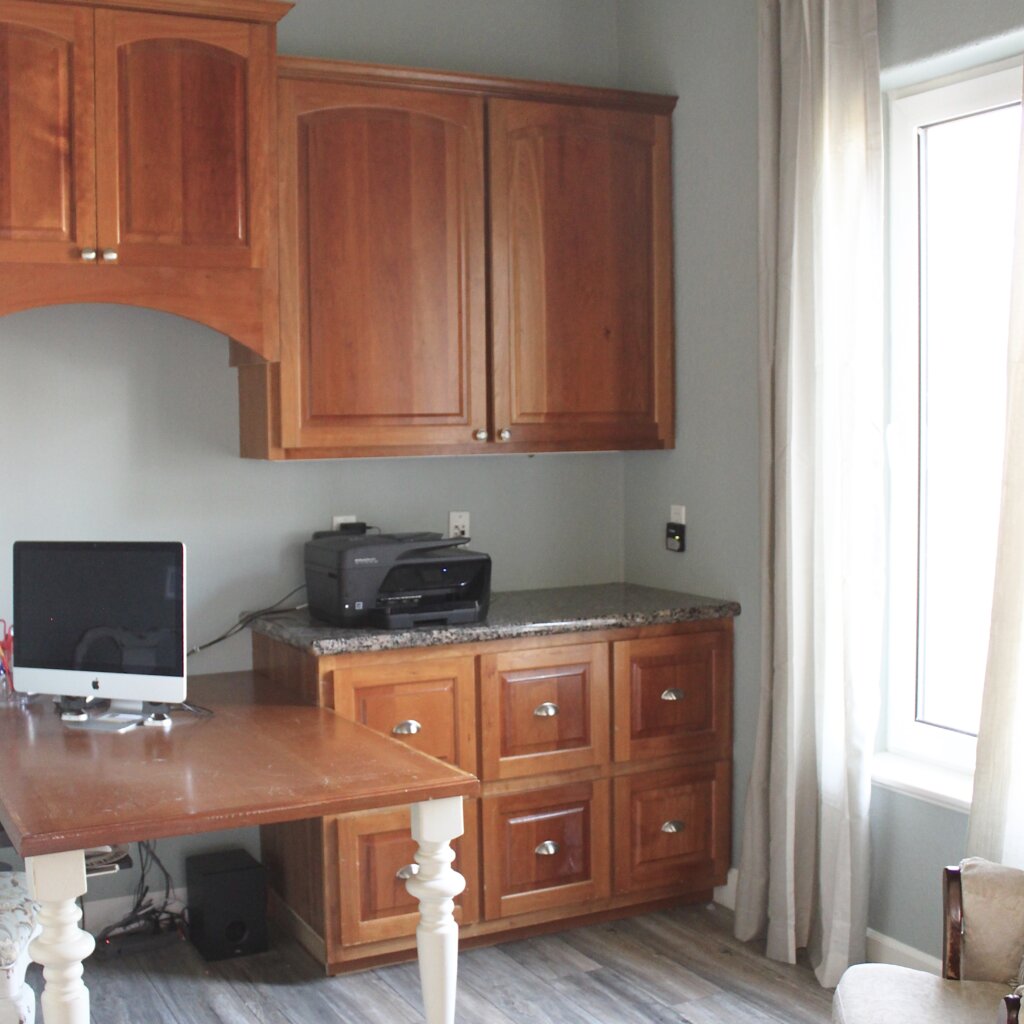 Although this office is a highly functional space with lots of built-in storage, the orange-tone cabinetry is not our first choice. And like the cabinetry in our kitchen, the finish was not holding up well either.
So, of course, what's a painting girl like me girl to do? You know I'll be painting those cabinets. And as with any room design, one inspiration leads to another…which leads to another.
What truly pushed my designing heart (and prompted us to dive in to this project) was this chinoiserie wallpaper I discovered online a few weeks back (and later learned I could purchase the exact same wallpaper on Amazon for less than half the price!)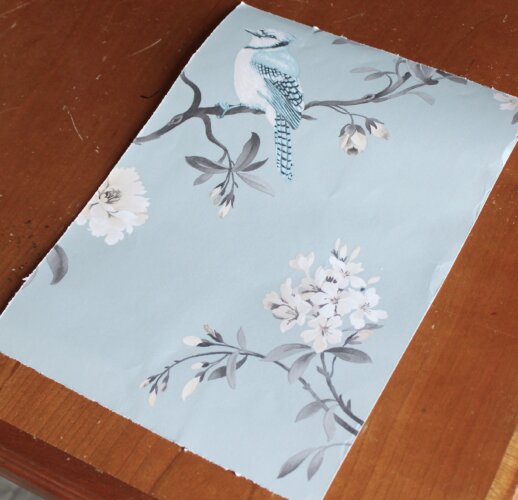 With gorgeous wallpaper on order and painted cabinets on my to-do list, I sat down and designed this Inspiration Board for our office.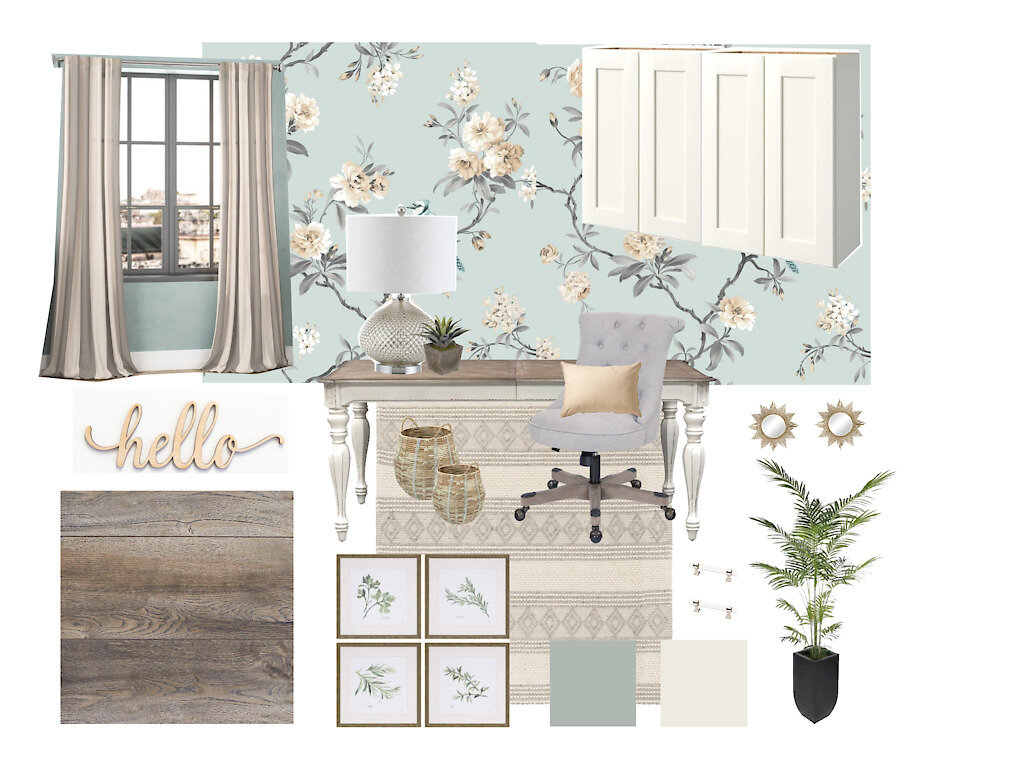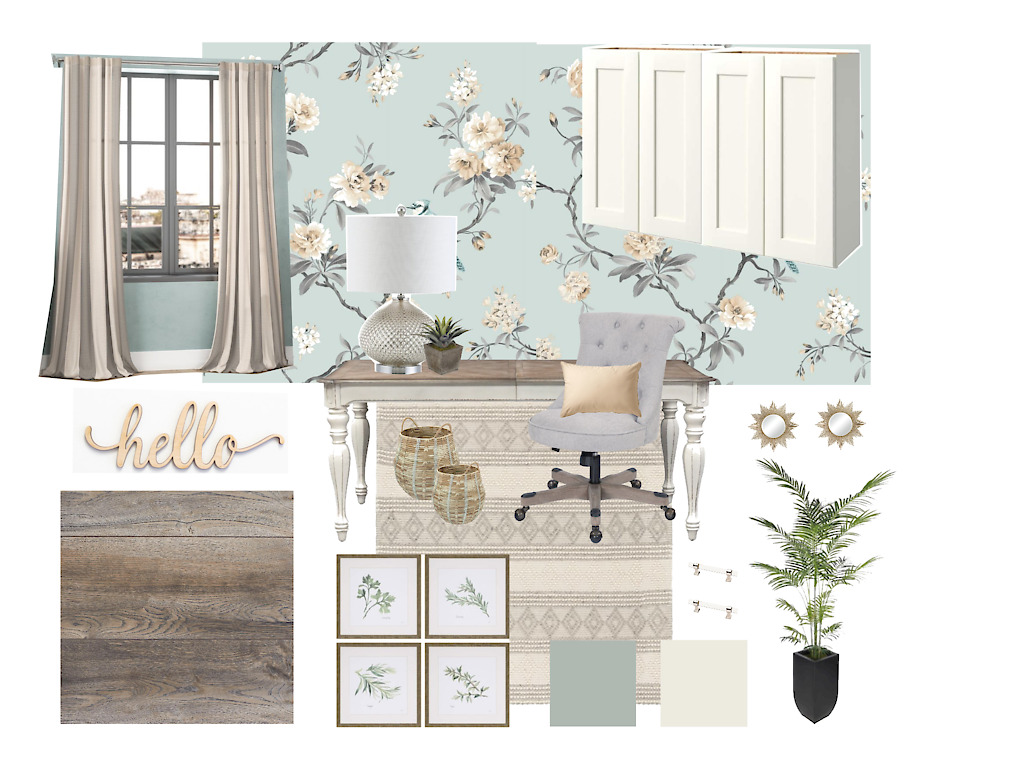 So here is our Project Checklist and the tasks we've completed so far:
Replace flooring
Repaint walls SW Silvermist
Add sliding barn door to hide pantry
Paint cabinets, drawers, and desk legs SW Creamy
Dry-brush desktops
Install new hardware
Order and hang new curtain panels
Hang wallpaper
Purchase new desk chair
Add decor, office organizers, and accessories.
We are so close to the finish line!
Just last week I finally broke down and ordered this beautiful (and functional) Desk Organizer. It is definitely more expensive than I planned, but after re-assessing our desktop storage needs given that our desk has no drawers, I kept returning to this Organizer again and again.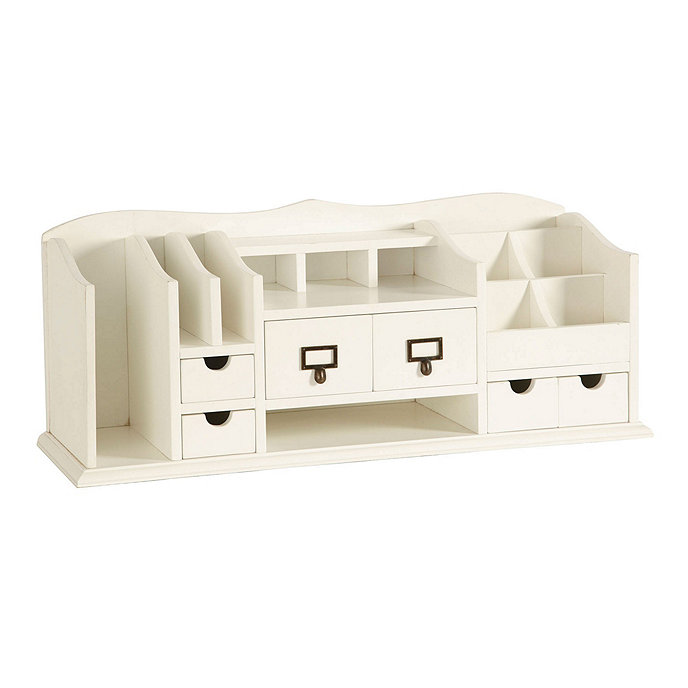 I researched numerous other options and simply could not find a comparable product this pretty anywhere else. (Plus, Ballard Designs was running a 30% Off Everything on their site, which helped me take the leap.)
So there it is: A Room, a Plan, and a Checklist. We are so excited about finishing up our Office Makeover, making it both functional and pretty at the same time.
Jaimee