One of the most daunting projects on my Sixteen Days of Getting my House in Order was painting the kitchen cabinets.  I finished this week-long project early to mid October, so we've been living with white cabinetry for six weeks now.
My overall six-week-in evaluation?  I cannot believe the difference white cabinetry has made in this space.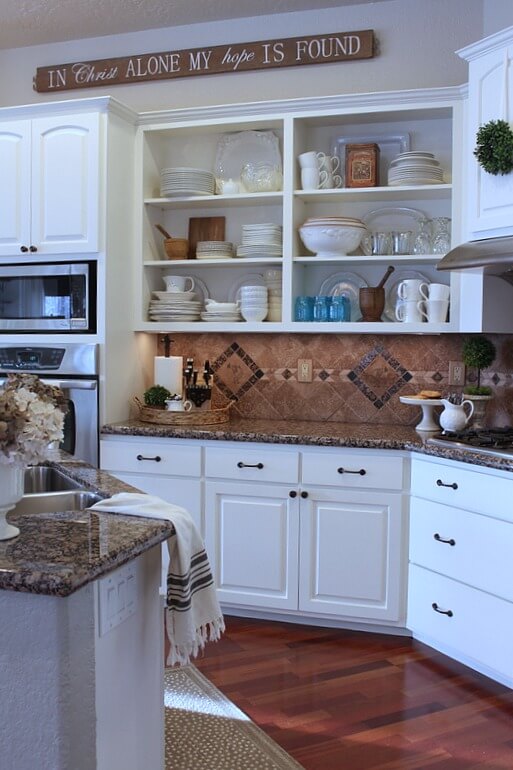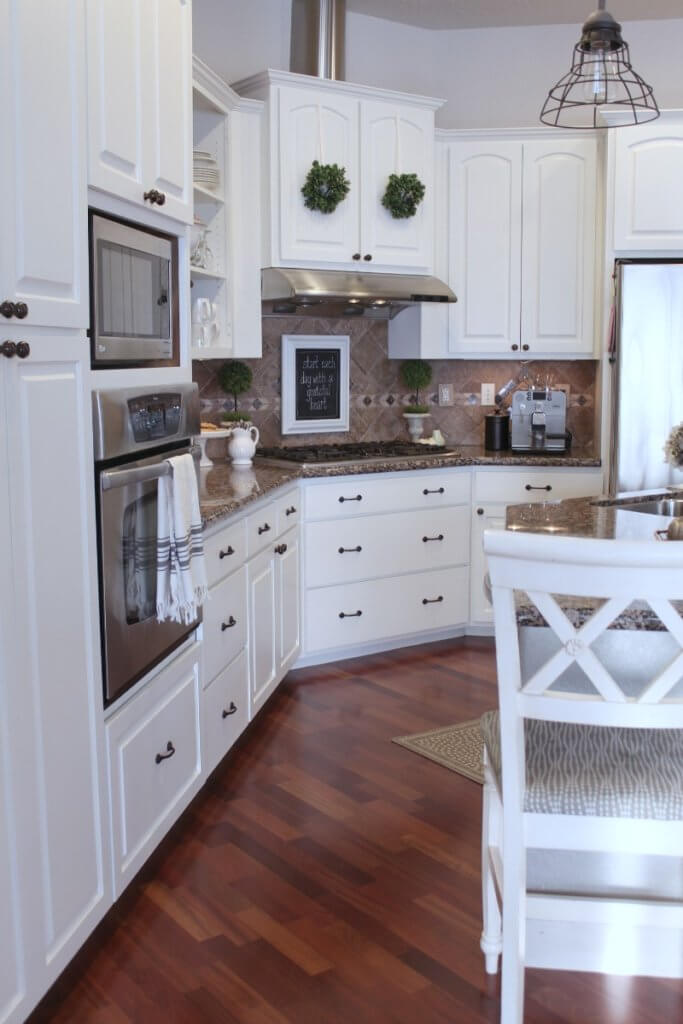 I thought I would share more details about my process in this post, and also give an update on how the paint is holding up in our busy family kitchen.
First of all, there were a lot of beautiful things about the original kitchen, specifically the warm tones of the wood stain and the textured travertine backsplash.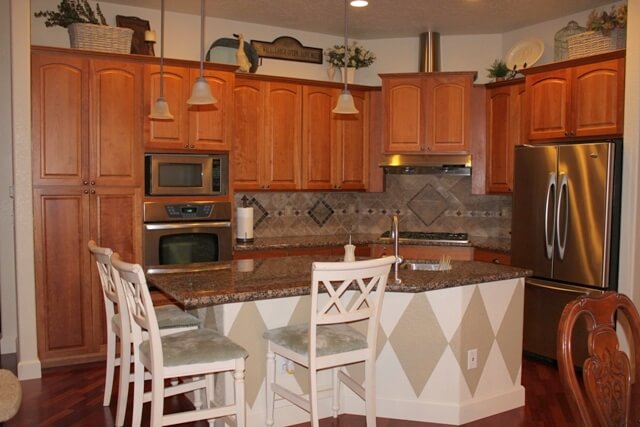 However, as we've worked to make this home more our style, the dark colors in the kitchen began to clash more and more with the brighter, whiter spaces we were developing in the remainder of the house.  (Plus, although you can't see them well, the kokopellis featured in the backsplash ~ did you know these little hump-backed flute players are fertility deities in Native American cultures?? ~ are not really my first choice.  Cute, yes.  But in tile?  In my kitchen?  Not so much.)
Another reason for making the change was that the finish applied to the original cabinets was wearing badly on the lower cabinetry, and it was in such bad condition I cringed every time I looked at it.  Which was numerous times every day.
Finally, with Fireman out of town and my inspiration surging, I dove in on a Monday evening to remove all the drawers and cabinet doors so I could start painting on Tuesday.
This task alone took me two hours.  I used a DeWalt drill, labeled all the hinges and cupboard doors/drawers with masking tape, and hauled everything down to the garage (I wrote the cupboard/drawer contents on the tape, like coffee, cereal, bowls, etc since I'd recently reorganized our kitchen and was happy with the placement of things).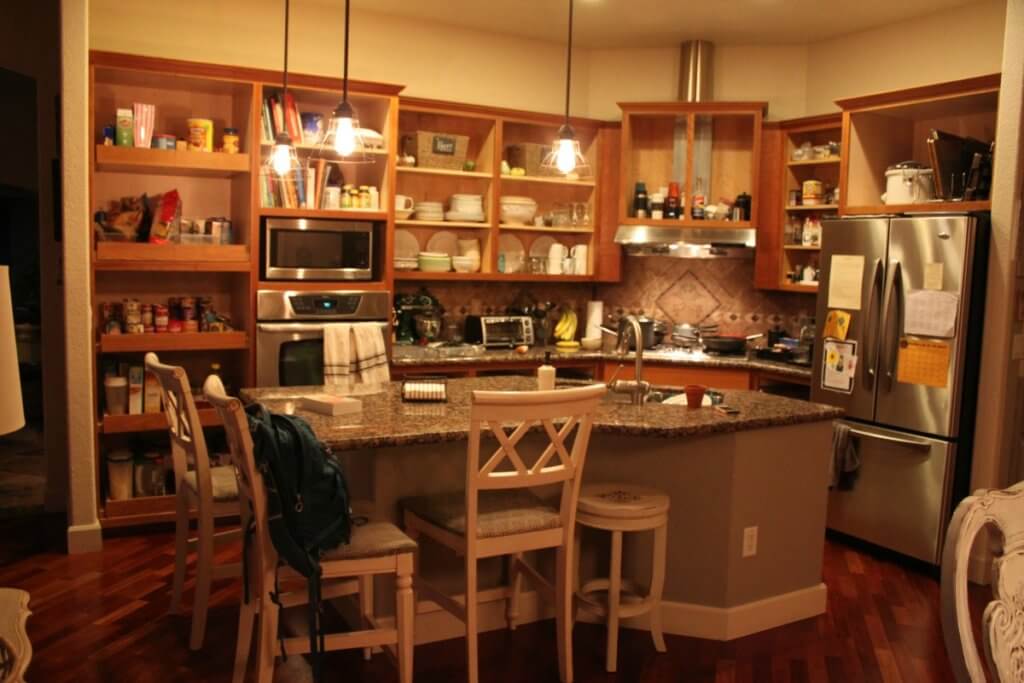 I began with the drawer fronts, sanding with a handheld mouse sander, and then applied a coat of primer.  I used Sherwin Williams PrepRite.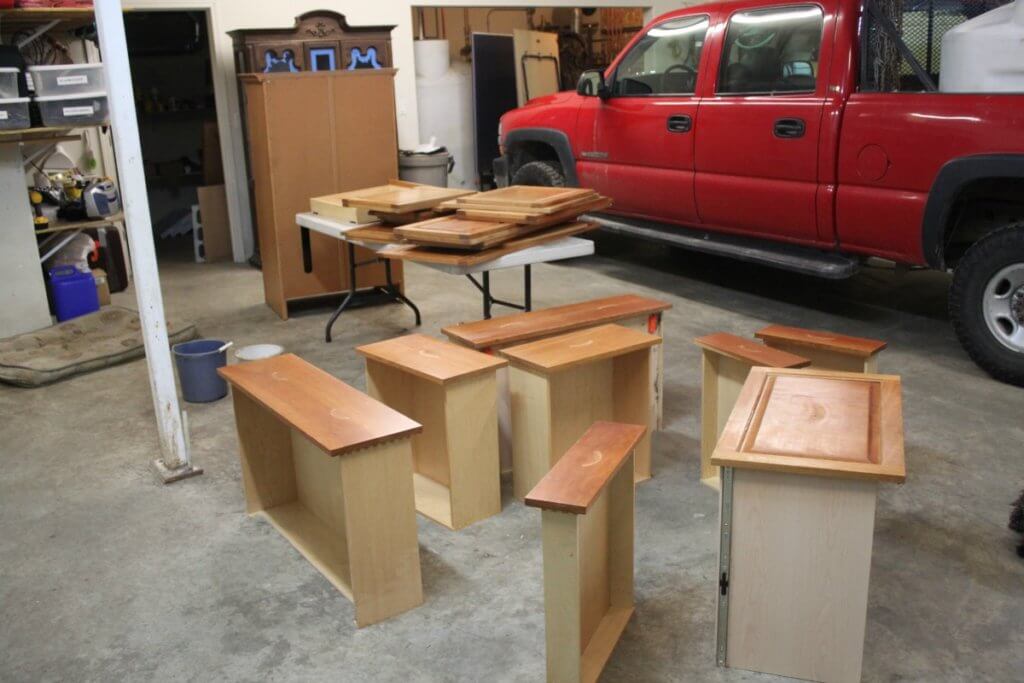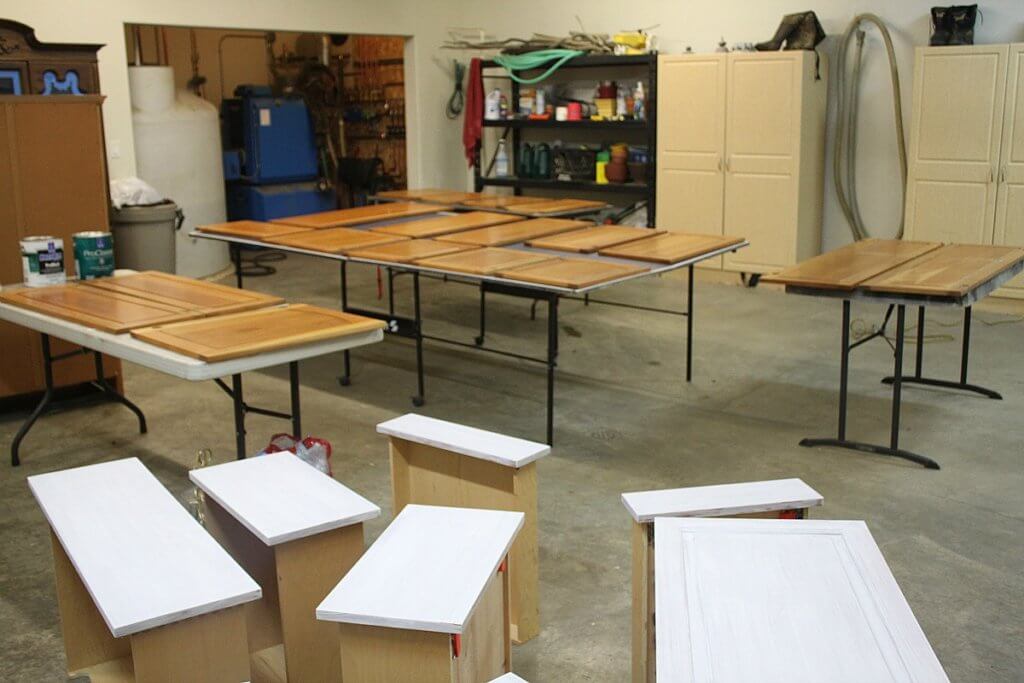 I let the primer dry over night, then applied a coat of Sherwin Williams Pro Classic Creamy, in Satin finish.  I used a brush on the drawer fronts simply because I hadn't decided if I was going to roll or spray the cabinet doors yet.
Plus, I was very excited to see what the Creamy color looked like in the kitchen, and drawers were a quick way to view results!
Next, I laid out the cabinet doors on any space I had available.  By this point, I had decided to brush AND roll the cabinetry all by hand.  I had a couple reasons for doing this.  One, I have never used a sprayer and was nervous to experiment on my highly visible cabinetry.  Two, I've painted so much furniture over the years, I trusted myself to do a quality job.  My last consideration was that ProClassic paint is a self-leveling paint, which naturally minimizes brush-strokes and roller dimples as it dries.  This leads to a beautiful spray-like finish.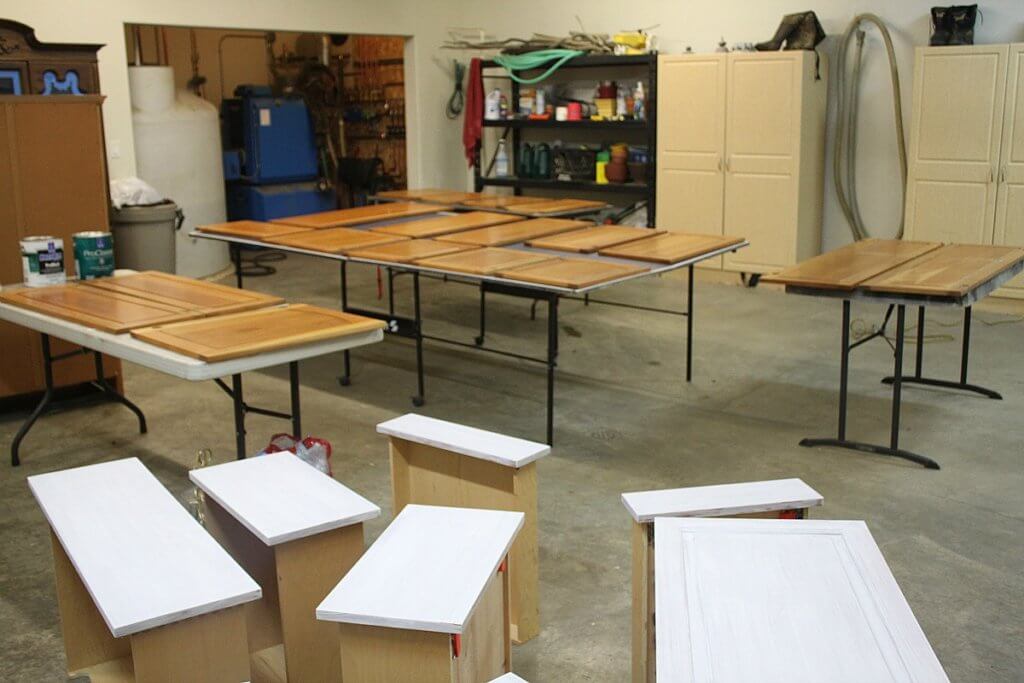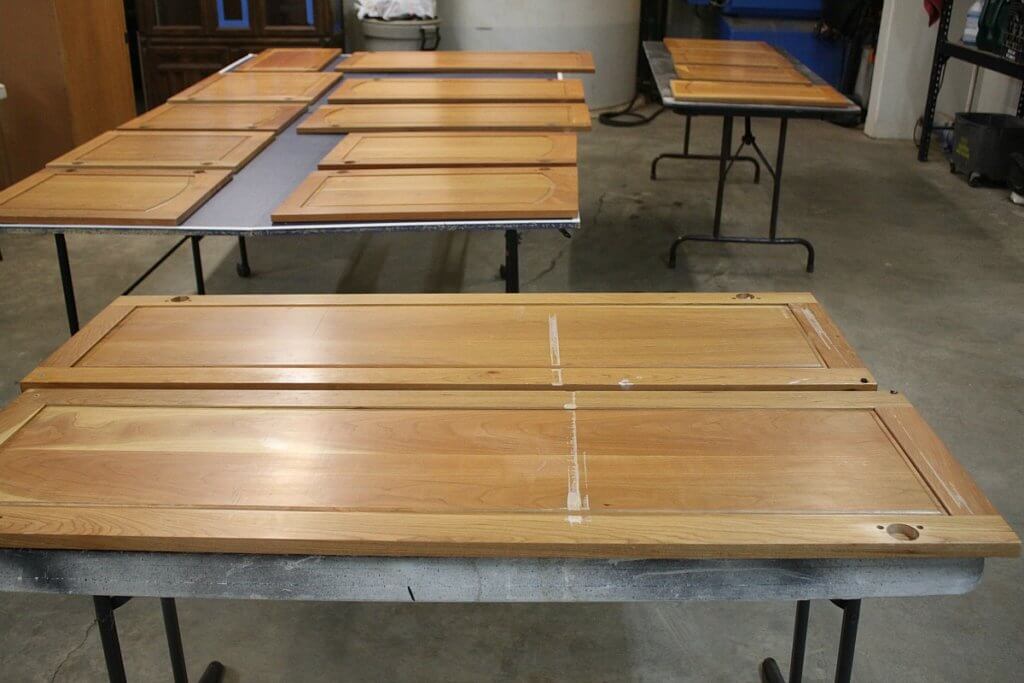 I won't lie…sanding all these cabinet doors took a long time.  I put on my mask and simply walked around the tables sanding everything with my mouse sander.  Because the finish was wearing off on so many of my cabinets, I didn't have to sand long and hard on them, but it was still time consuming. I sanded both sides since I planned to paint both sides.  I would guess, in all, the sanding took about two hours.
Next, it was time to apply primer.  I used a brush in all the grooved/detailed areas, then rolled out the flat areas, taking care to blend the brush application with the roller.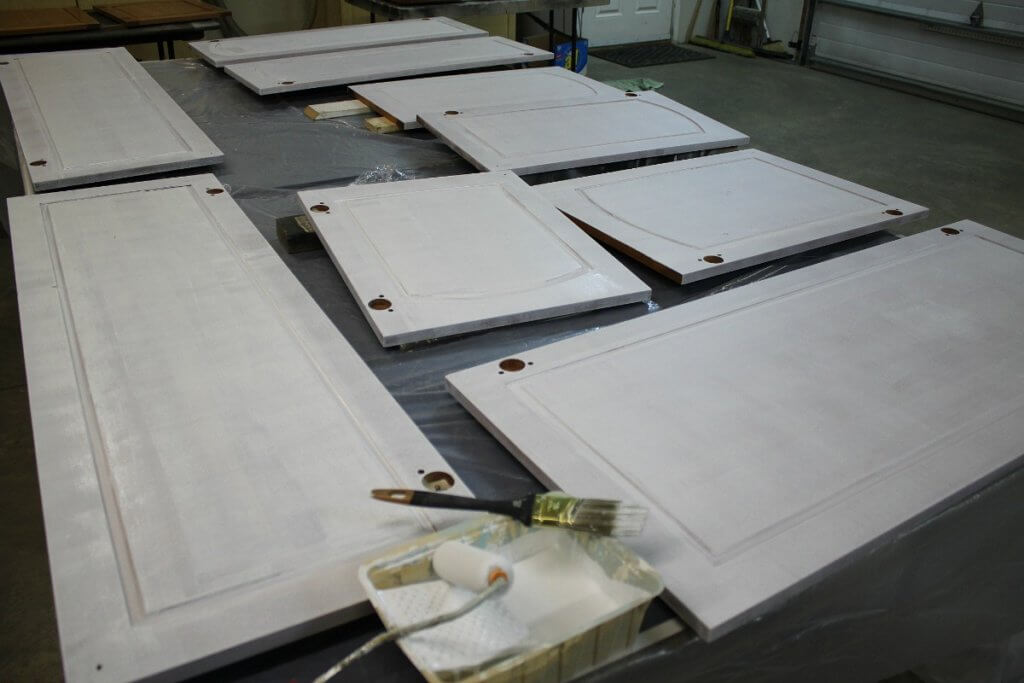 I let the primer dry for the day, then turned all the cabinet doors over and primed the other side that evening.  Each coat took me one hour for all the cabinet doors, so I've now completed two hours of actual painting.
(Note: I planned application so the "finish" coat was always the front of the cabinetry.  Using cuts of short 2×4's underneath the doors, I tried to be careful not to mar the primer and paint as I turned them over, but there was a very little bit of scuffing I had to sand out and touch up when all was said and done. They make dandy little yellow supports for jobs like this at Home Depot, and I think I have eight of those things around somewhere, but we're pretty Old School around here and wood is always aplenty.)
By the next day, the doors were ready for the first coat of Creamy paint.  Again, one coat on all the doors took an hour.  I let the first coat dry at least 6 hours, then flipped them over and painted the other side.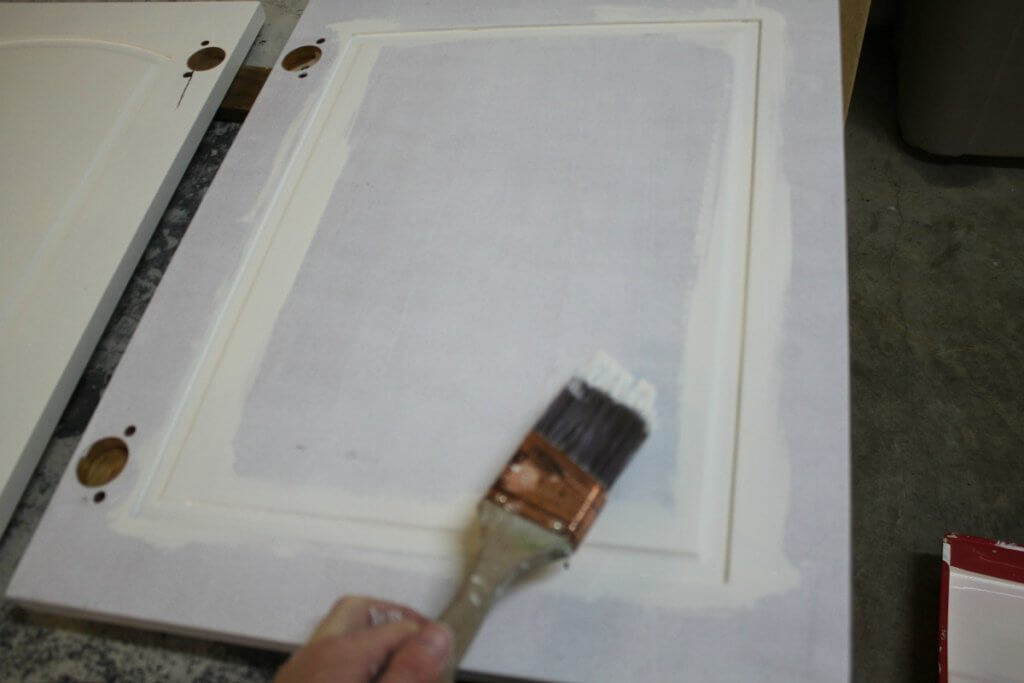 My paint brush is fuzzy in this photo, but you can see here how I painted in the grooves first.
For the second coat, I again flipped all the doors to the "inside" of the door (the one you wouldn't see when installed) and applied the last coat of paint.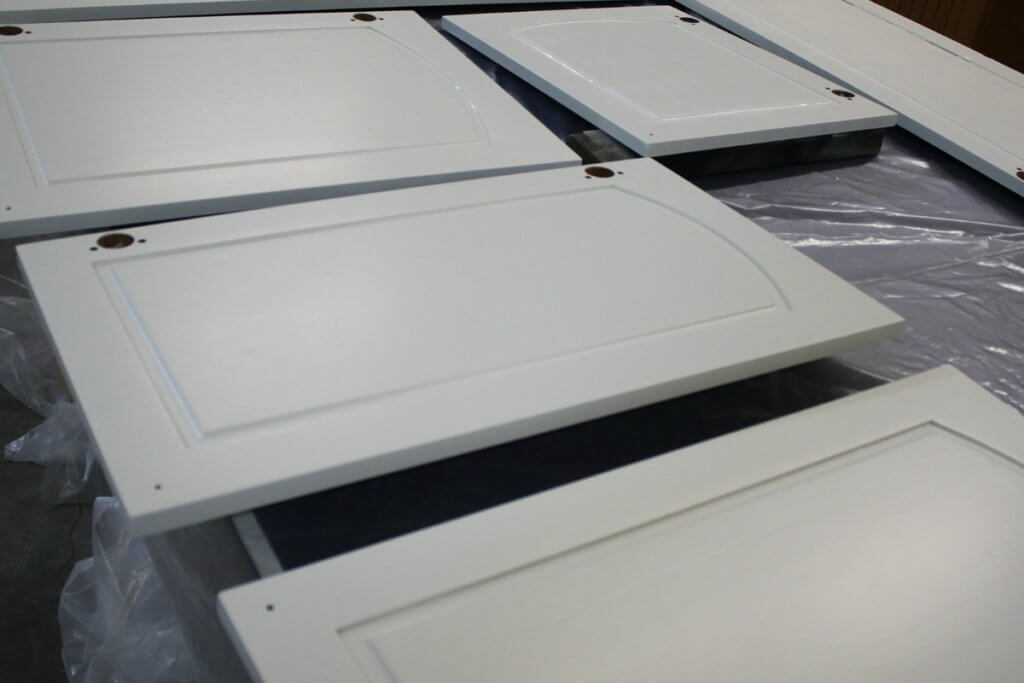 I let this last coat dry at least six hours, then flipped them and painted the final coat on the fronts of the doors.  At this point, I was downright giddy with how the finish was looking!
Now, as a furniture painter, I know it can take up to 30 days for paint to cure.  As excited as I was to get my cabinetry reinstalled in the kitchen, I knew it was in our best interest to wait an extra day or two to get the paint as dry as we could manage before attempting to hang them back up. I believe we waited two days before reinstalling.
And oh, how fun that was 🙂
I was so busy sorting out hinges and screws and holding cabinet doors level for Fireman and reinstalling hardware I didn't even have time to snap pictures of this process.
So I waited until we were done ~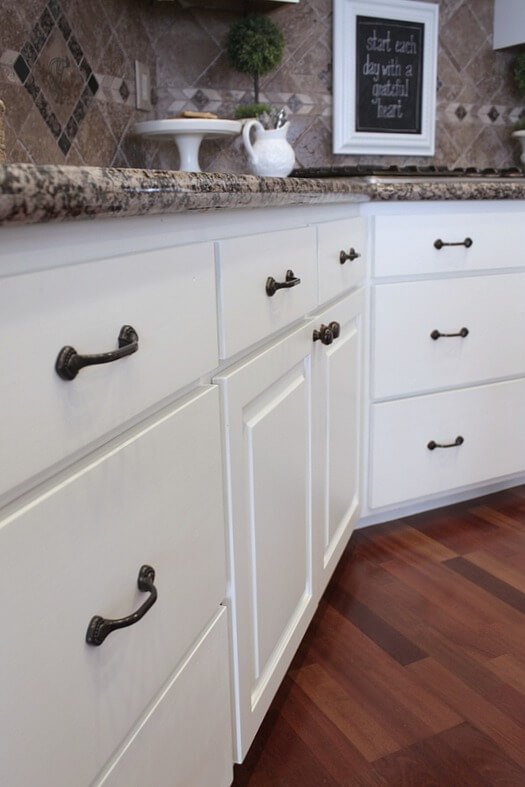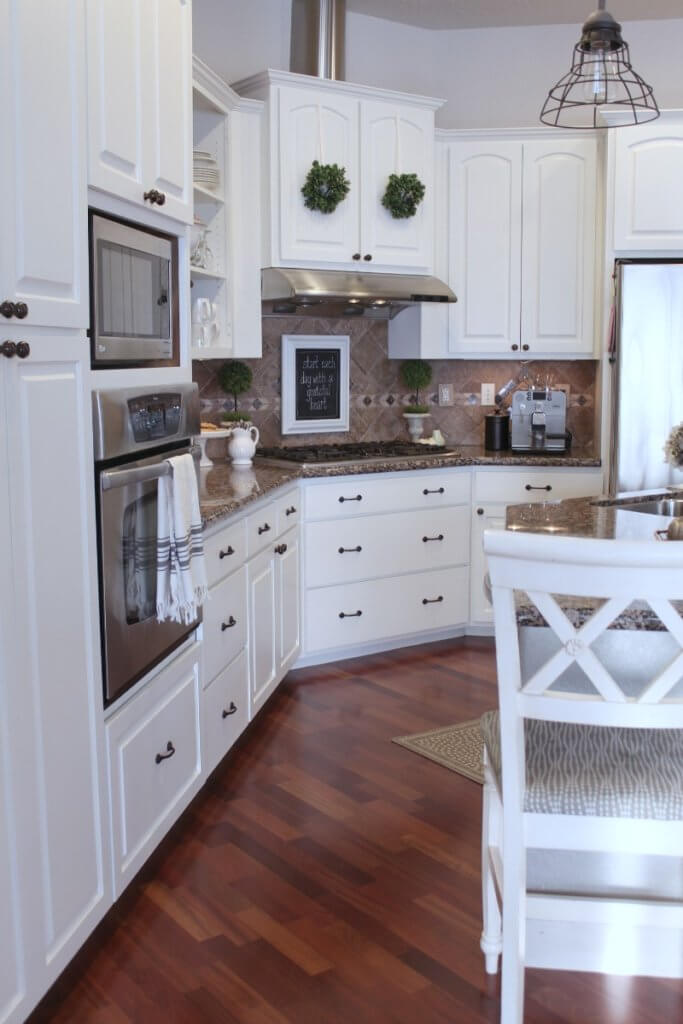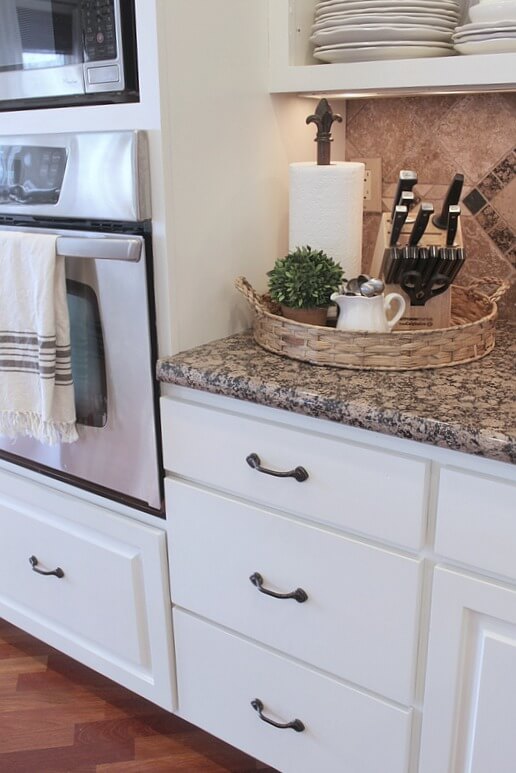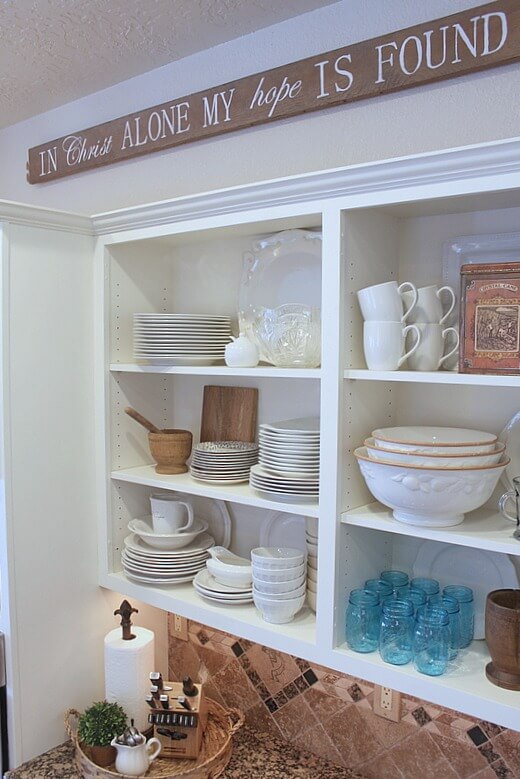 I still love it each and every day!
We already had bronze knobs for our cabinet doors, but ended up having to fill the original drawer holes and drill new ones to replace the handles.  I love the vintage look of the beaded edges.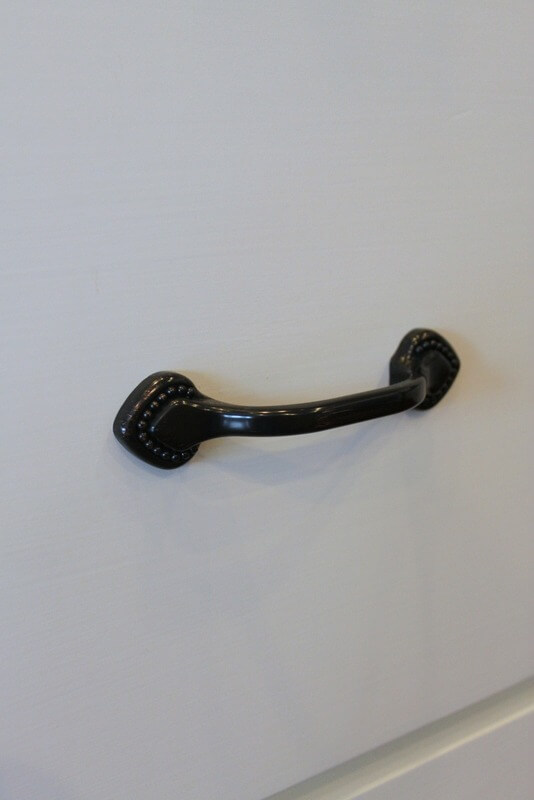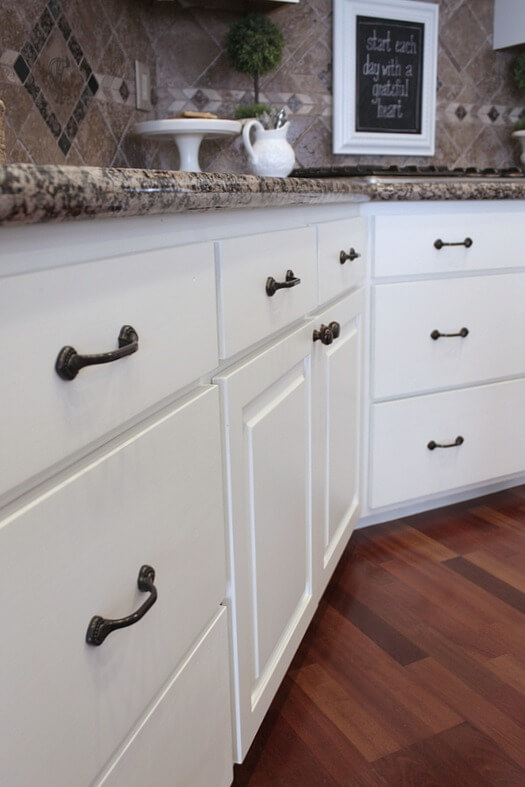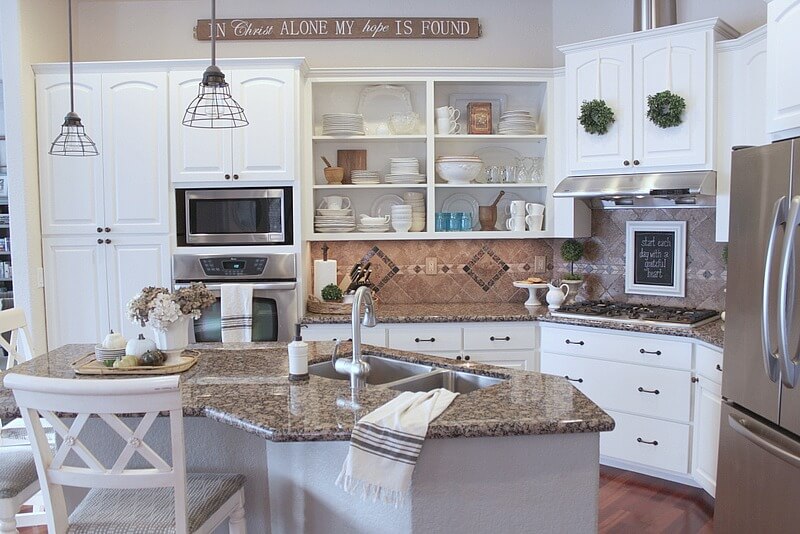 I gave special instructions to everyone in the family to please be extra careful with the cabinets for the next 30 days...but you know what?  They've held up beautifully!  My three kids are very active participants in food prep, cooking, and cleaning, so this area gets its crazy fair share of activity every day, but this painted cabinetry is working hard right along with us.
We did have minimal chipping around the knob to the undersink cabinet door, but this is where we keep our trash and that door is opened hundreds of times a day.  Just yesterday, I lightly sanded it and touched it up with more paint.
Which brings me to a finish coat.  You'll notice I didn't apply a polyurethane or wax finish coat, and some may think I'm crazy for not.  However, I am such a firm believer in the ProClassic paint, and its enamal-like finish once cured, I believe it's enough of a protective coat in itself.  Also, I wanted the freedom to touch up any chip spots as we progress through our daily lives, and not having to work around a polyurethane makes this option easier.
That said, we are six weeks in and the paint is holding up beautifully.  Even better than I expected.  I absolutely love it.
Total sanding, priming, and painting for all drawers and cabinets took eight hours, but the drying time in between each coat is what makes the process drag out for a week or more.  Worth it?  Absolutely.
Now my Christmas wish is for Santa to bring me a new tile backsplash….minus the kokopellis ~