This post has been a long time coming, ya'll.
As anyone with a large family can attest, trying to finish anything in one's house takes mighty acts of willpower, self discipline, and mom's authority to kick kids out of a room now and then.
Gently, of course.
Throw in a COVID-19 quarantine and the difficulty multiplies tenfold.
However. In this Rustic Boho Family Room we land, and I'm officially calling this room complete.
Is it complete? Well, no….but who, truly, gets to decide whether or not a room is complete? For all intents and purposes, our Rustic Boho Family Room is as complete as it's going to get.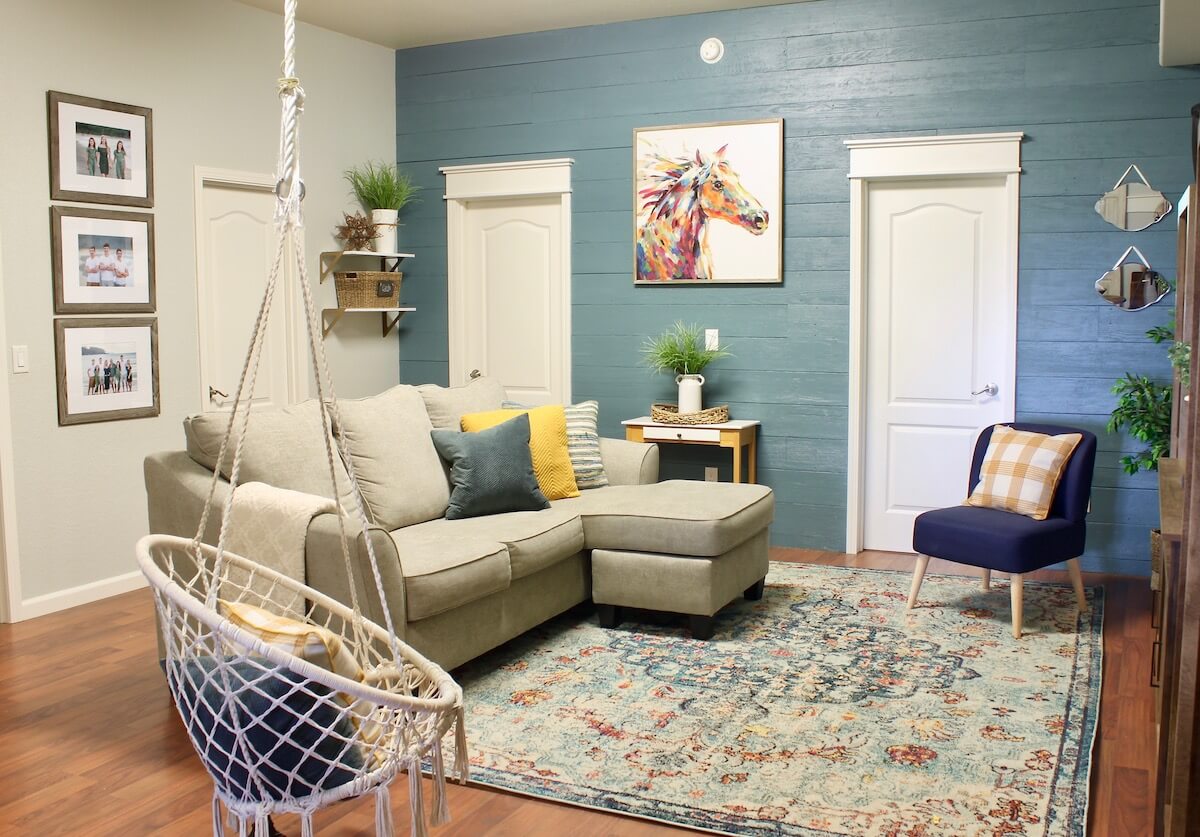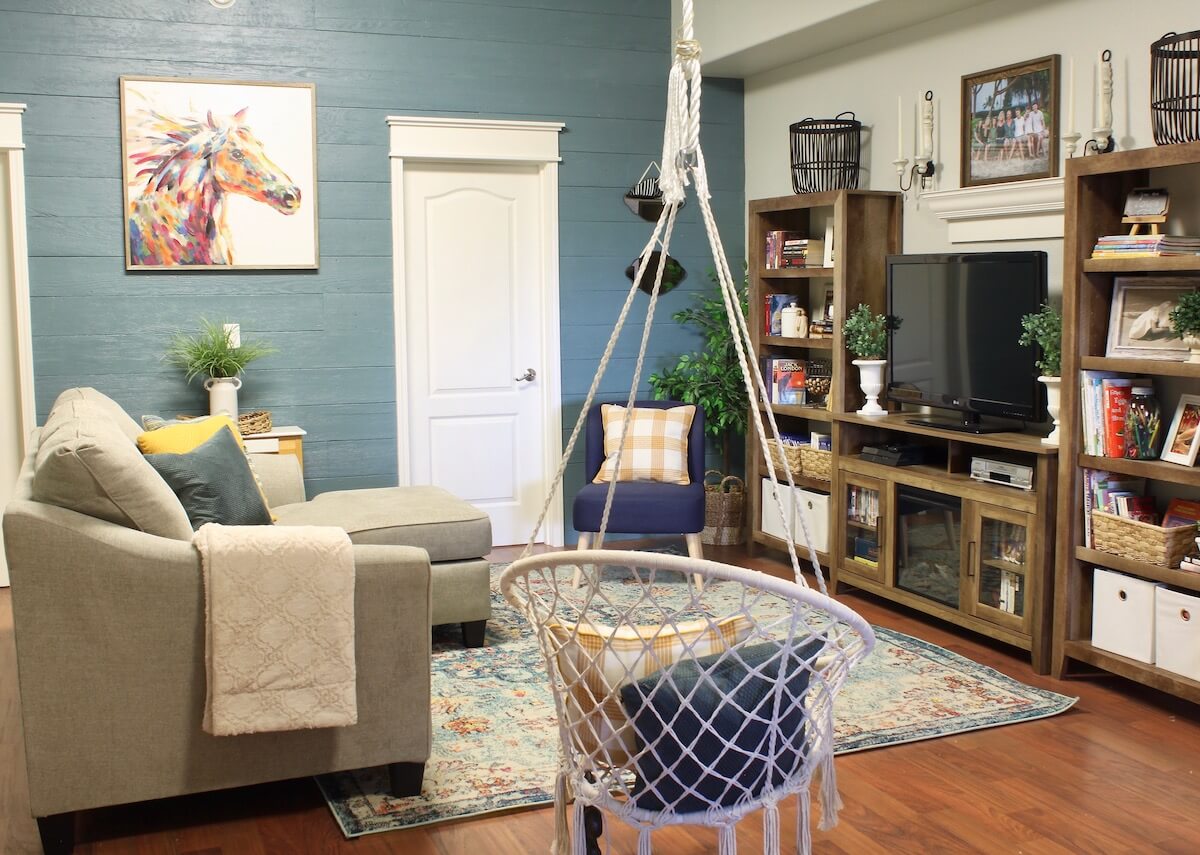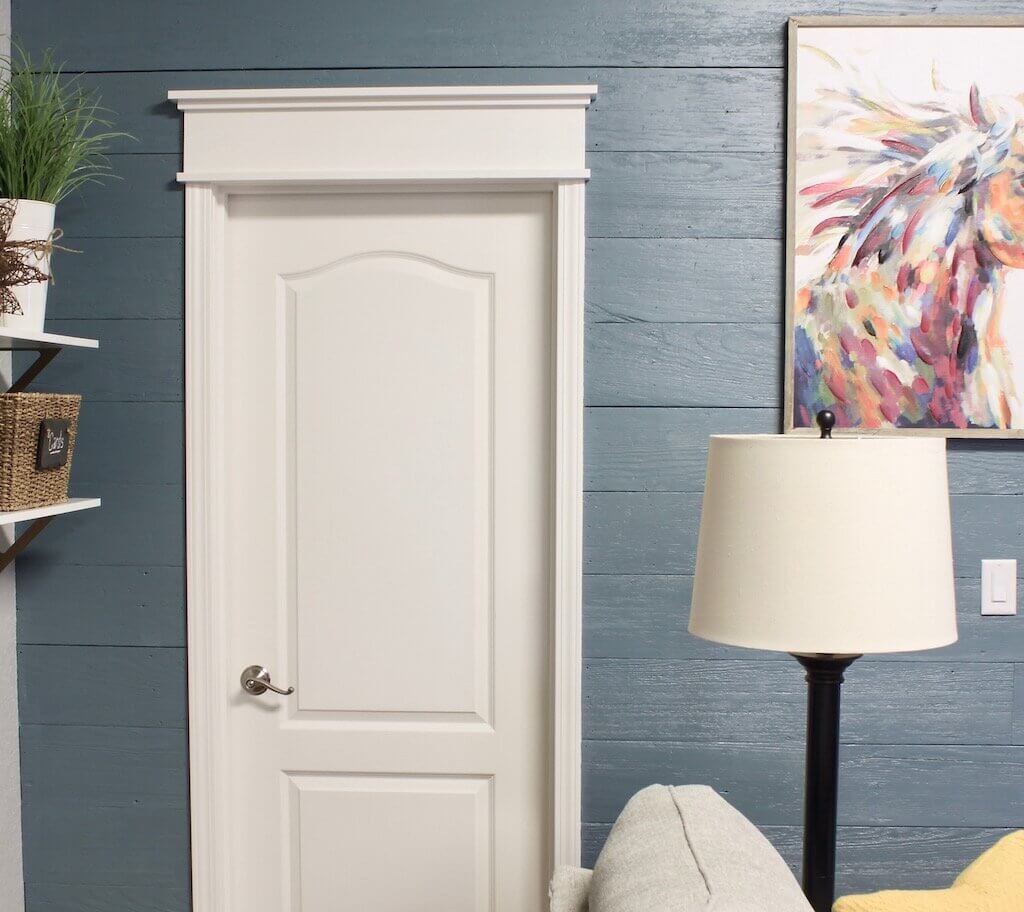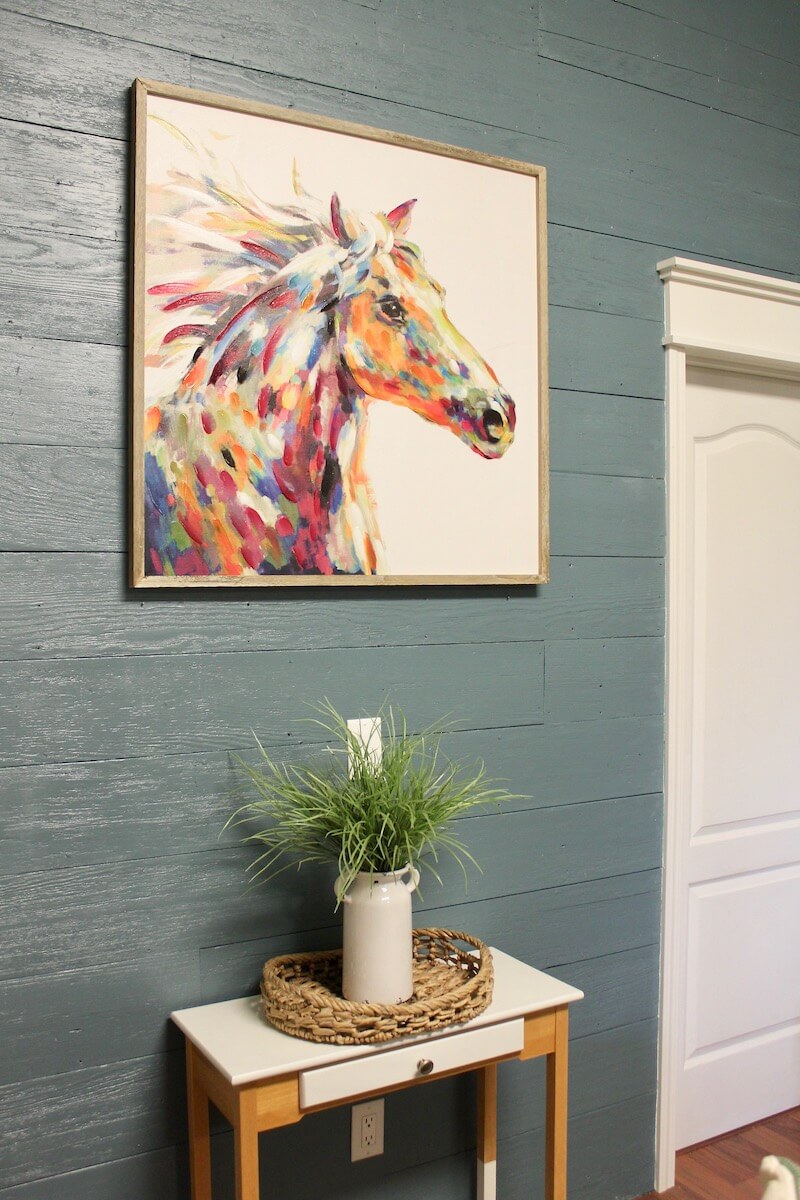 Click here to see my earlier post where I shared my Design Board.
The blue plank statement wall began with rustic planks salvaged from a local Alaskan gold mine, and for years we kept it this way. But the dark planks sucked up what little light was in the room, so one day I tried whitewashing them.
But I still wasn't happy.
After a chance sighting of this wall on Pinterest….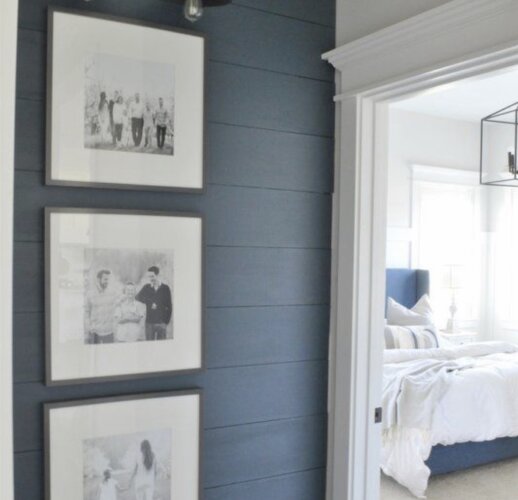 …I knew what I had to do and got right to work. Welcome to our Family Room, Sherwin Williams Refuge.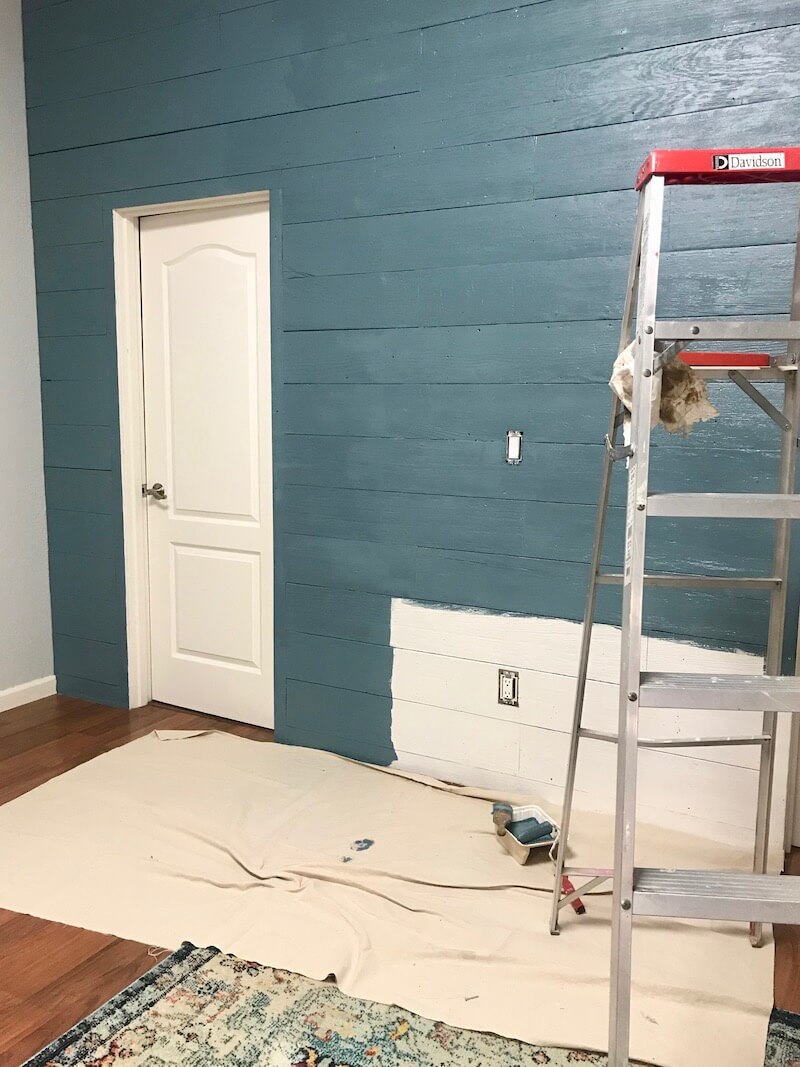 I couldn't be happier with the results.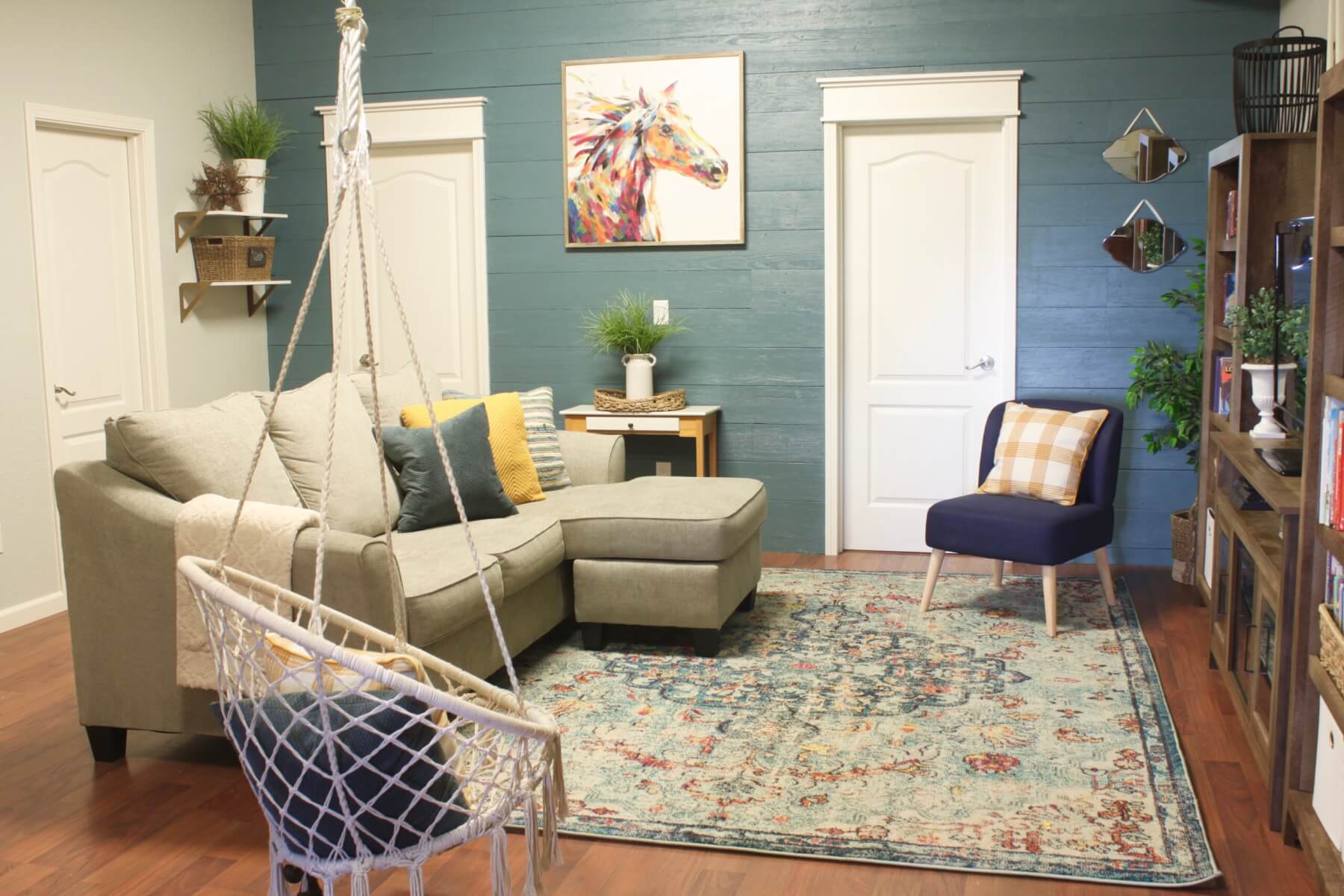 And those doorway trim upgrades? See how my two boys completed this simple DIY in under two hours in this post. Still one of my favorite DIY's to date considering its huge impact.
This family room poses many challenges. Seven doorways total, no windows, awkward furniture options. However, I think we finally created a space that is welcoming, functions well arrangement-wise, and provides chic seating alternatives for those extra cousins and friends who stop by to play. Er….hang out.
Truth? This room stretched my color tolerance in all kinds of ways. If you've followed me long at all, you know I'm a neutral girl. Almost exclusively. Neutral makes my heart go pitter-pat, sings of longevity, and creates a consistent backdrop for all kinds of holidays and seasonal decor.
A bright patterned rug? Yellow pillows? Splash-painted horse art? Yeah, you'd better believe it felt weird and uncomfortable. But it was a fun change of pace and is definitely more welcoming for a kids' hang out space, don't you think?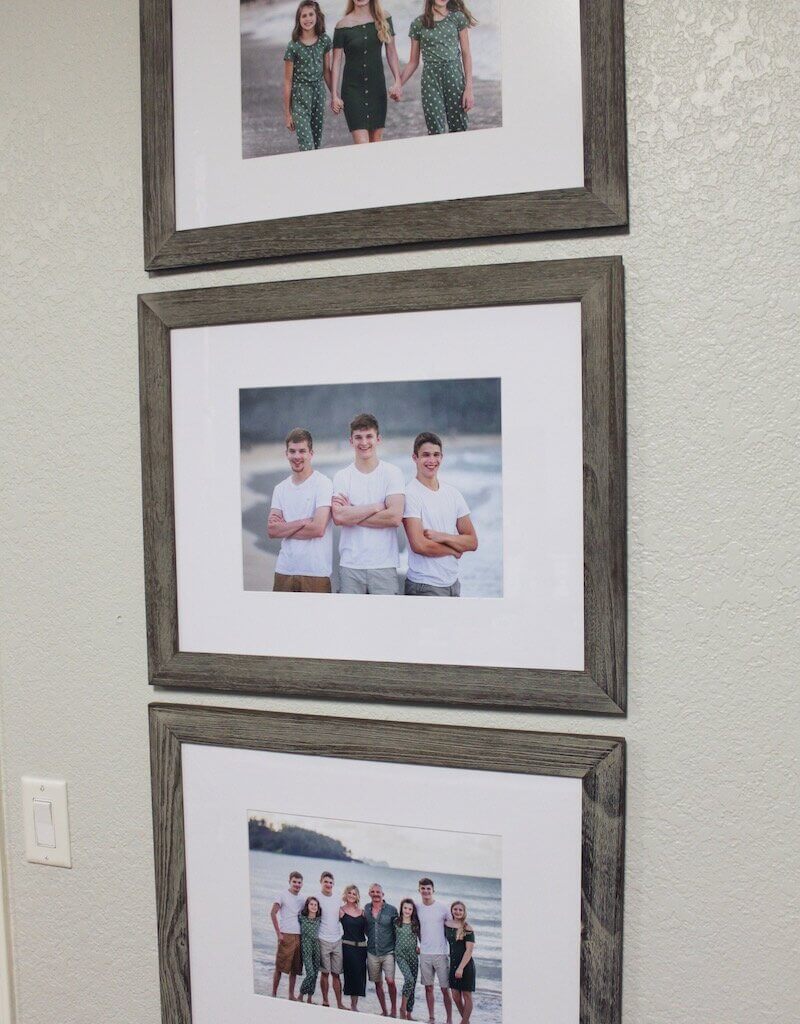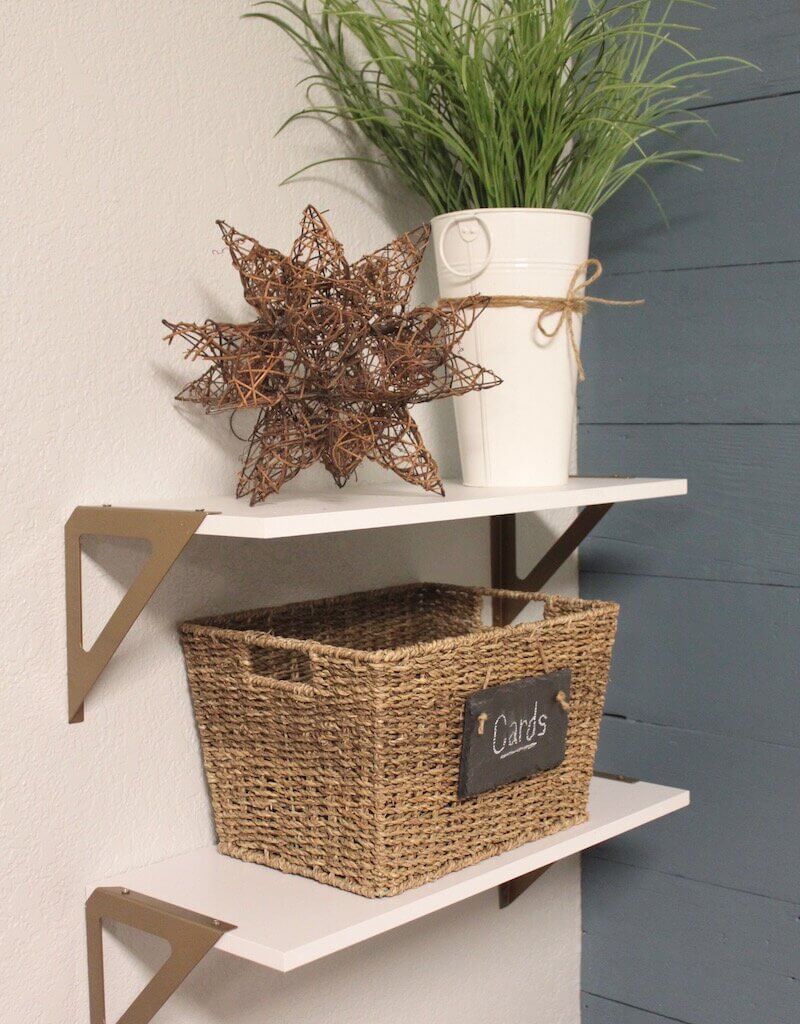 I "dipped" this wooden table to better fit the walkway beneath the horse art. Its shallow depth makes this the perfect spot.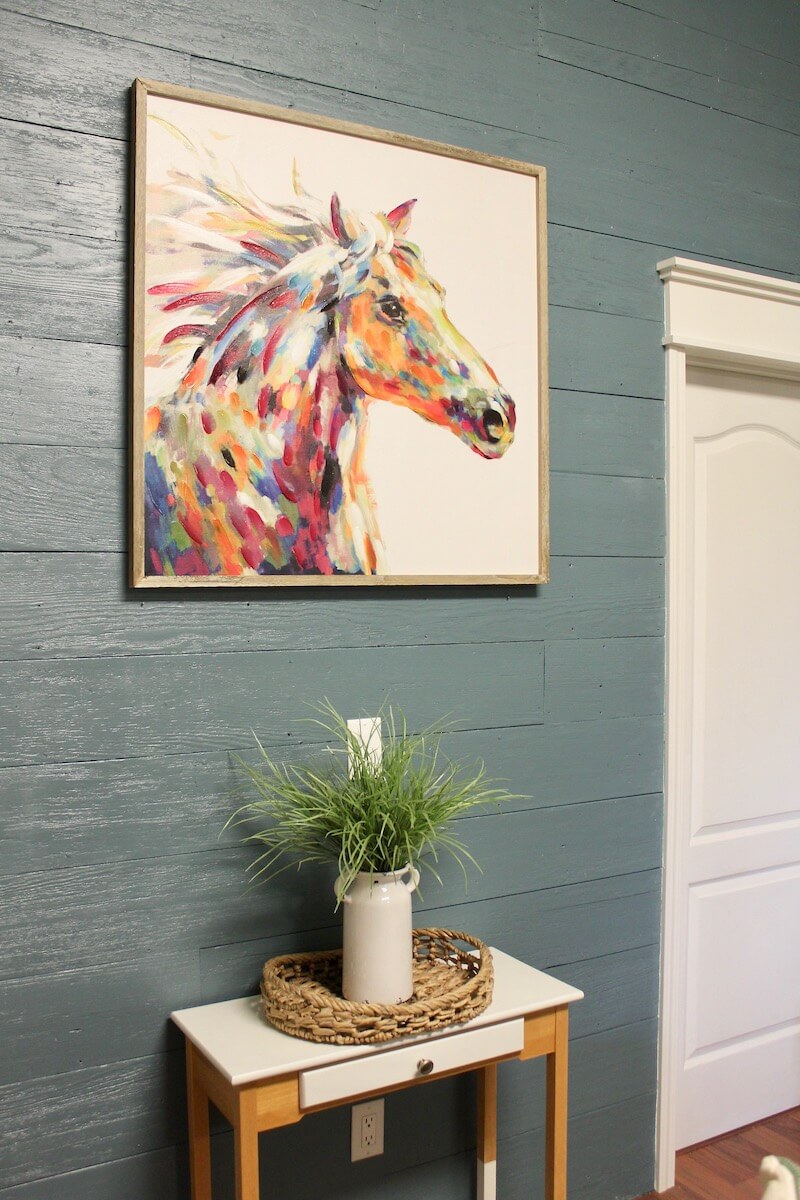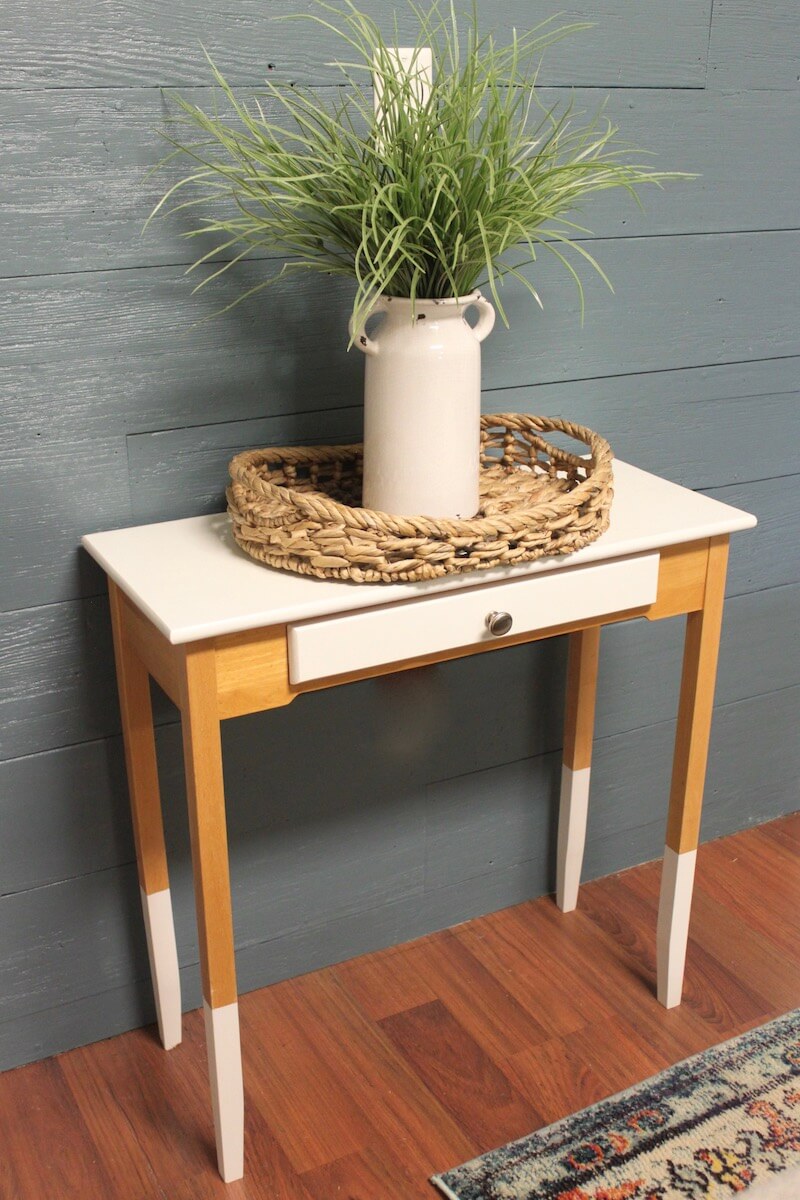 Someday we desperately need to change bulbs in this room's overhead lights….OR install recessed lighting throughout the space. The tones in the existing bulbs cast a strange color tone on everything in the room, making for difficult photos. Oh natural light, how I love you!
Alas, we will remember: For all intents and purposes, we are calling this room done, thank you.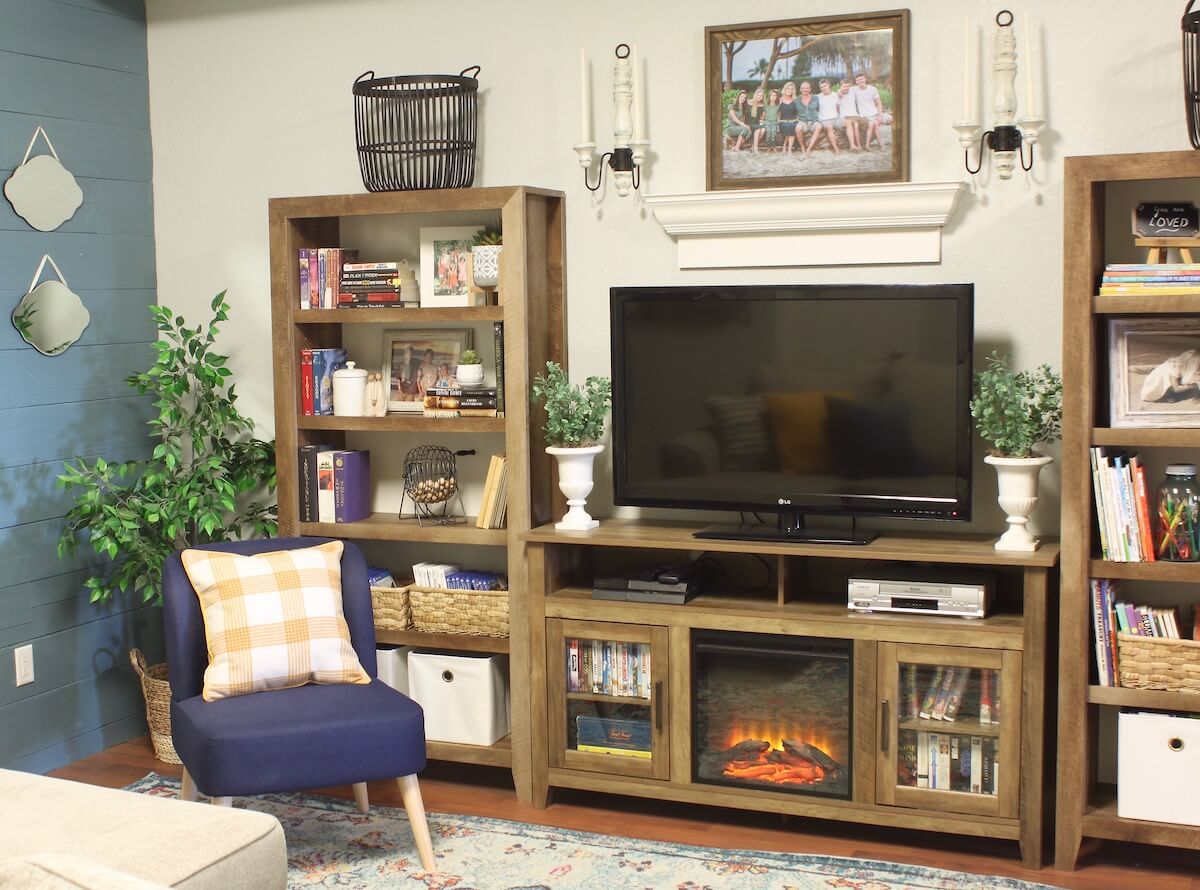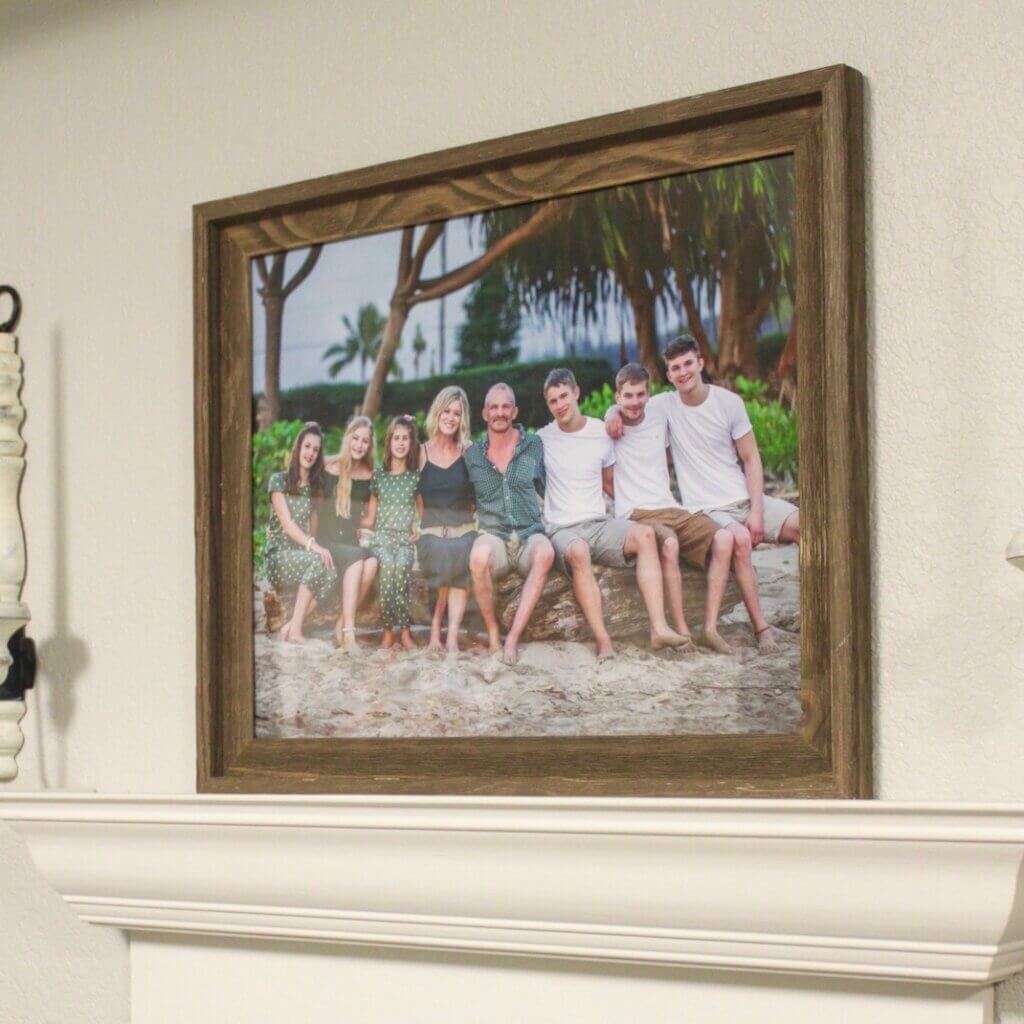 I'll confess the teen boys were NOT happy we chose a colorful horse to decorate this space. We consoled them with rustic bookshelves and a fireplace that really works. It calmed them down. (Note: Those tough boys use the hammock swing more than anyone else in the house, by the way.)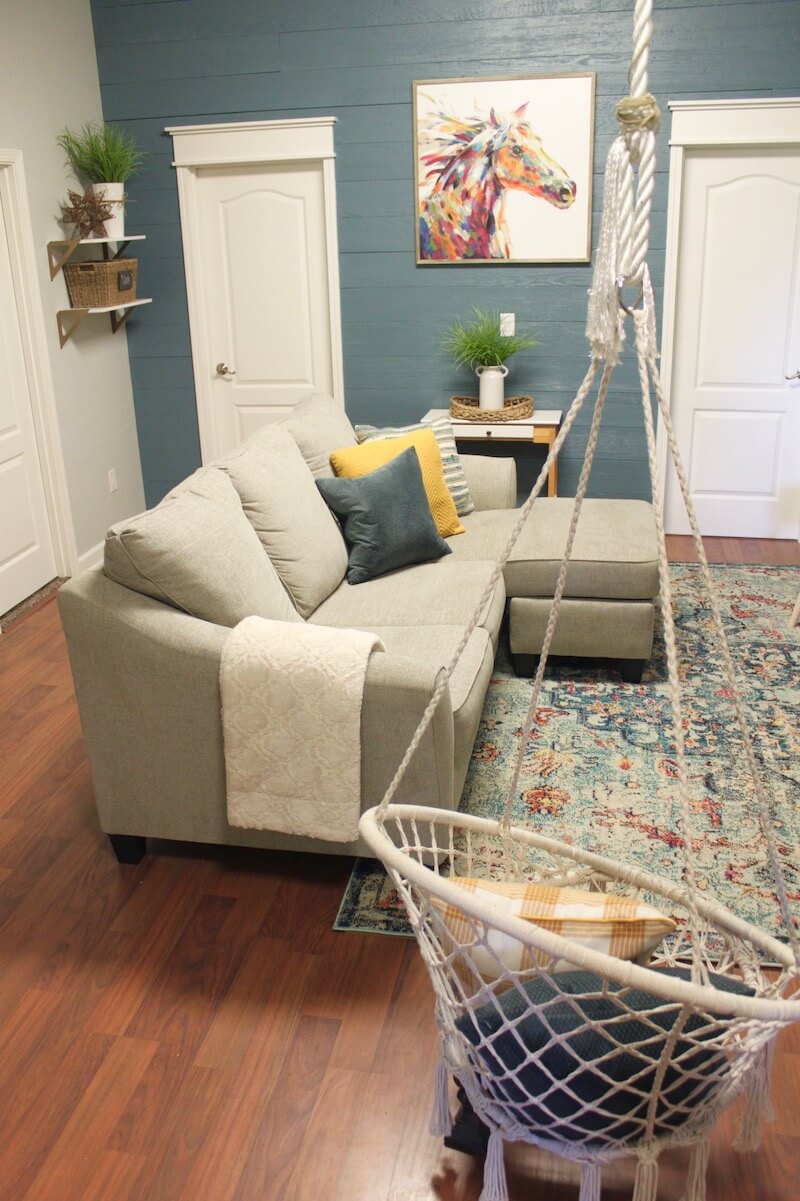 Fireman walked through the family room the other day and remarked, "This is the best this room has ever looked."
Coming from a man who's seen numerous spaces transformed in our home, I'm calling that a win.
If you're interested in any specific items in our Rustic Boho Family Room, I've listed several sources for you below:
Here's to completion of projects, moving on to new horizons, and creating spaces for your family that say "Let's Stay Awhile." I love that~
Jaimee