If you've been watching my Instagram stories (ha! ~ can you believe I jumped on that train?) you know I've been tackling big things in our kitchen these last couple weeks. Big things as in attempting projects I've considered tackling for years but lacked the courage and the conviction to jump in and make happen.
No more.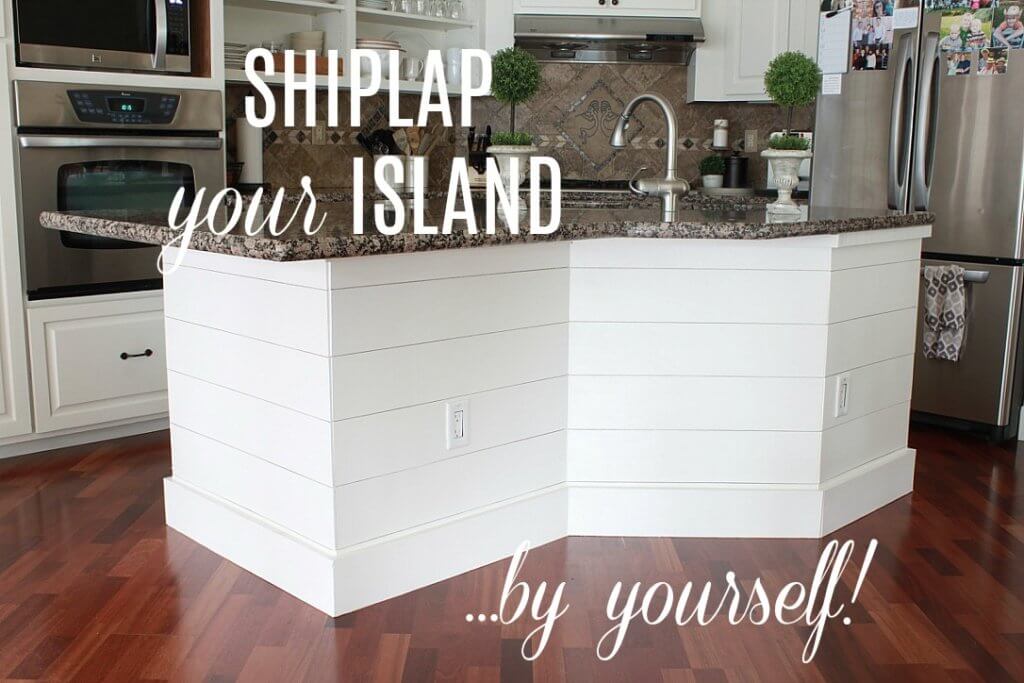 Today I'll share with you how I shiplapped our kitchen island, but a little background first.
When we bought this house, the seller warned us, "This is a one-butt kitchen." Besides the fact I've never liked the B-word, it didn't take us long to realize how right she was. Our kitchen is pretty tight, particularly considering the house is a spacious 4000 sf.
We've discussed remodeling the kitchen to change the island configuration, increase the work space between the cabinets and island, and to reconfigure the area more effectively for our family. But the truth is, most of our DIY is limited to 2-3 day projects with very little money involved, accomplished by only Fireman and me, and never involves hiring out. Although we have great dreams for a remodeled kitchen, neither of us is yet willing to sacrifice other things (vacations?) to make it happen. Also, any kitchen remodel would include installing new flooring throughout our kitchen/dining/living rooms which seemed daunting and expensive. The kitchen floor, although not my favorite color scheme, possesses a beauty and functionality that seems a shame to replace.
So we've put off our kitchen remodel for years. (Well, except that one time two years ago when I became overzealous and hammered out a chunk in our kokopelli backsplash, simultaneously horrifying my husband while recognizing his extreme hesitancy to destroy perfectly good tile.)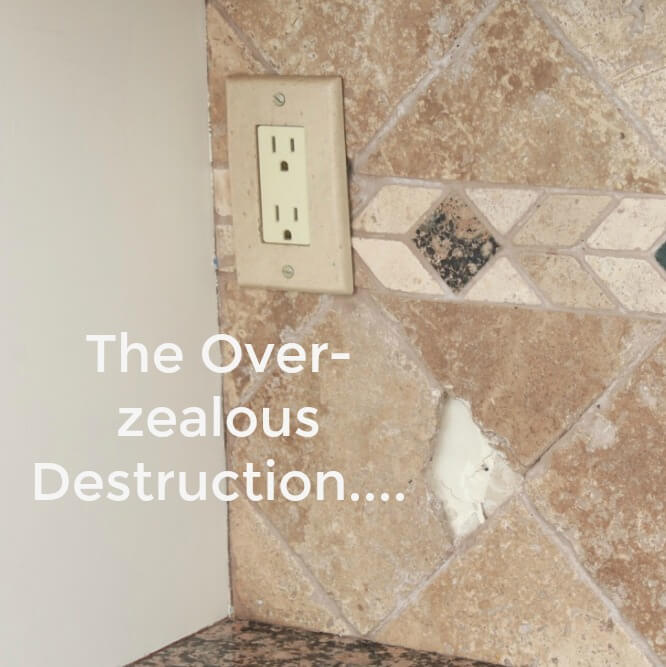 And we can't overlook the week I repainted the kitchen cabinets, which made a tremendous difference. You can read more about that here.
However, this summer something clicked in my brain. Call it maturity, call it resolve, call it courage (I like to think it's a mixture of all three), I finally decided there were a couple things I could do to make this kitchen more in tune with my loves until that big remodel happens. Shiplapping our kitchen island was one of them.
So let's take a quick look at our island Before, when it was painted Benjamin Moore's Bone White to match our walls and basic trim around the base. Not bad, but not special.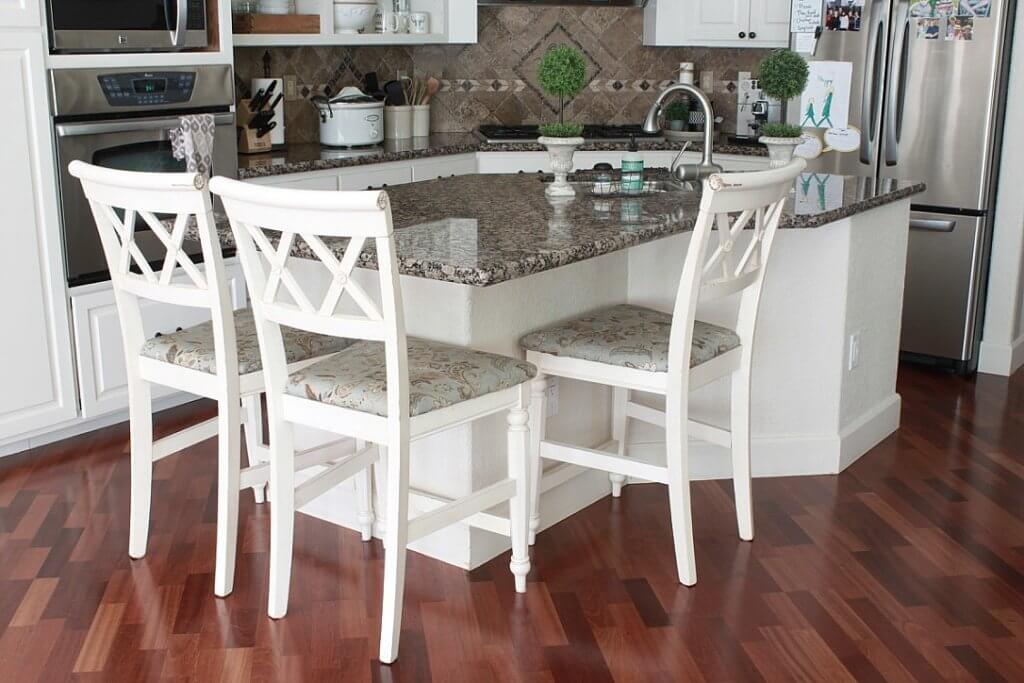 I would be remiss to not show you the appalling area beside our dishwasher. The trim piece here was missing when we moved in. I know…it's terrible! (Our puppy Josh has had lots of fun with this corner of the kitchen.)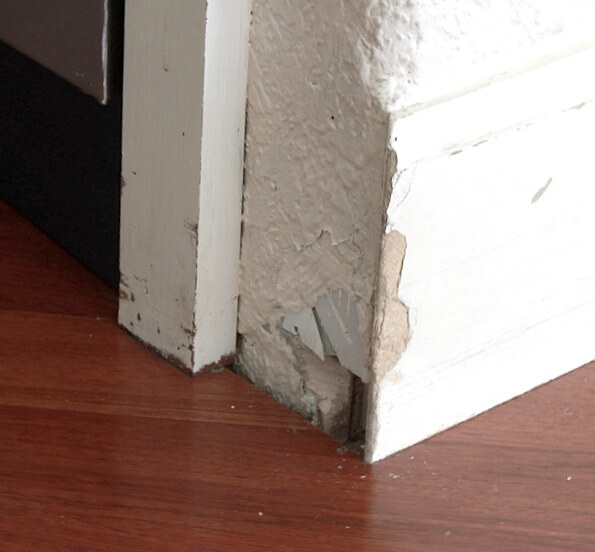 Here's how I went about shiplapping our kitchen island:
(2) sheets of 1/4″ plywood (a patient Lowe's man cut each sheet into 16 4′ x 6″ strips for me)
(2) 8′ pine 1 x 6 boards for base trim
(2) 8′ pine 1/2's for upper trim
Pneumatic brad nailer & compressor
Miter saw, Jigsaw, and drill
1″ nails
Hammer, pry bar, level, speed square, tape measure
Wood filler, caulk
Paint
Hint for DIY projects: Before I start a project, I always try to set up a work station that is user friendly. Gathering all my supplies and prepping surfaces makes for a happier, more peaceful experience. This may seem like a small thing, yes, but the peace and ease it brings over the course of the project makes a huge difference in the long run.
First I removed the old trim using a hammer and pry bar.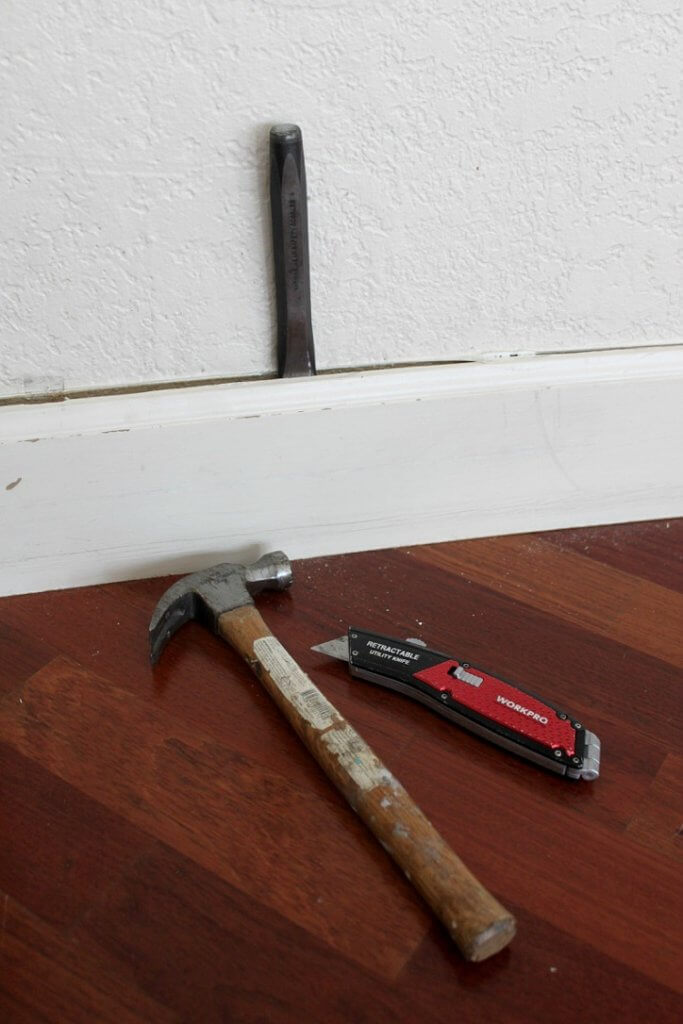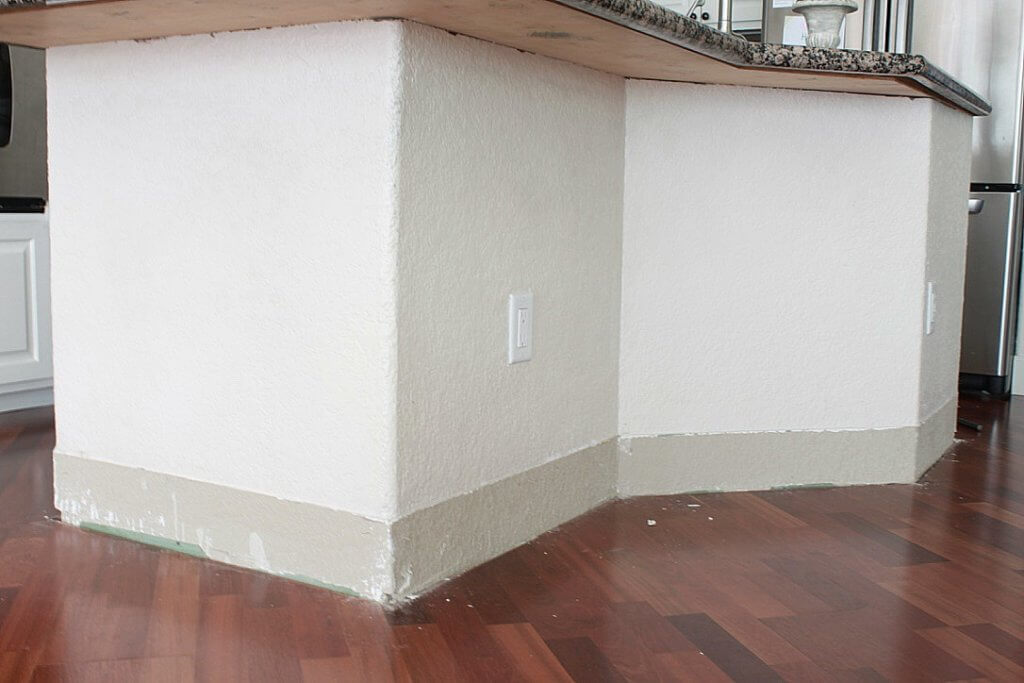 I then measured my first board placement and used our miter saw to cut. I realized VERY quickly that precise measurements are very important. (This precision is more Fireman's strength than my own, but because I was doing this by myself, I had to battle my own "close enough" tendencies and be diligent with measurements. Yes, it was painful, but worth it!)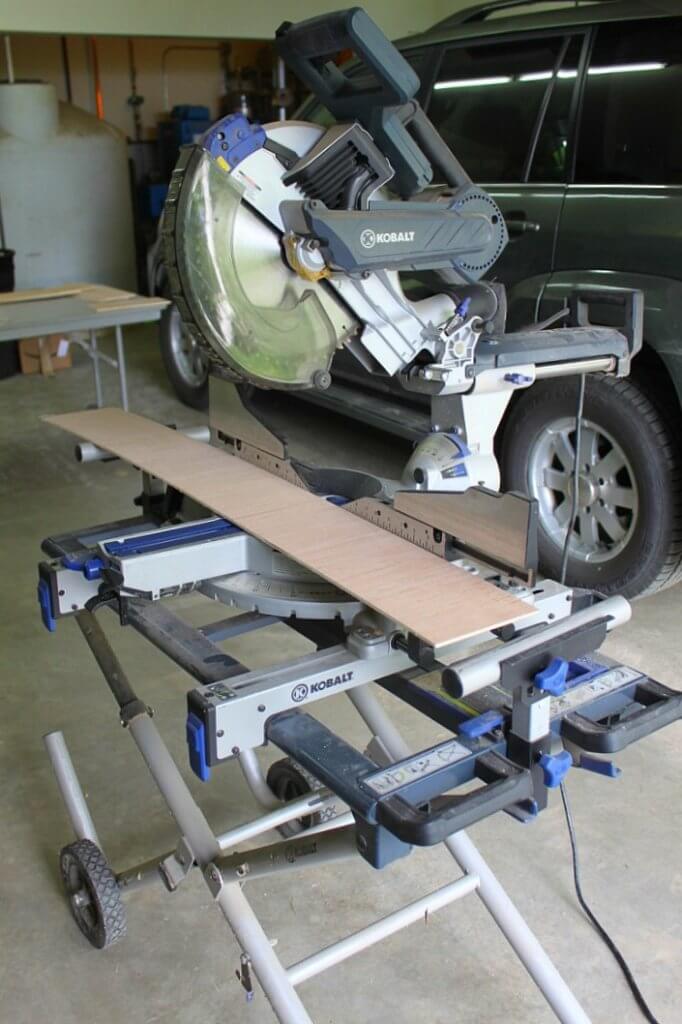 Next, using a level to ensure my first board went on correctly, I nailed the first board in place and performed a small cheer. Not really. (Well, actually, yes I did.)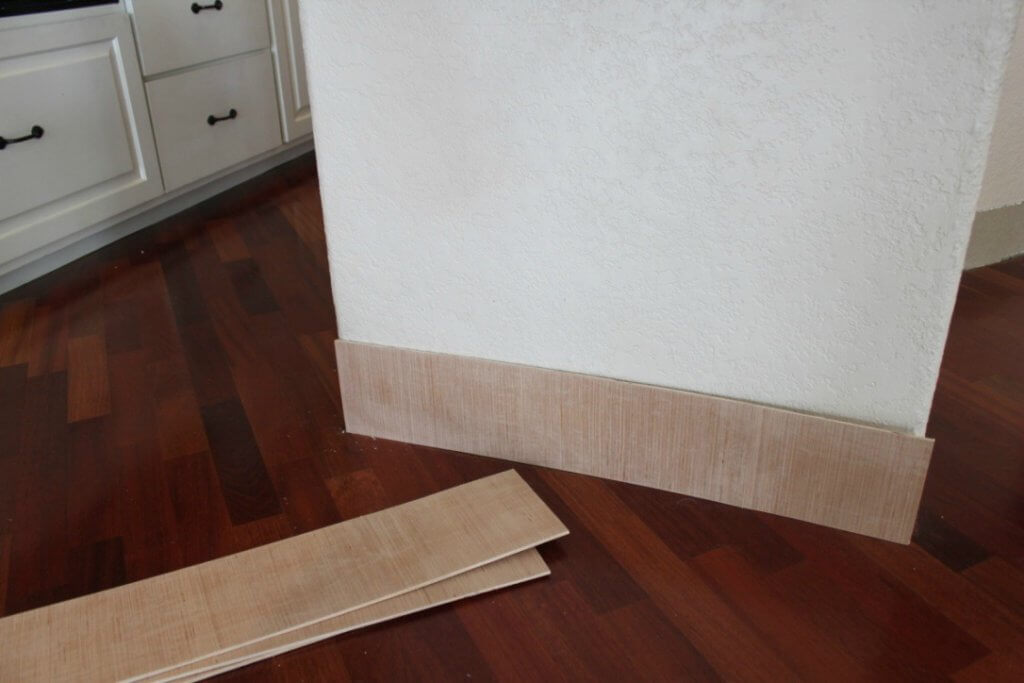 And I simply proceeded from there, cheers and all. The paneling went very quickly, and with only a few interruptions, I finished in a couple hours.
Cutting around outlets was another first for me, but my experience observing Fireman do similar cuts in the past was a benefit. This collage shows the process I used. Note: I ended up drilling my corner holes bigger after this photo to fit the jigsaw blade better.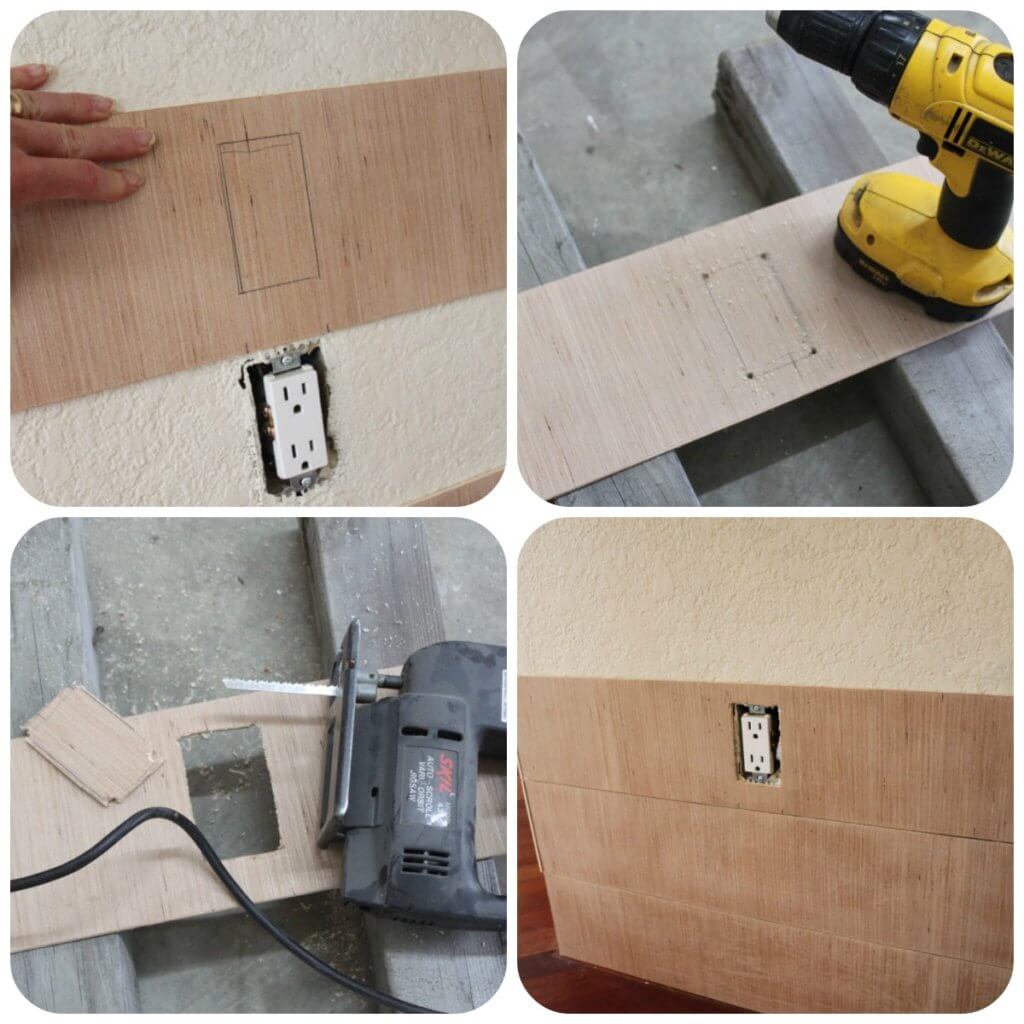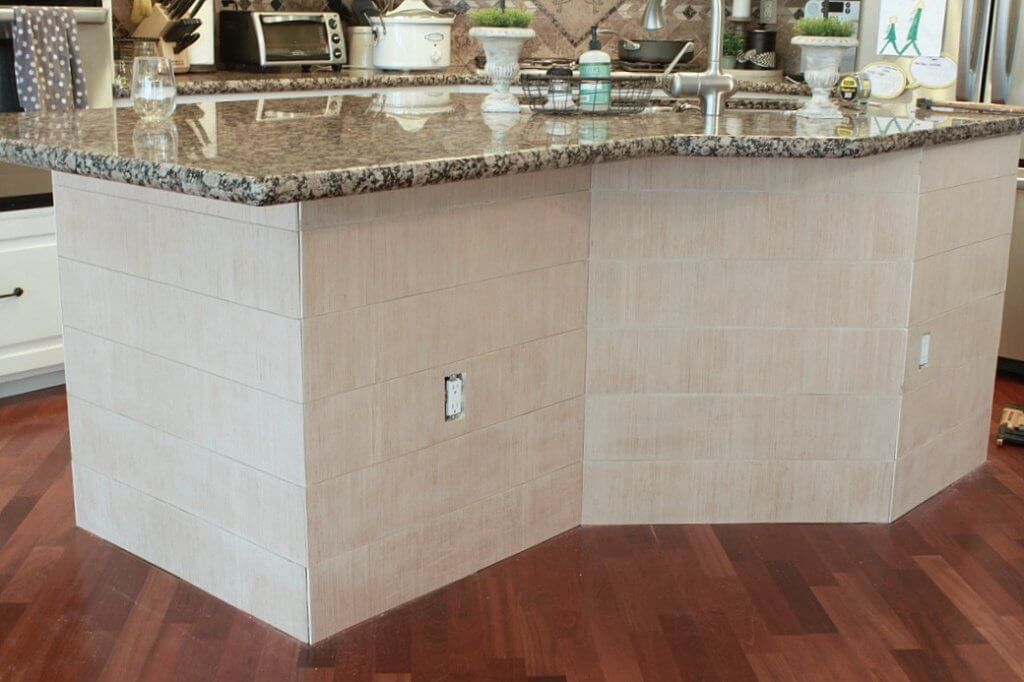 The base and upper trim install took much longer due to my learning curve on angles with the miter saw. I tell you, after fitting/measuring/cutting/remeasuring/recutting trim pieces for a couple hours, I developed an increased appreciation for all the trim work throughout our home. Trim people, I honor you!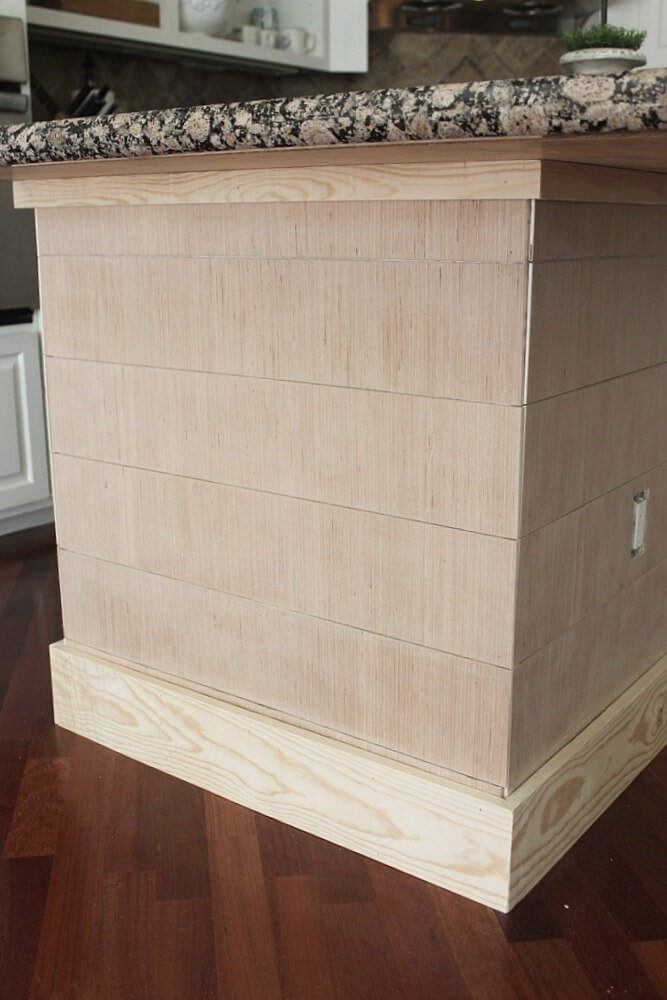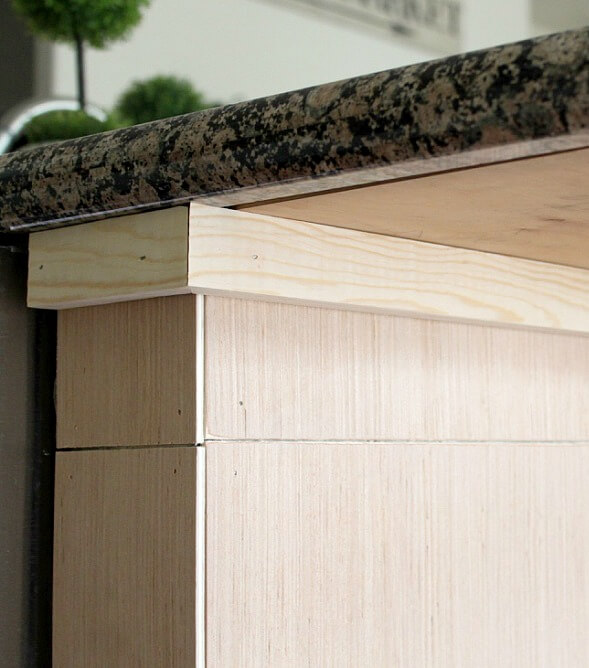 (You may notice I chose not to 45 degree angle the ends of my 1/4″ shiplap on each corner. I did this for two reasons. One, I did not want to spend the time angling each board to fit precisely with its adjacent partner (kill me now), and two, I anticipate we will replace this island in the near future, so a more rustic, wrap-around corner seemed like the best option.)
Once all the shiplap was up and trim installed, I filled the nail holes with wood filler, caulked all the seams, and applied two coats Sherwin Williams Creamy in semi-gloss to match the cabinets.
Ta-da!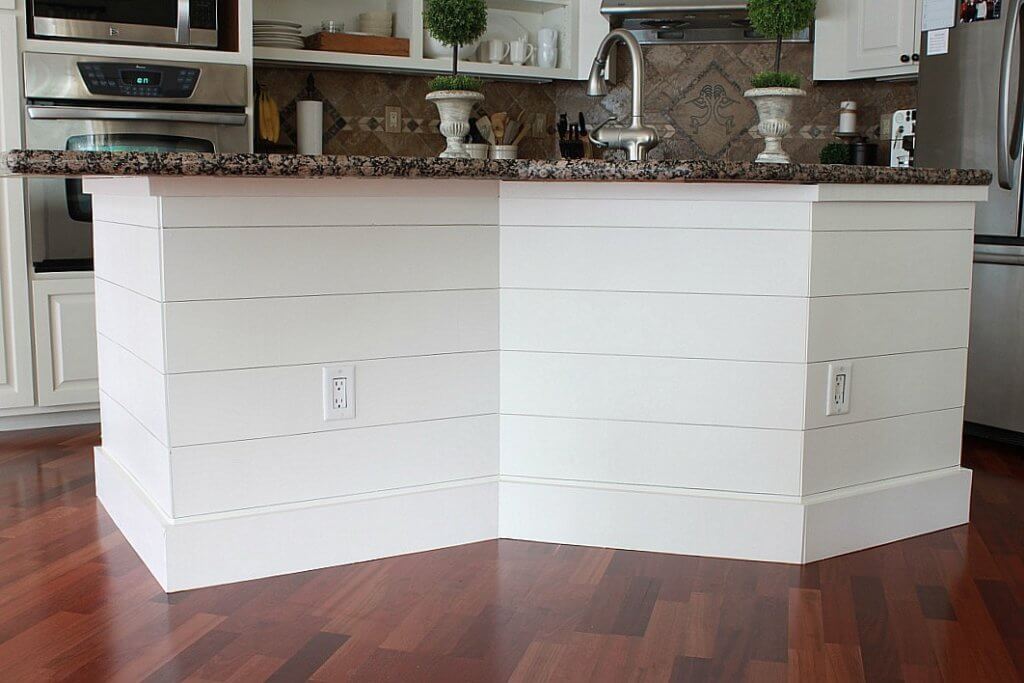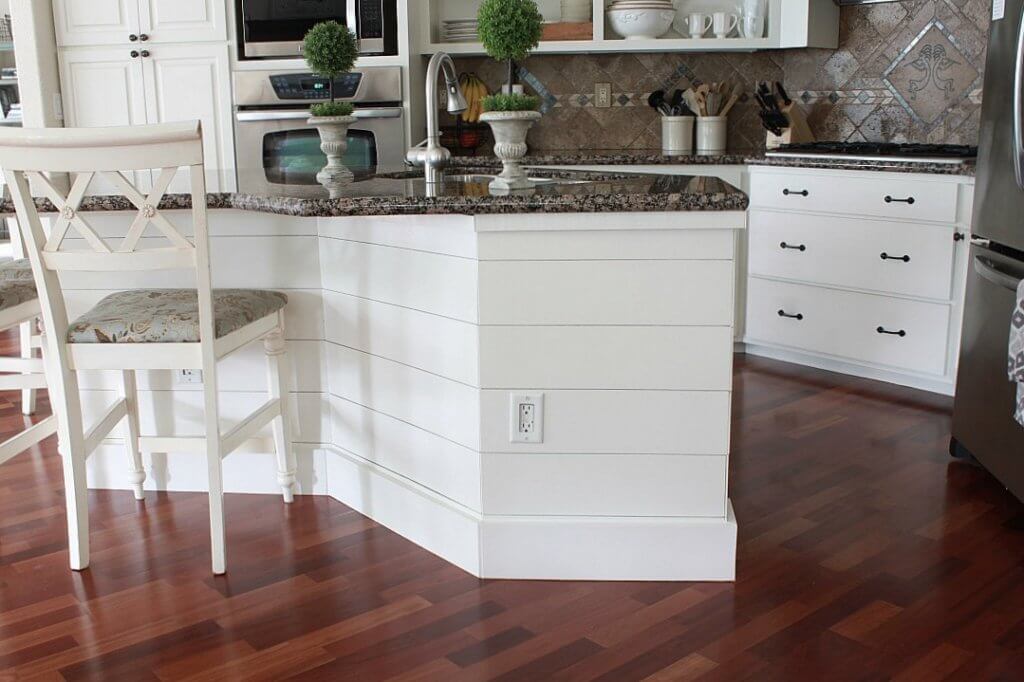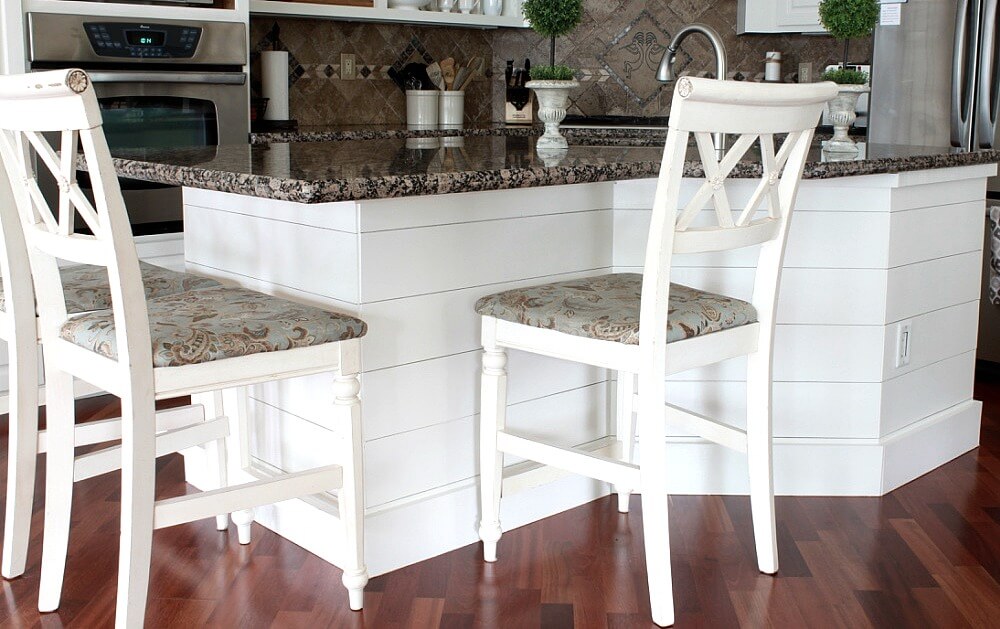 Such a fun, personalized difference to our island. I love how the corners are wrapped, adding so much character to this space.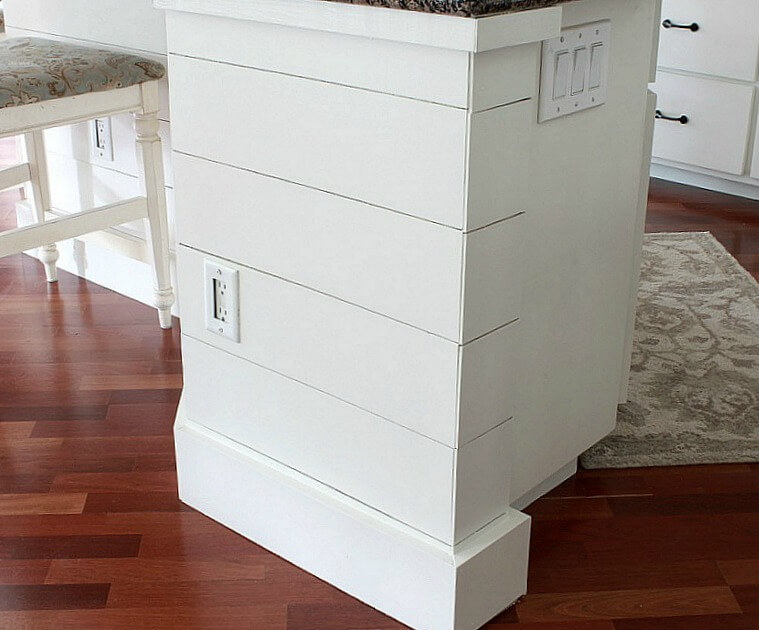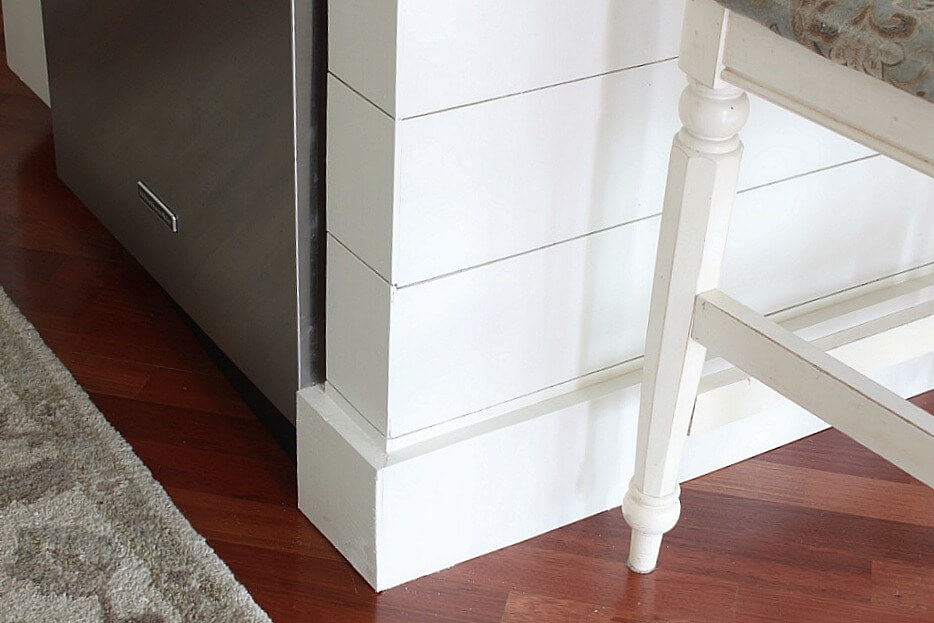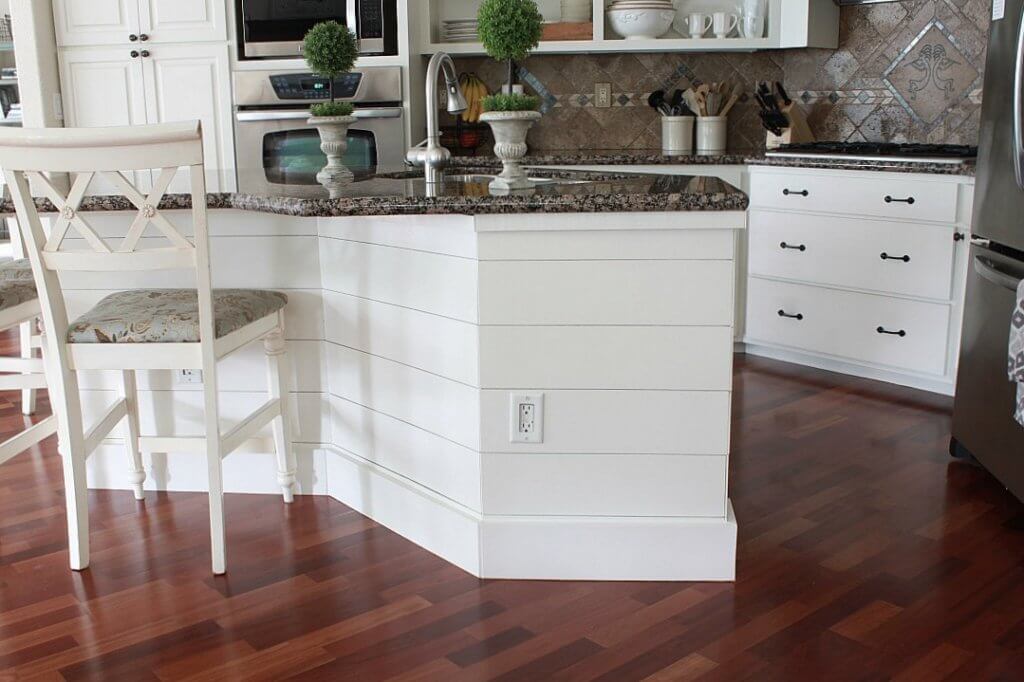 One thing I did not do and should have (newbie error) was add extenders to our outlet boxes so the plug-ins sat flush with the shiplap. I did not pick up on this until I reinstalled the plates and realized the plug portions were sunk waaayy in. Oops. Fireman assures me he can fix it.
Do you like this new look? Do you think it's a project you could tackle on your own? I'd love to hear your feedback.
Before I close off, take a good look at that backsplash in the background. Yes! It is no longer there, and I will tell you all about it soon.
Here's to being brave ~
Jaimee