Life is beautiful when it's Monday morning, the sun is rising so that every tree you see is glowing pink, and your sister texts and asks if you're up for a run. How convenient that you already had your running clothes on so of course you say YES, and that is just the best way to start the week EVER.
Today I'm going to show you the fruit of our weekend labor: the DIY Plank Top Work Table we made for the studio. Already loving this table. As matter of fact, it currently sports three drawers I'm painting and is proving quite the workhorse.
Plus it's quite handsome-)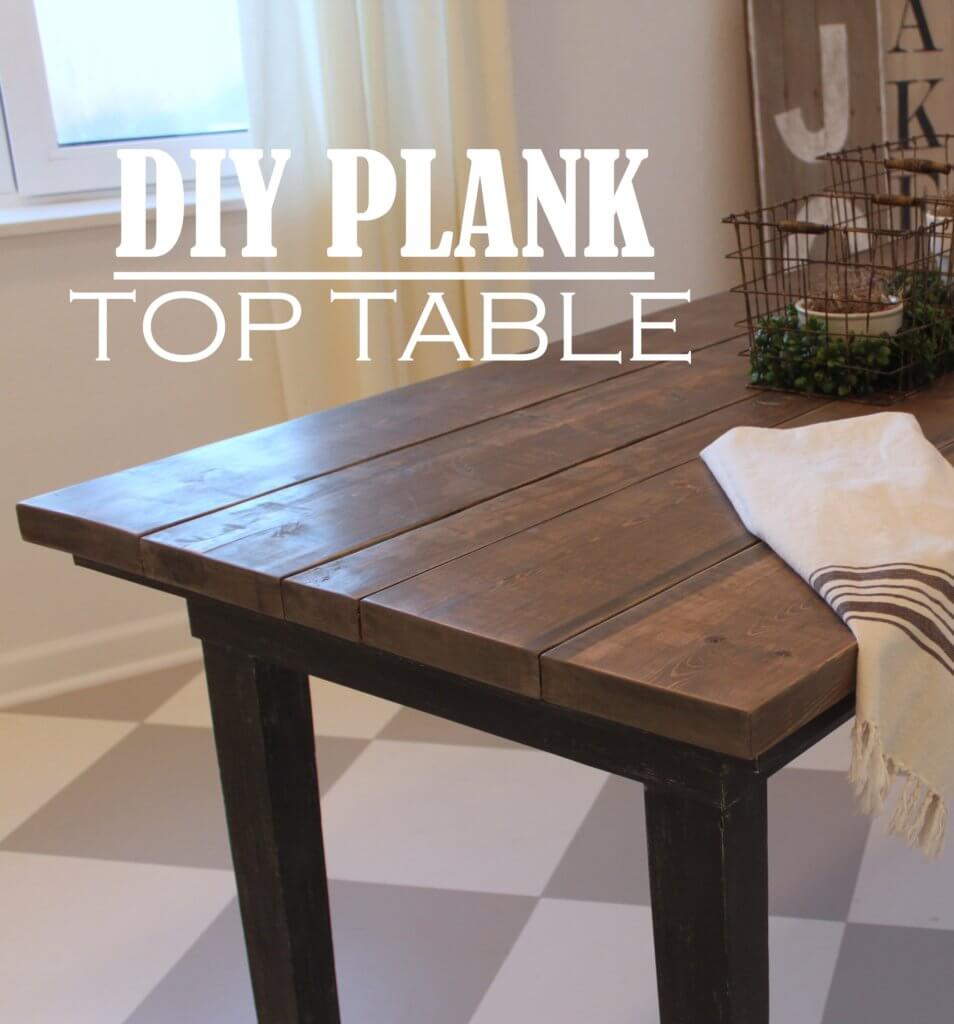 I painted this table white three years ago for our homeschool room. (If I begin to recount all the work, play and creating that occurred on this table I may get emotional, so I'll move on quickly.)
I started the transformation by painting the apron and legs black using a Behr Ultra Paint and Primer quart I had on hand. I also painted the edges of the table top since we would be using it as the base for our planks and I didn't want to be able to see white underneath the planks.
We measured the table and added 1.5″ to each edge since we wanted the planks to hang over the existing table top by 1.5″ on each side. I wanted the wide look of 2×8's for the finished table top, but we discovered that (4) 2×8's wouldn't be quite wide enough, and we would have to cut down (1) 2×8 width-wise if we used (5) 2×8's. Fireman suggested we place a single 2×4 in the middle of the table and flank it with (2) 2×8's on either side, which I thought was a great idea. So he headed off to buy the boards.
Once he cut the pine boards to length, he laid them side by side on the table and used a pencil to mark their placement. He then pre-drilled holes down into the existing table top using the pencil lines as guides. These holes would serve as markers for screwing the boards from underneath.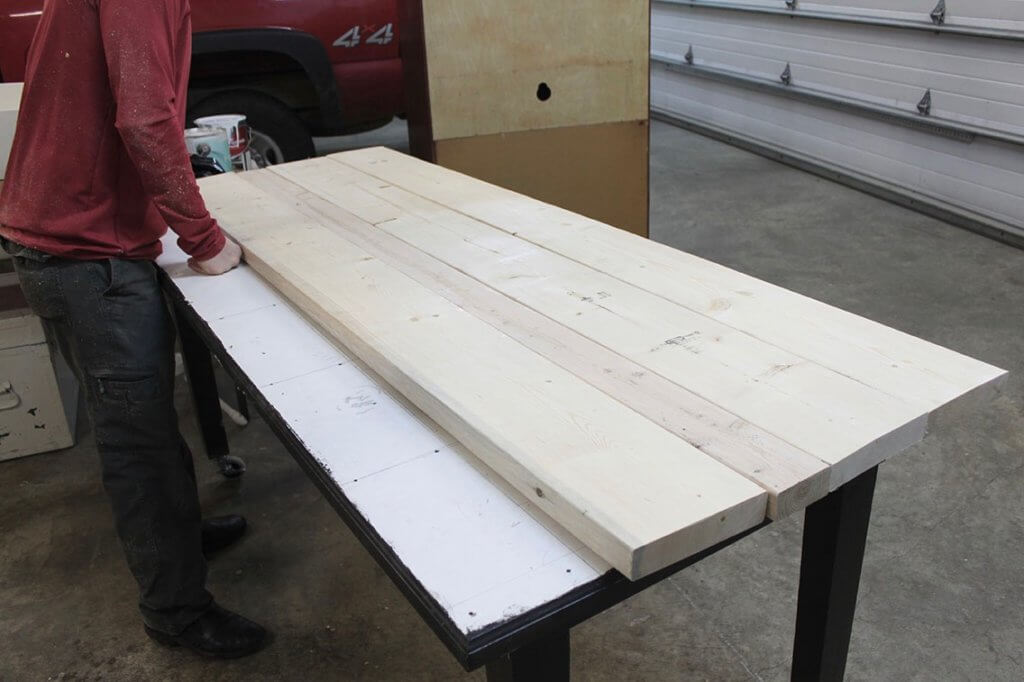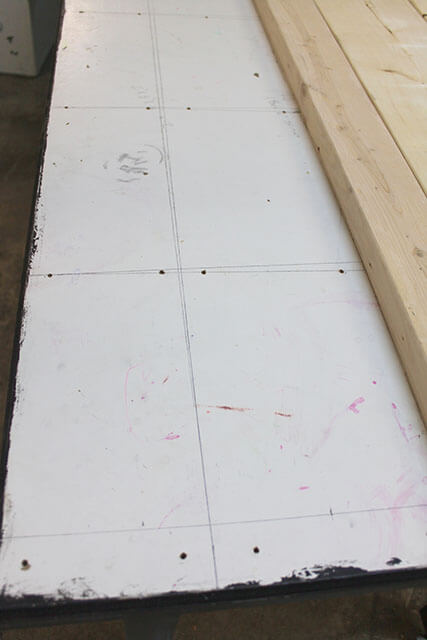 As expected, a couple of the boards did not align themselves completely flush, so we used a clamp to secure them while he screwed them from underneath. (It also helped for me to kneel my make-up free self on the boards as he screwed them in to provide resistance.) We did not use glue in any part of this project.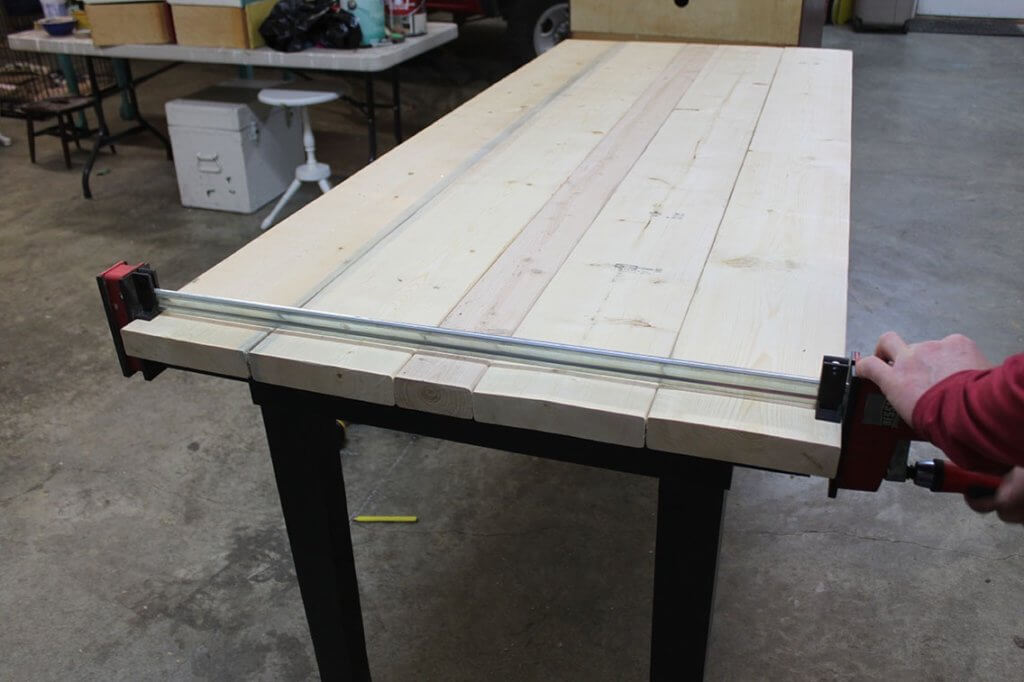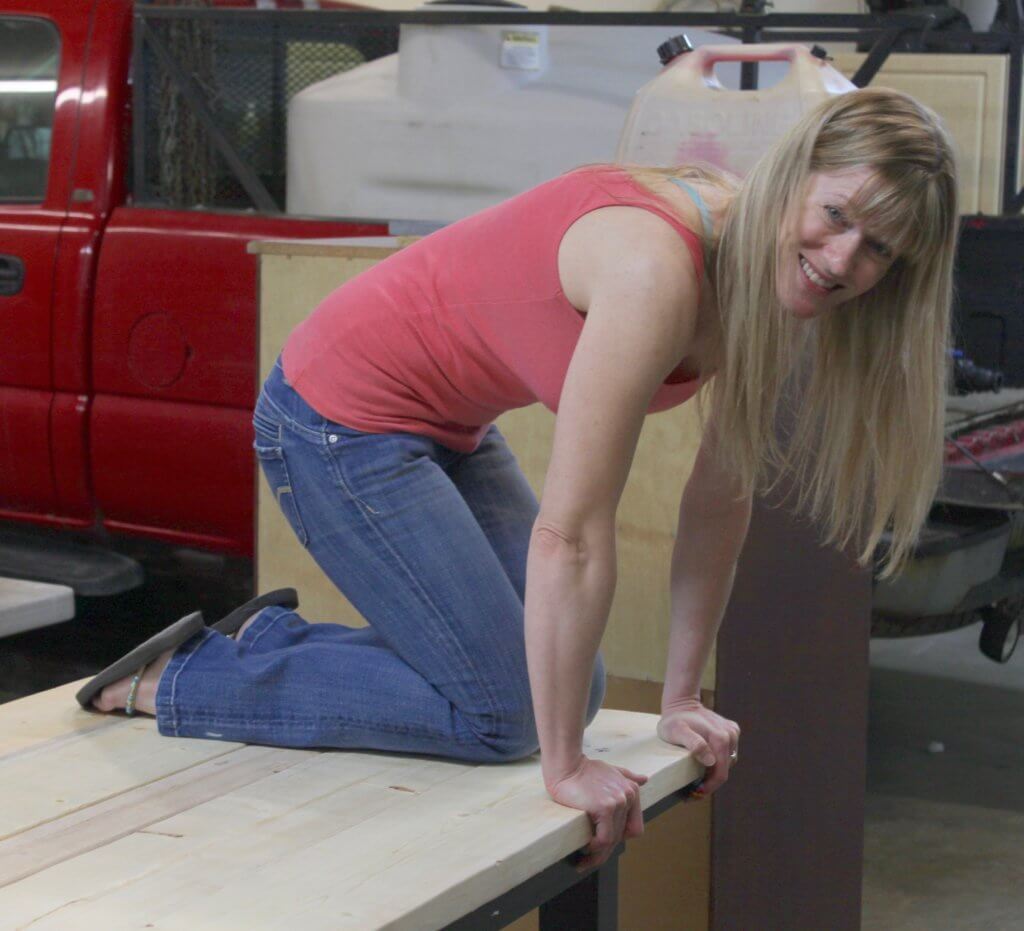 Once the boards were screwed down, we sanded everything smooth to prep for stain. First, I stained the boards with Minwax Dark Walnut and let it dry overnight. But because I was going for more of a weathered, gray tone on this table, the next day I sanded the walnut stain down a bit and went back over the boards with Rustoleum's Driftwood stain, rubbing it in with a rag. You can see the difference in wood tones below: The right is just the Dark Walnut stain, the left is with the Driftwood rubbed over the top of the dark stain. The two different stains give the wood more depth and somewhat of a layered look.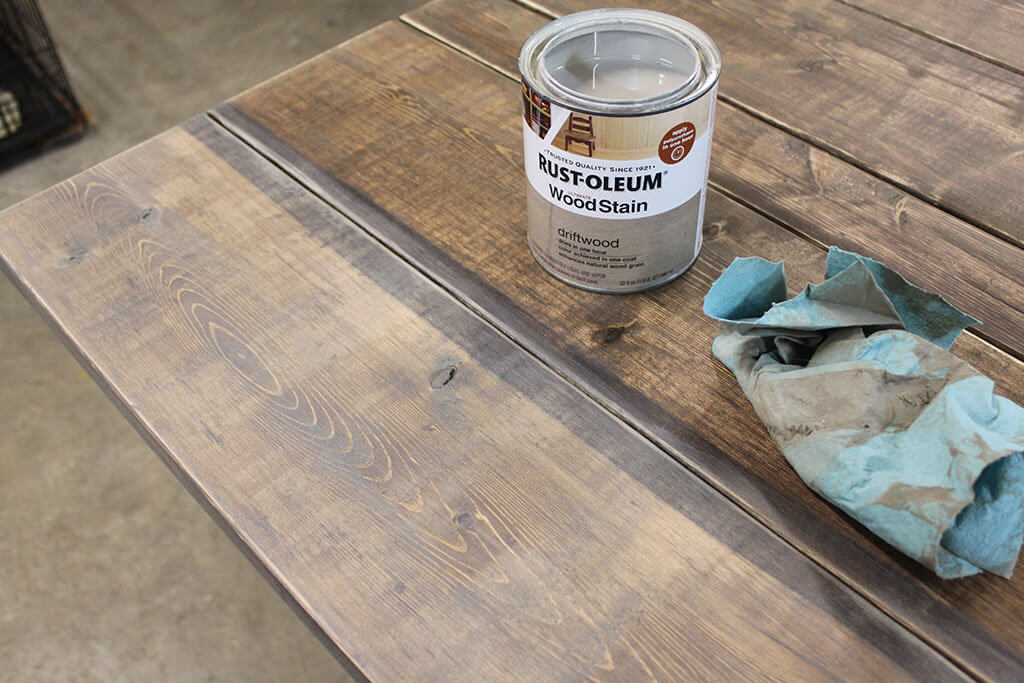 While the Driftwood stain dried, I focused on aging the black table legs. I didn't do much to them. First, I very lightly dry-brushed a light gray paint one small section at a time, then went back over the drybrushing with a damp rag until it looked flecked, like this: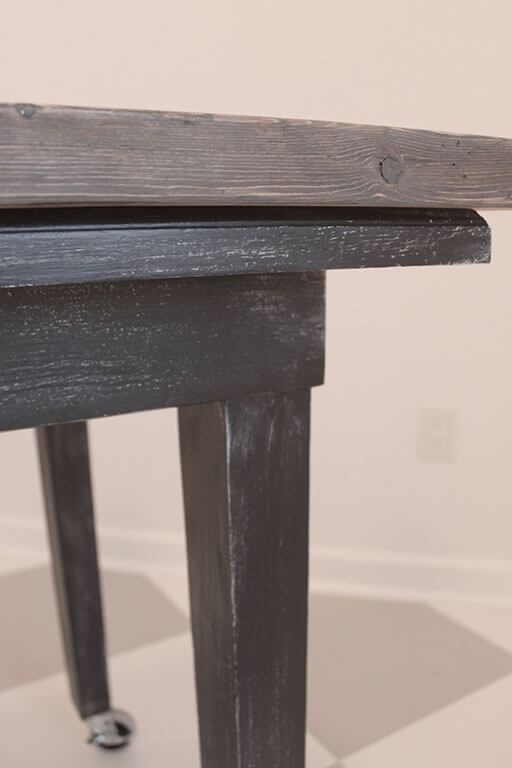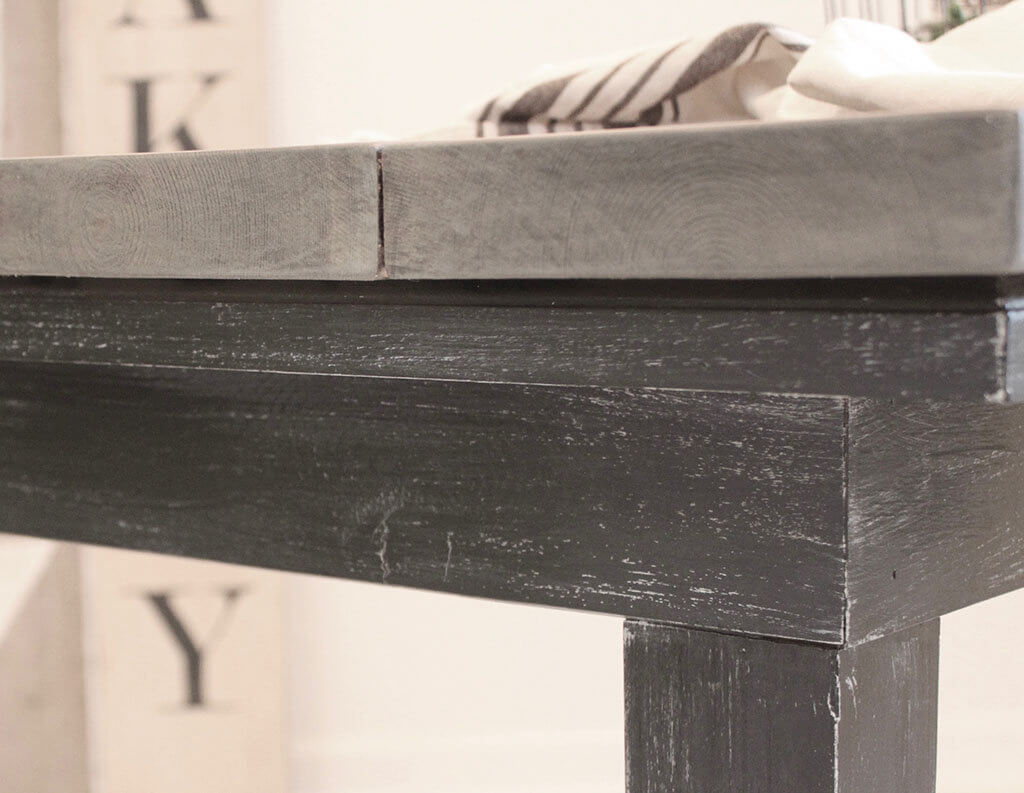 I wasn't really sure what effect I wanted. I just kept stepping back and eyeing it. I knew I didn't want too much gray since the black legs contrasted so nicely with the table top. In a couple places, I even went back over the gray drybrushing with black again until it was merely a suggestion of flaking.
Lastly, I coated the entire top with Minwax Furniture Wax in Natural. Such a beautiful, buttery smooth finish!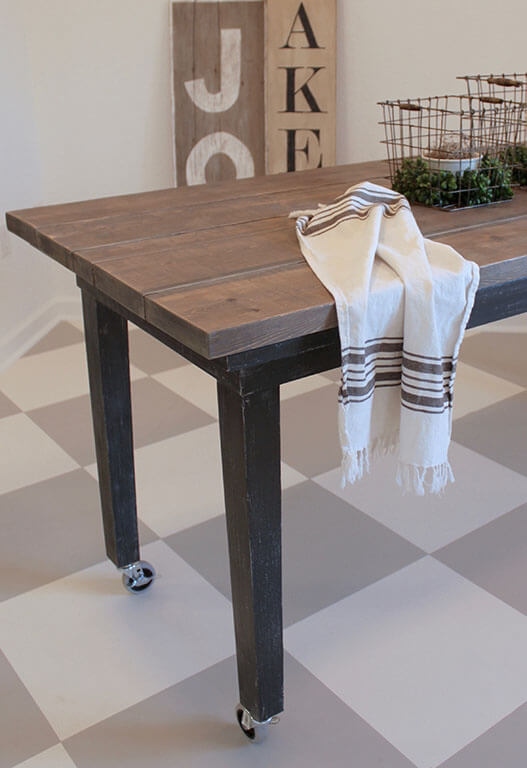 Oh, and we also added these castors to the table legs. Not only did the castors add an industrial look, they are also wonderfully functional. I picked them up for about $5 each at Fred Meyer (the exact same castors were almost $8 at Home Depot.) Fireman drilled holes in the table legs, then screwed the castors in.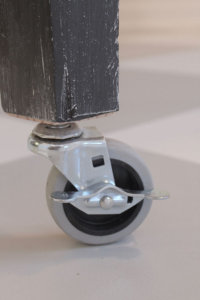 And here is our finished DIY Plank Top Work Table.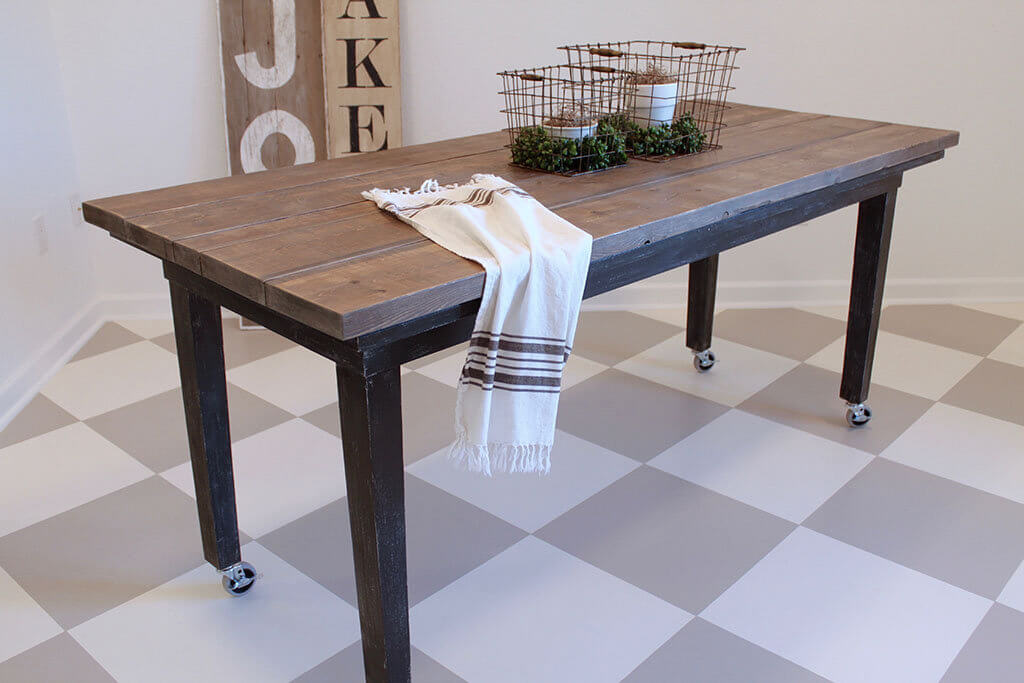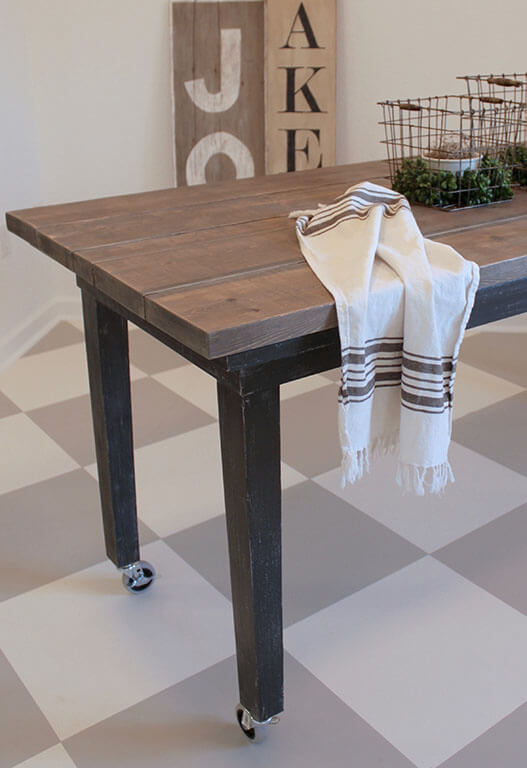 I hope to post more pictures of the Studio later this week. The trim and painting are done, we ended up removing the huge theater screen and storing it so I now have a huge wall to fill with shelving, and I think I've made a decision on curtains.
Until then ~