The other day I walked through a friend's house for the first time.
I was blown away.
No, it's not what you think. Her walls are not painted Sherwin Williams Color of the Year (which happens to be Naval 6244 by the way).
Her furniture is a collection of hand-me-downs, yard sale finds, old antiques, and overstuffed comforts.
Eclectic and preschool art, colorful plates, and bright family photos march up each stairway wall, adorn spaces above her kitchen cabinets, and fill all four family room walls. Twinkle and warmly-lit lamps are everywhere.
It is absolutely, delightfully, soulfully wonderful in every possible way.
I did not want to leave.
As I drove home later, I analyzed which particular features in her home drew me so powerfully, which elements beckoned me into a story I did not yet know.
I believe these 3 specific elements best explain what I loved:
The eclectic, somewhat disorganized collections of art, plates, and photos convinced me this family was far more concerned with people than perfection. Each item held a story, a sweet memory, an authentic laugh, a celebrated accomplishment that begged me to ask, "Please tell me more…"
Walking through the home, I could readily identify each family member's interests and passions by the items in the rooms: Drama performances, wrestling matches, lifting weights, reading, nature collecting. Each item told the beautiful story of the individual members who lived and thrived in those spaces.
The colors! Warm terra-cotta, yellows, blues, greens, browns. Some would say these colors tend to be dark, especially in our Alaskan winters, but it was these color tones which provide a warm refuge from an often cold world, a comforting embrace when I walked in the front door that caused me to immediately feel as if I'd come home.
So where am I going with all this? Well, we just happen to be in the middle of rethinking/redesigning our own Family Room space downstairs, and as I've pondered what "look" I'm hoping to achieve, the elements I mentioned above certainly play in to my Design plan.
Art, photos, and accessories which reflect the passions/interests/activities of our family's individual members.
Color! Although staying true to my neutral-toned preferences in the rest of our home, I will intentionally add color to bring youthful energy, warmth, and interest to this space.
Inject elements of rustic (true to our Alaskan address) as well as the rich textures and unconventional creativity of the boho style to reflect the more youthful ages primarily inhabiting this space.
First, I'll show you a few Before photos.
This is our "plank wall" and the boys' bedroom doors just prior to my whitewashing the wall. I will do a more thorough post on this wall next time, but suffice it to say we needed LIGHT in this room (no windows), so painting this beautiful wood provided the best option.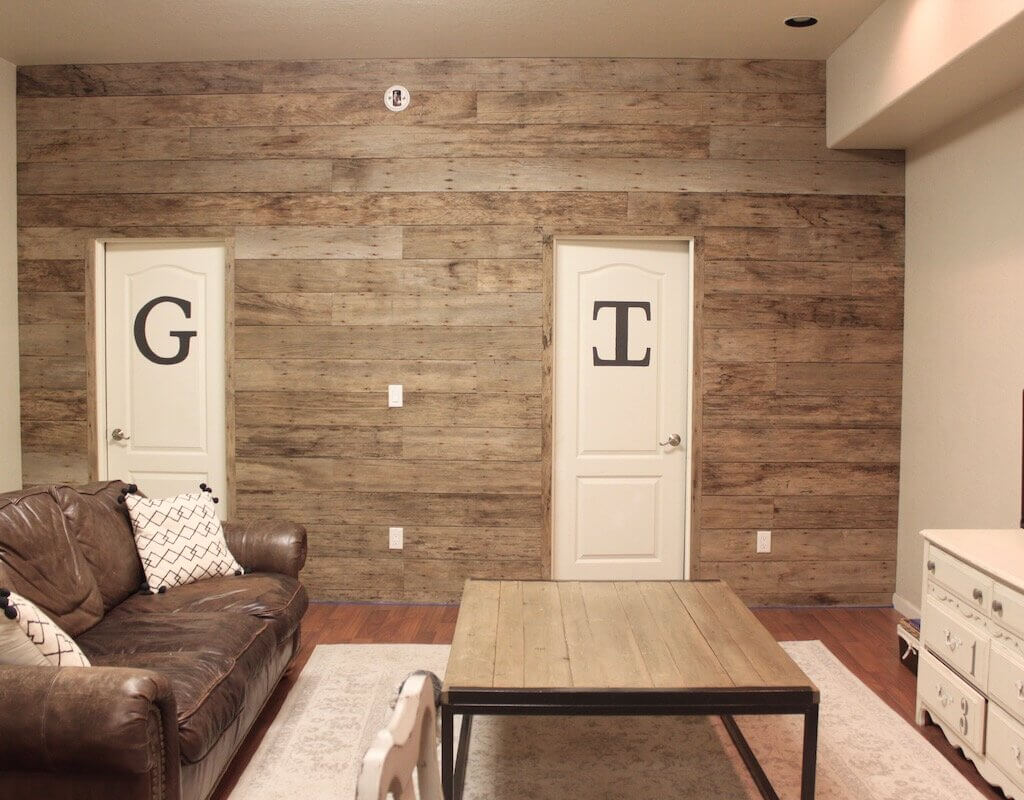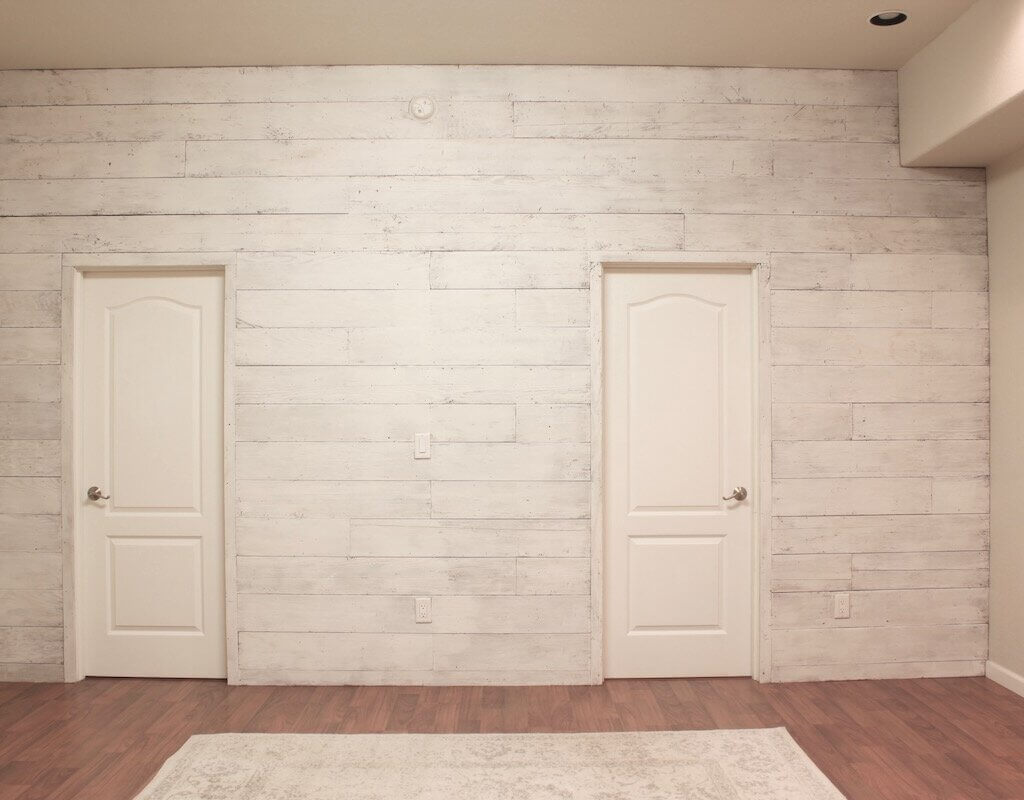 After sitting with the above whitewashed wall and repainted bedroom doors a couple days, as well as soliciting much feedback from all of you online, I made the decision to fully paint the wall SW Alabaster since the whitewash looked off to me. Painting it fully was a good choice.
This next photo shows the wall to the left of the plank wall. Did I mention this room boasts 6 doors total? To the right is the bathroom, to the left is my decor storage closet. Wall color is SW Wool Skein but will probably change to SW Silverpointe as the undertones of green aren't working for me.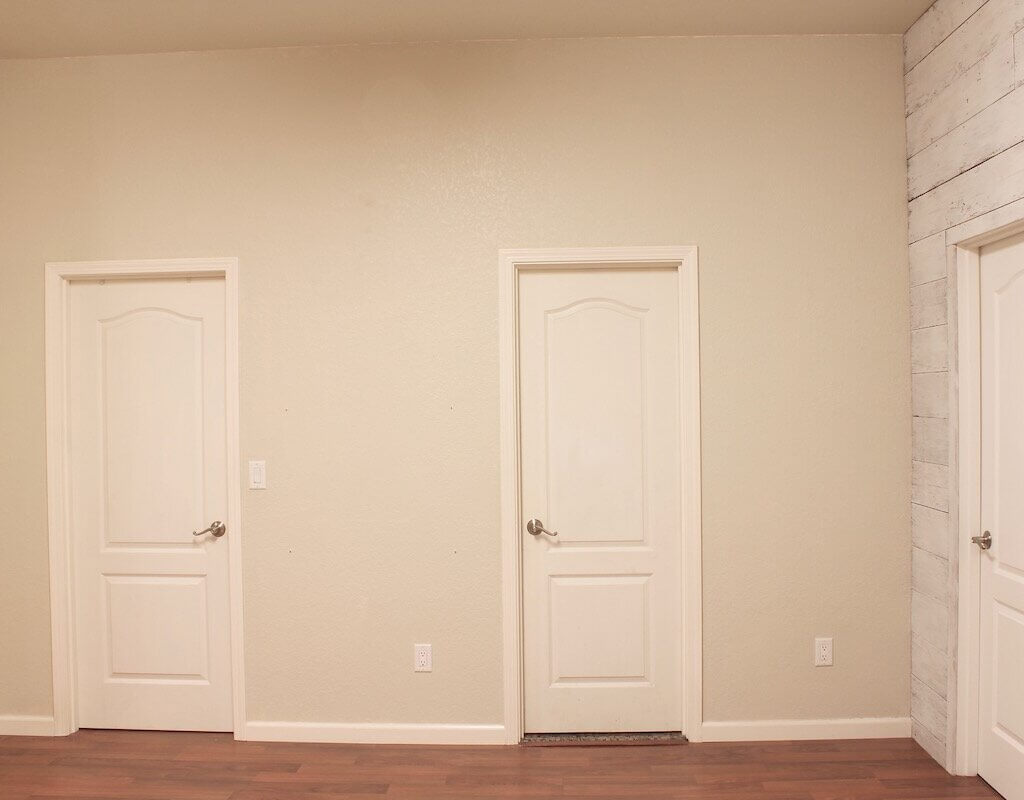 This long wall to the right of the plank wall is where the entertainment/media center will go. We've tried using the plank wall as our focal wall (and tv wall) but it's just too congested and feels closed off due to the necessary sofa placement.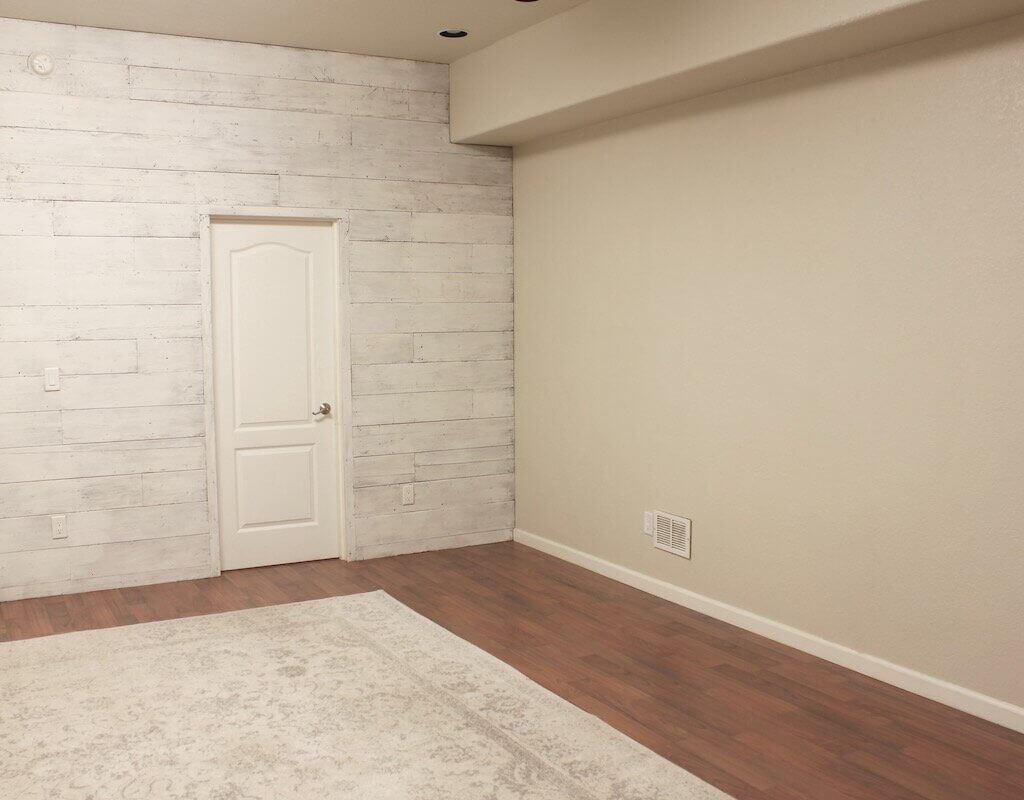 So, given the parameters above, here is the Inspiration/Design Board I have created for our new Rustic Boho Family Room: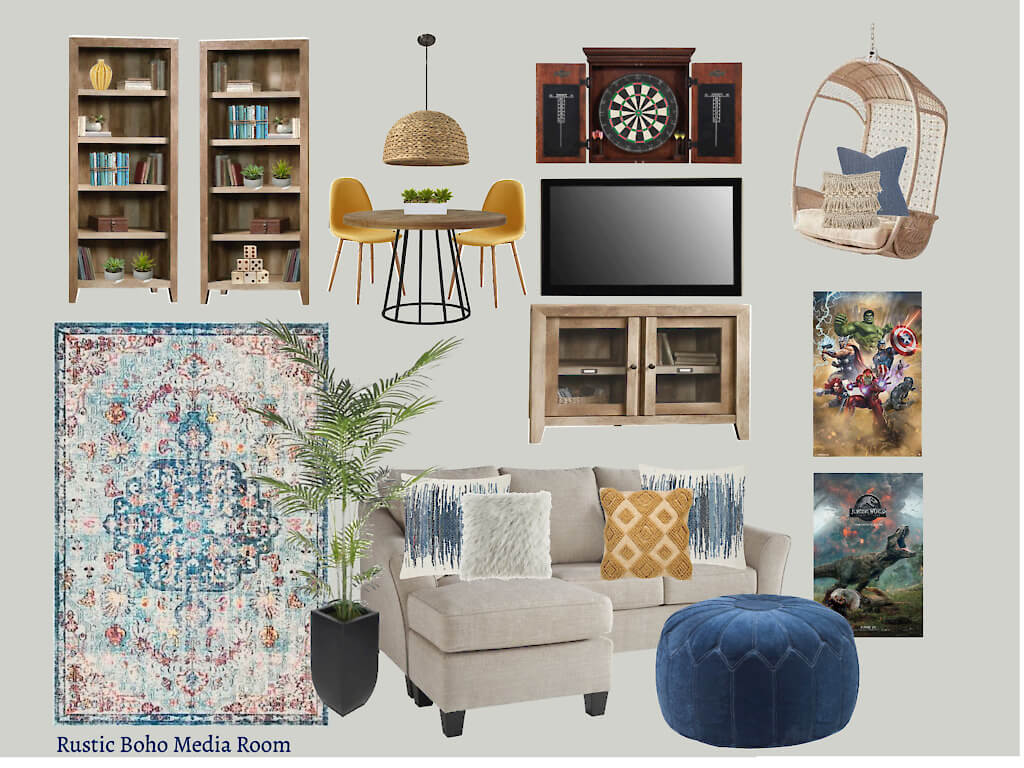 What do you think? Did I throw in some family members' passions (Avengers?) Do you see color? Is there a bit of rustic? How about the rattan swing and large blue ottoman that usher in that fun, boho vibe to relax the more structured (smaller framed) chaise sofa?
Below are updated photos showing the freshly painted plank wall and a new rug we just received from Overstock.com. (This is the first time I've used Overstock and was very satisfied with both their price and their shipment times.)
I also temporarily hung a couple movie posters from my son's room on the wall. I don't know if they'll stay or not, but I wanted to see what the frames and color would look like in this space.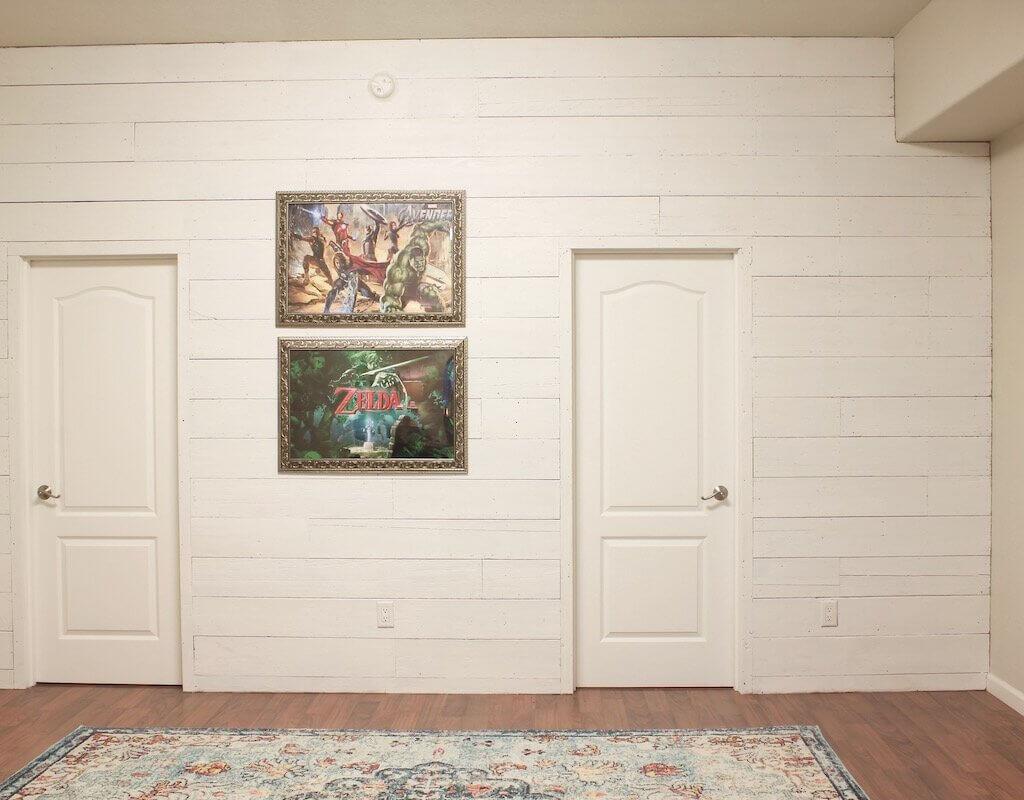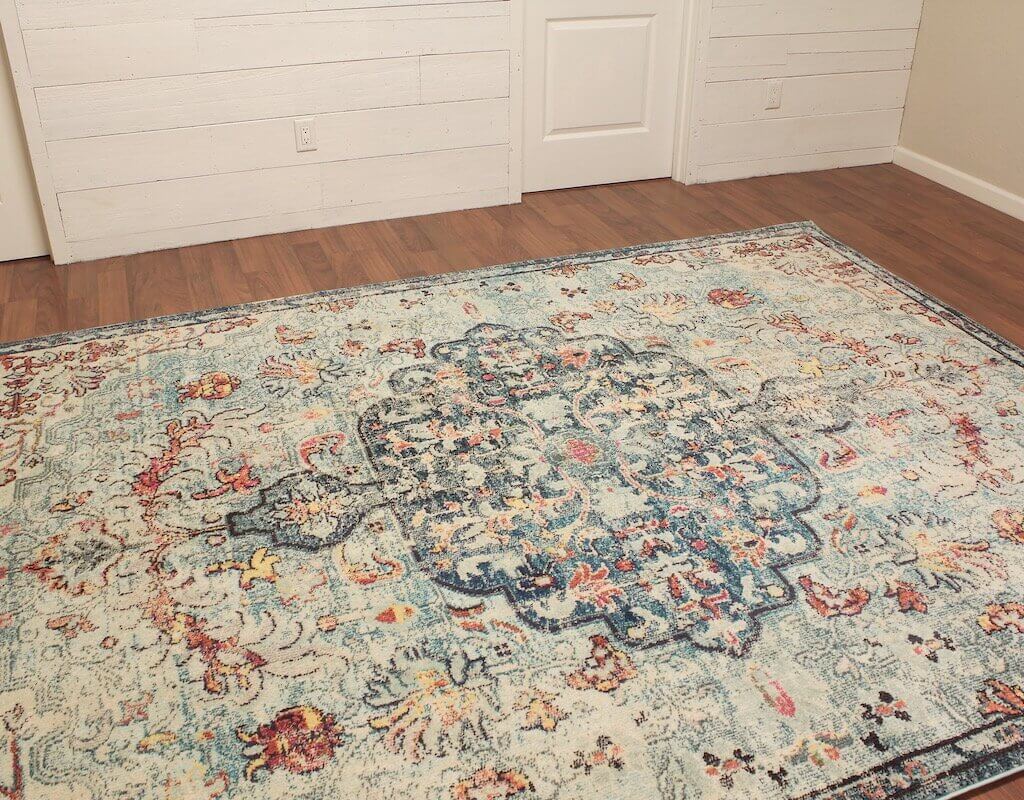 I'll admit the colors in the rug scared me when I first unrolled it. But with the neutral tones on the walls, sofa, swing, and remaining furniture, I trust it will ultimately be exactly what I'm hoping for.
I'm eager to add updated furniture to this room, but we are still waiting on existing furniture to sell (you know how that is). The good news is we are moving forward, and every small step is progress toward our ultimate goal:
A room that reflects our family, ushers others in with open arms, and provides a comfortable crashing zone for the kids.
Thank you for coming by today!
Jaimee