One of my favorite things to do when I visit a home design blog is to click on the Home Tour page and gaze at all the marvelous photos of other people's homes. You, too? This is not a new obsession: Even pre-children, Fireman and I used to frequent local Parade of Home tours for the sheer joy and pleasure of walking through newly constructed, beautiful homes. What I love most about Home Tours is that they reflect the styles, personalities, and stories of the families within. Tours are a personal, private glimpse into other homeowners' lives, and although we find much to admire in other homes, we often realize that in many ways, we all deal with the same dilemmas in our homes. Things like mudroom chaos, inefficient closet organization, pantry storage issues, and paint color mishaps. In the end, although a Tour can be gorgeous and photos stunning, reality still reigns if humans are present 🙂
It's been a goal of mine for awhile now to add a Home Tour page to my site. I am starting with one room at a time…each one is still in progress, but I know I am never alone in that. Don't we always have ideas and dreams and projects we're working on? If we waited for perfection, no one would ever post a thing! So today, we'll start with our kitchen.
Our kitchen has been a work in progress from day one. The previous owners did not really cook, so they originally warned us that this was a "one butt kitchen," and boy have we found that to be true! However, because of its location in the house we are extremely limited on our expansion options, so we continue making it work for us.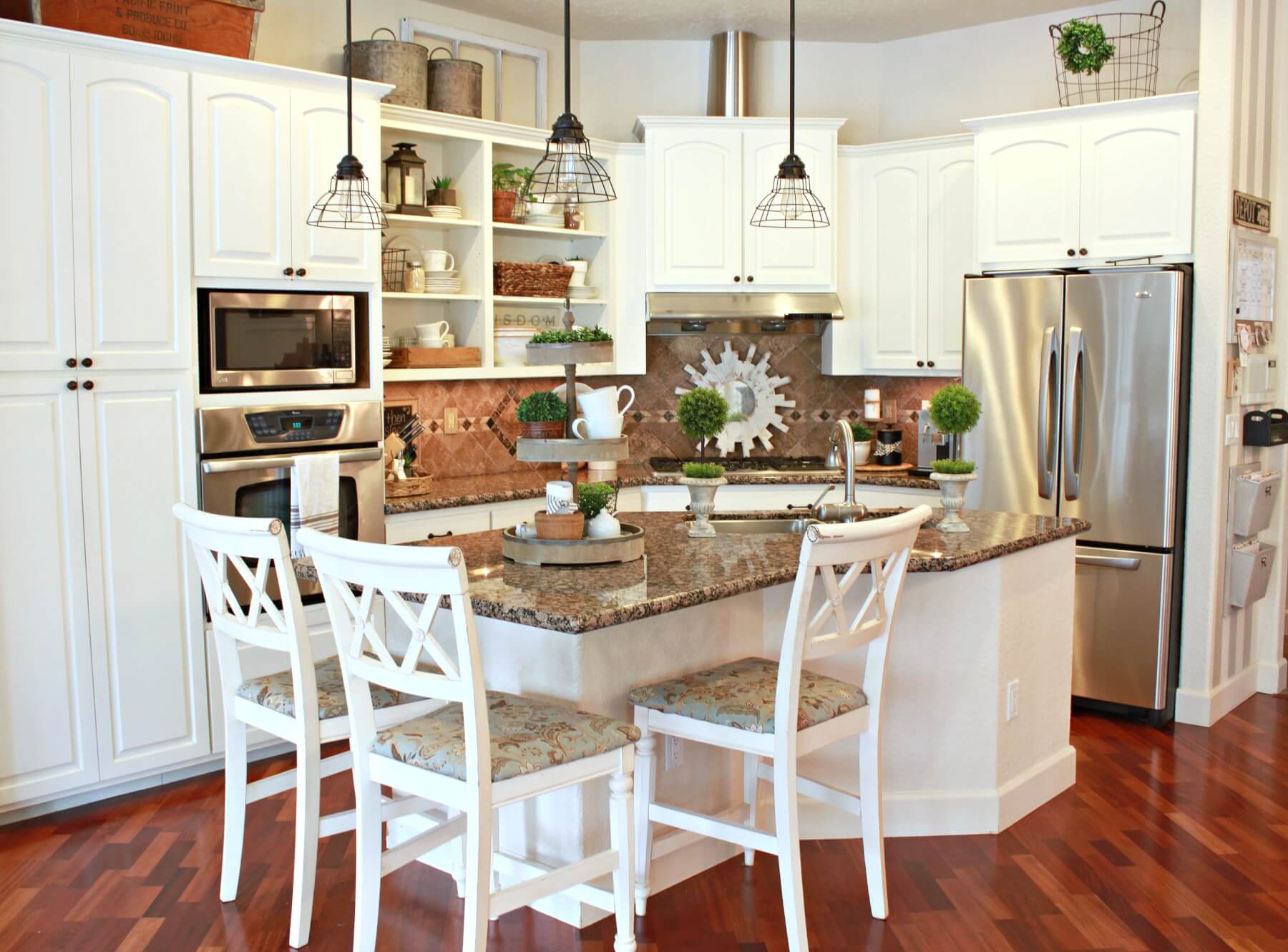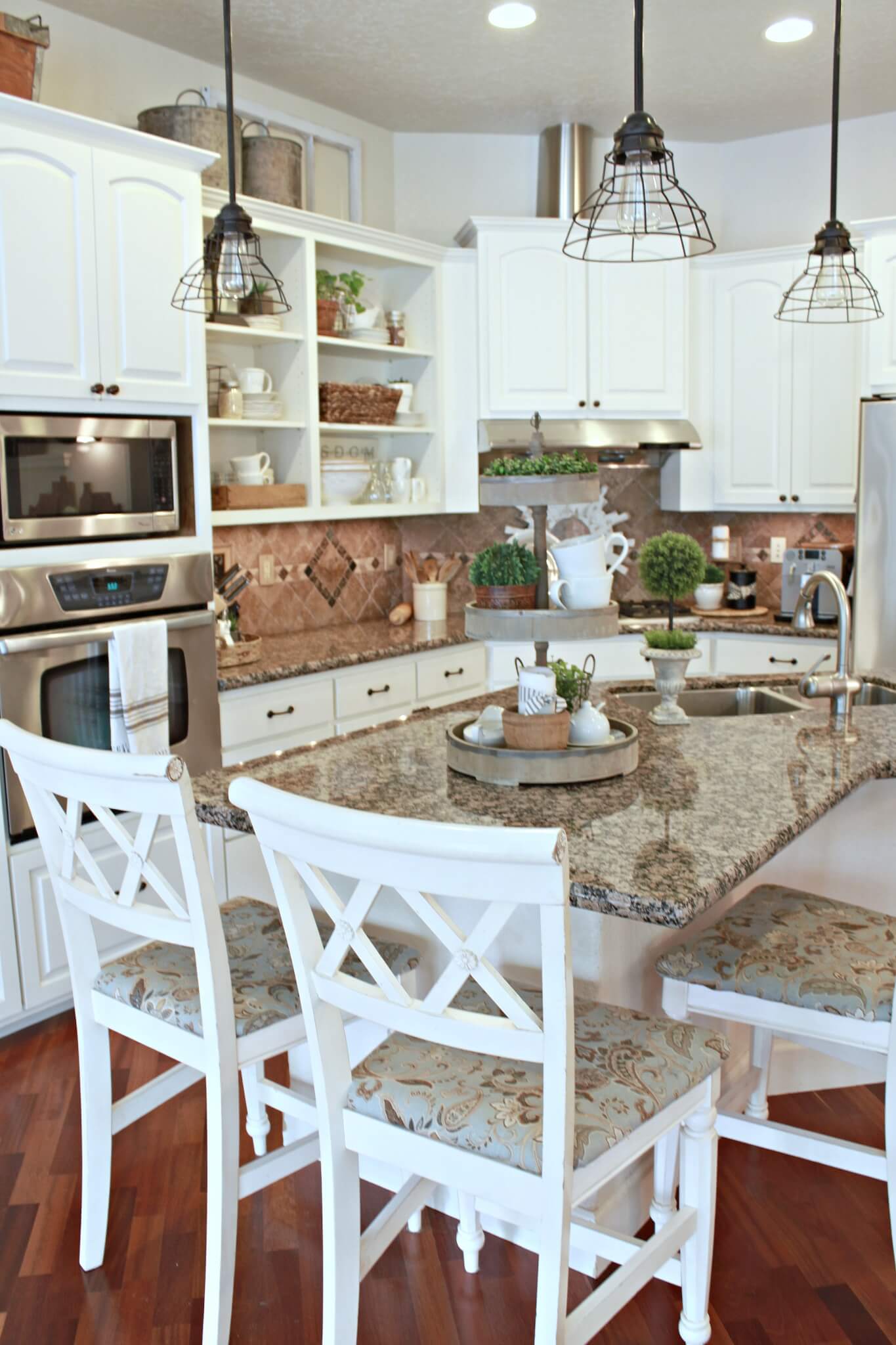 A few years back I removed the cabinet doors to see if we would like the open shelving feature. This turned out to be wonderful thing; we love the convenience and efficiency, and it's a fun place to style. Sometimes I get behind on the dusting, but overall it's been a great transition.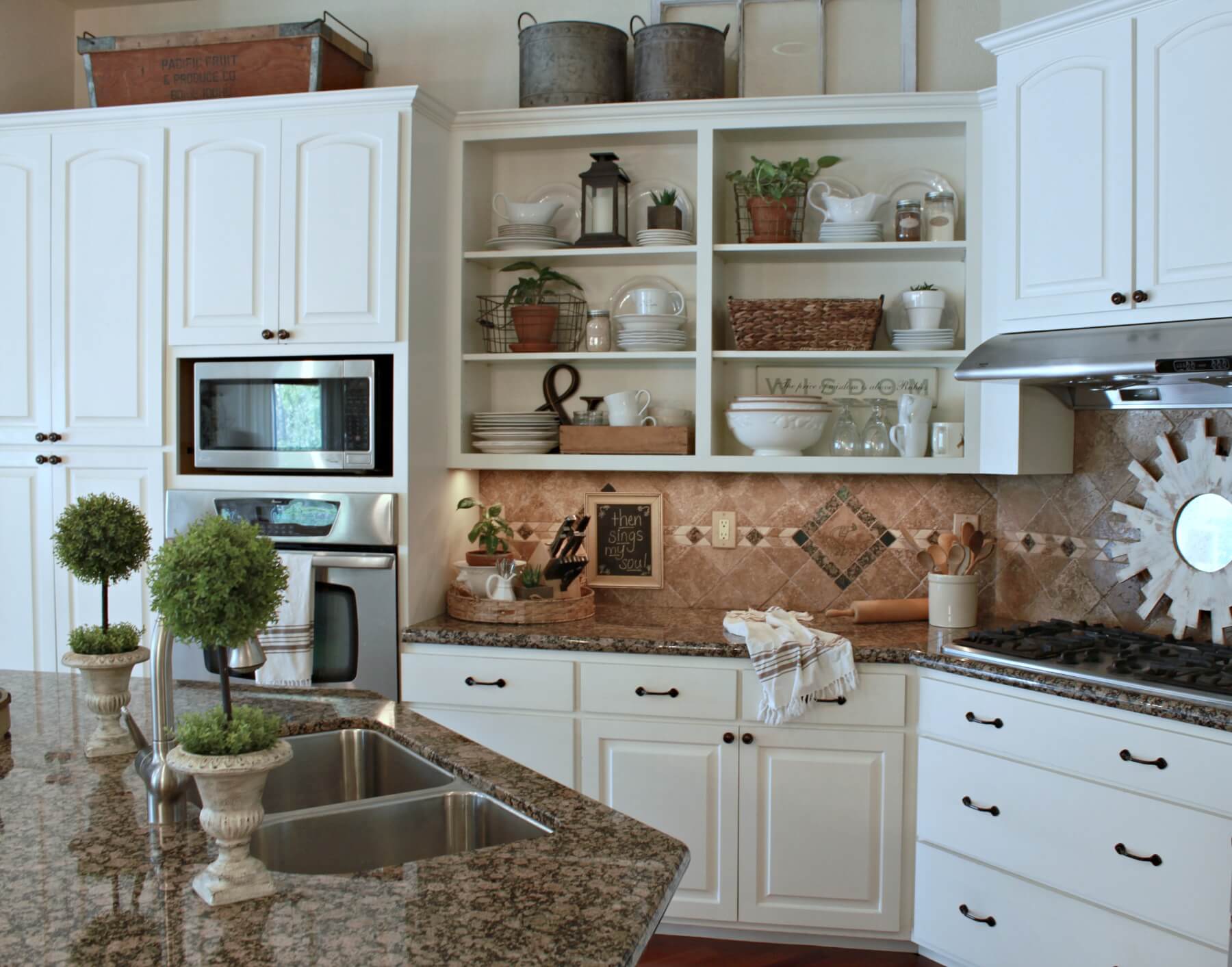 My favorite features of our kitchen are the gas range (an honest-to-goodness answer to prayer), and the placement of the sink (great for maintaining face-time with family & friends while working). The high ceiling and well-designed lighting are strong features as well.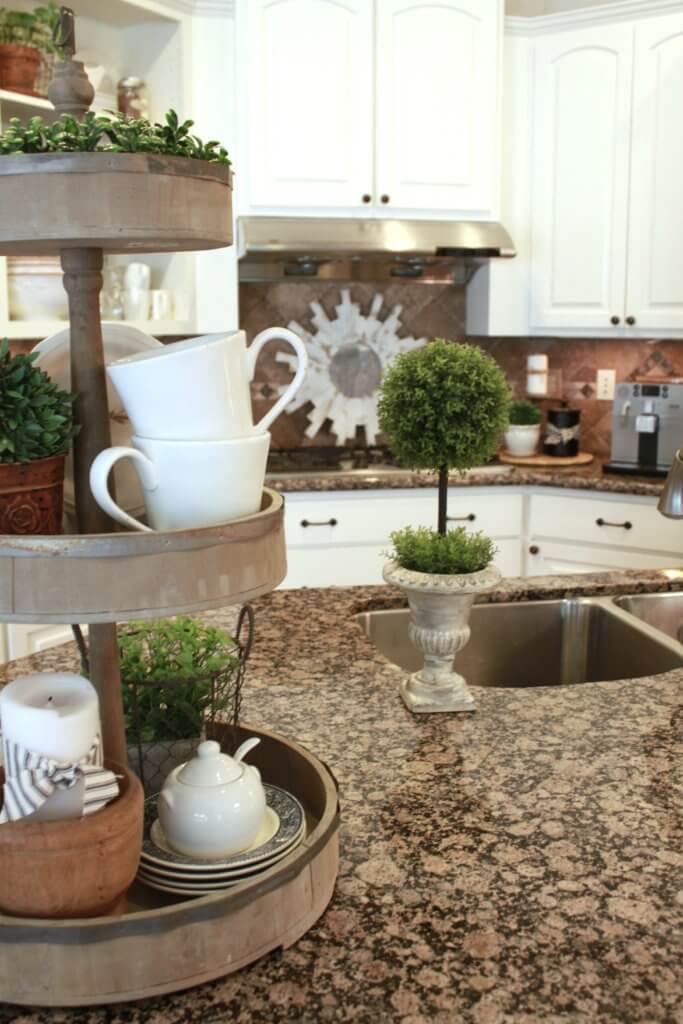 Features I would love to change? The island configuration, the tumbled tile backsplash which features Kokopelli (a Native American fertility deity) to something brighter and more "us,"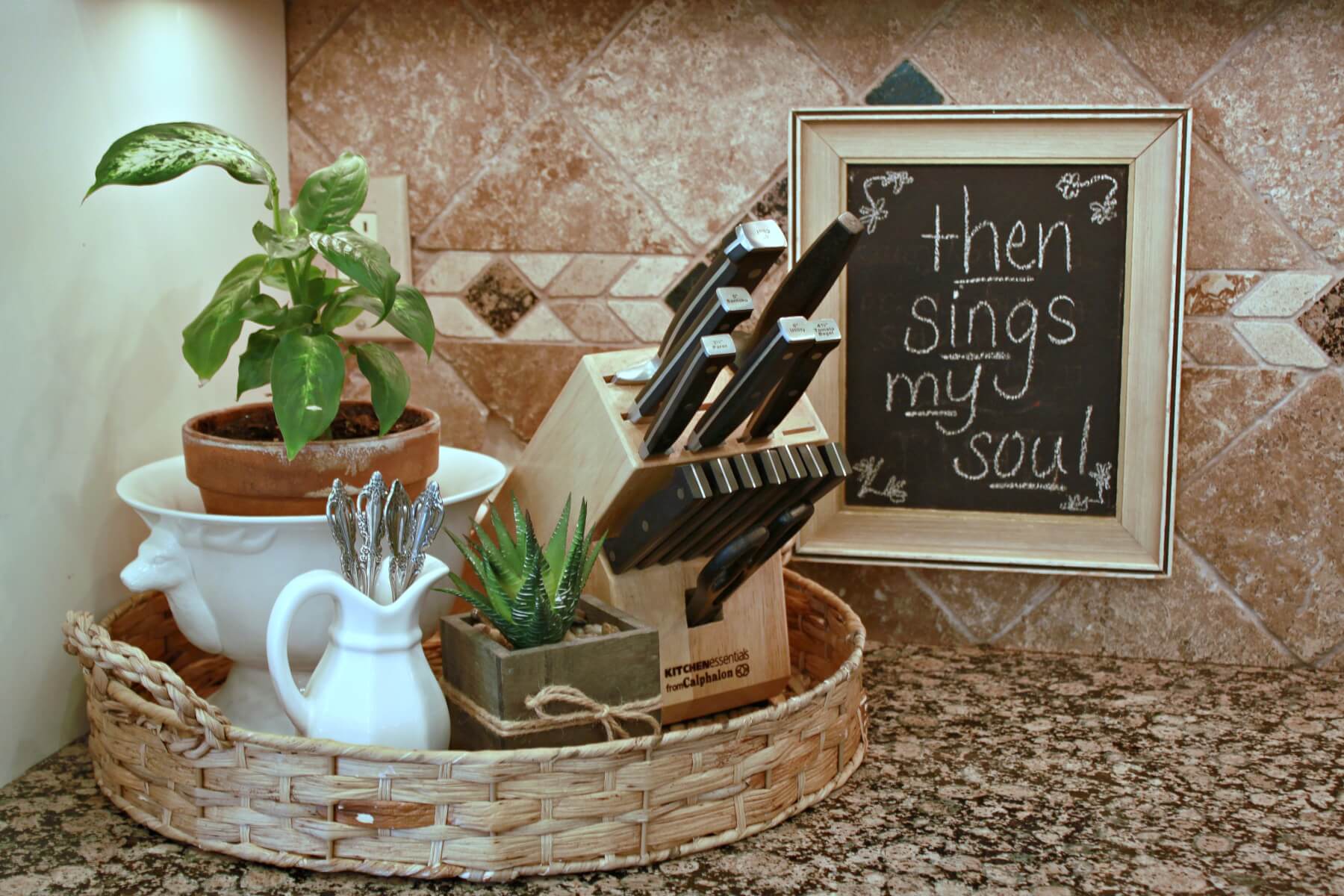 the oven/microwave area (this area was not designed well so the only microwave that will fit is an inexpensive dorm-room type),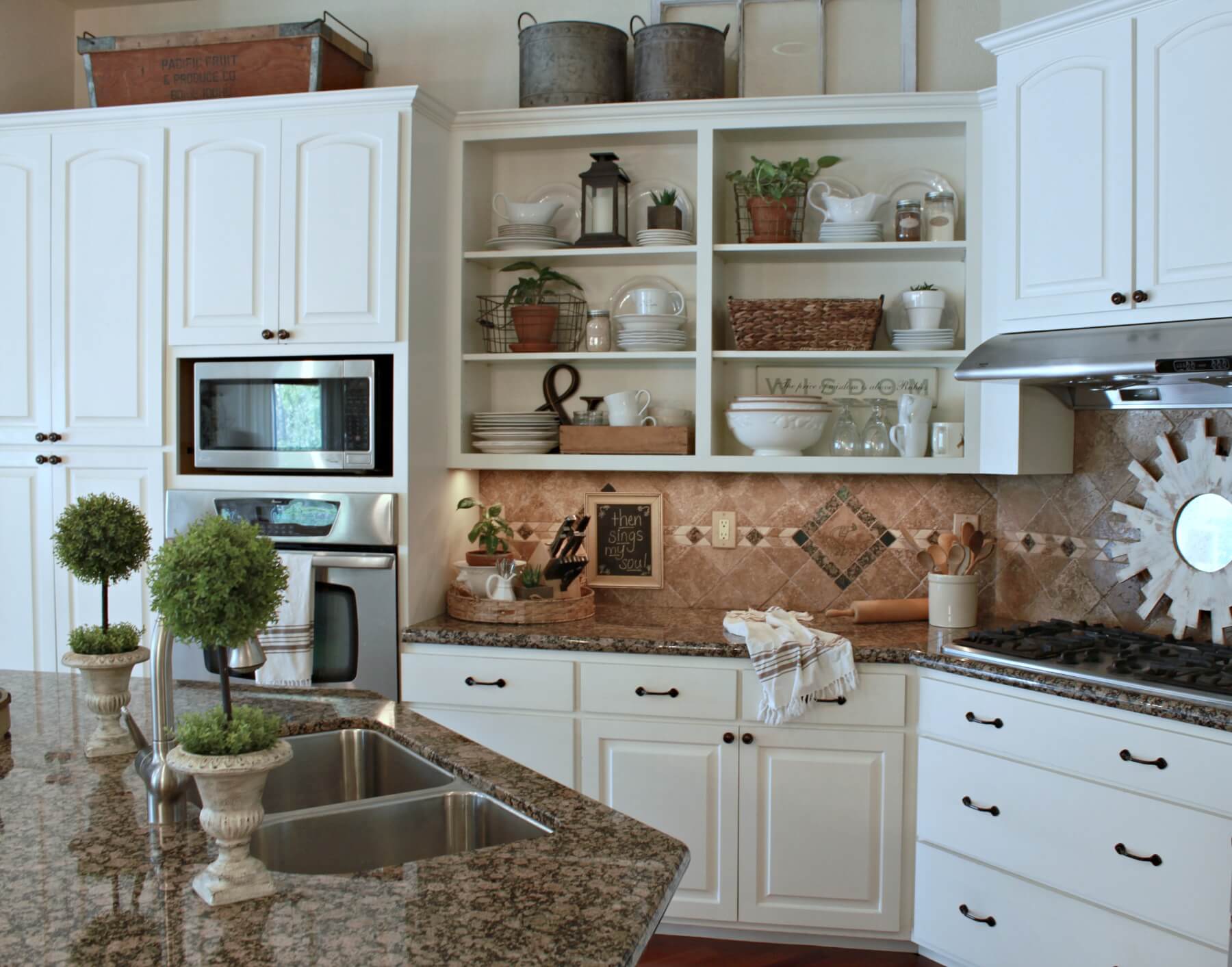 and eventually replace the open cabinetry with rustic wooden open shelving similar to what we did across the room in our living room (but with stronger, more substantial brackets and wider deeper shelves):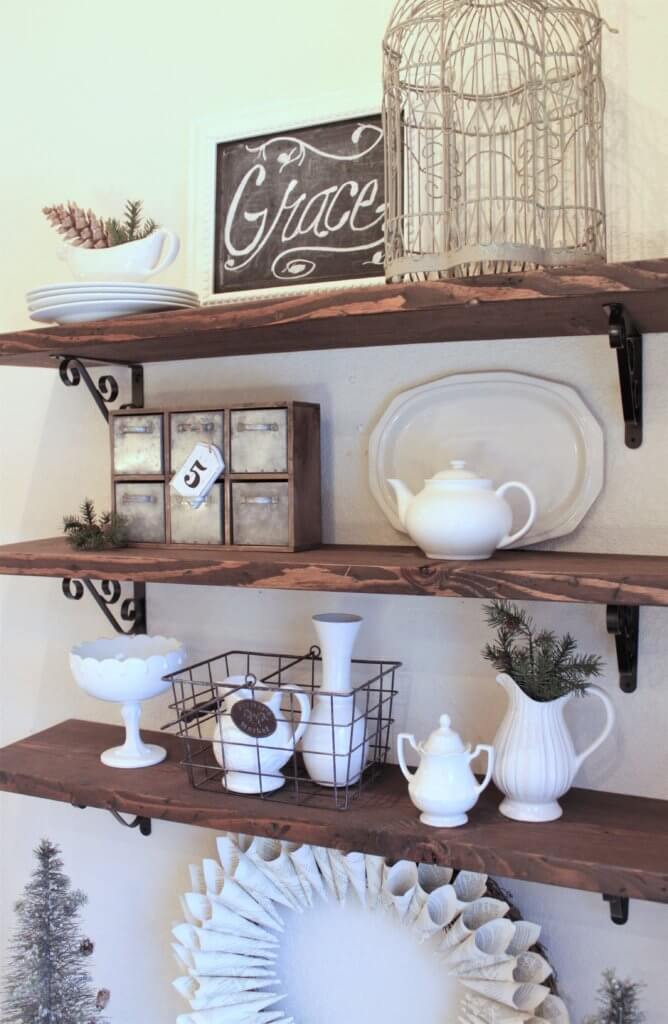 Here is what the kitchen looked like when we moved in. What a change, right? Although this wood was beautiful in its own right, it was custom made and extremely soft. The finish, especially on the bottom cabinets, was not holding up well at all and needed work.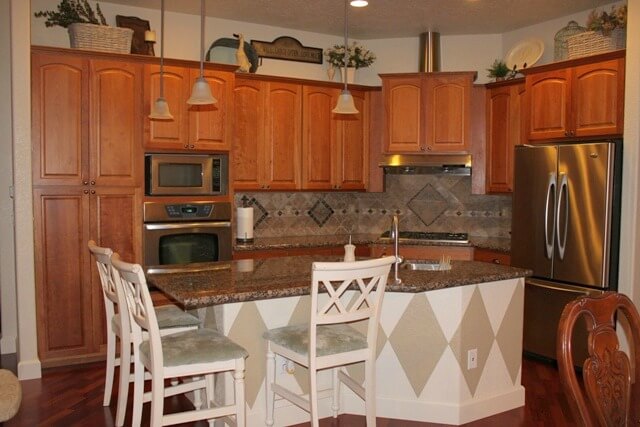 Two years ago we finally dove in and painted everything Sherwin Williams Creamy, replaced the pendant shades, opened up the cabinetry to open shelving, and repainted the island. (You can read the post about my cabinet transformation here.) We've come a long way to get to where we are today.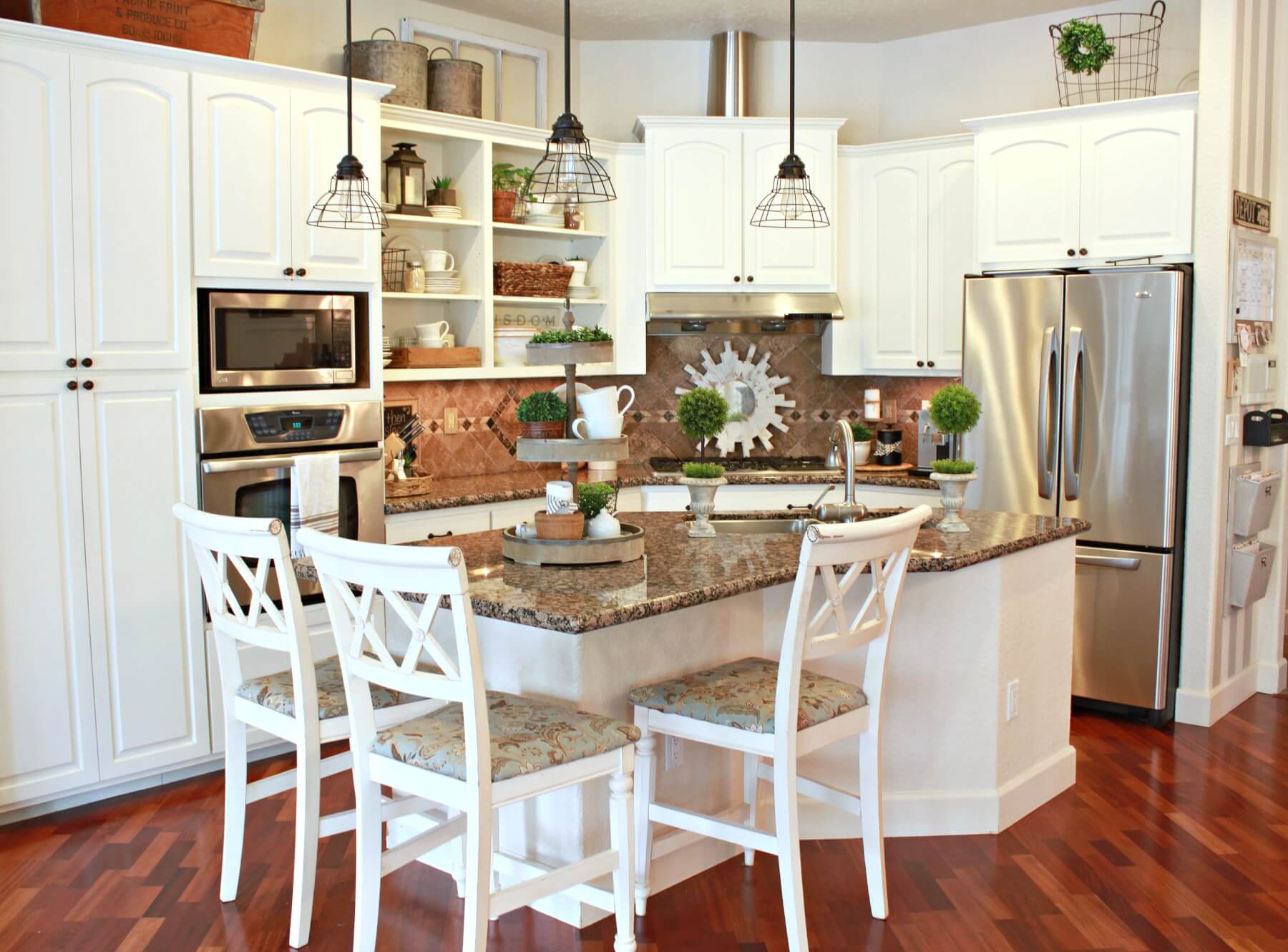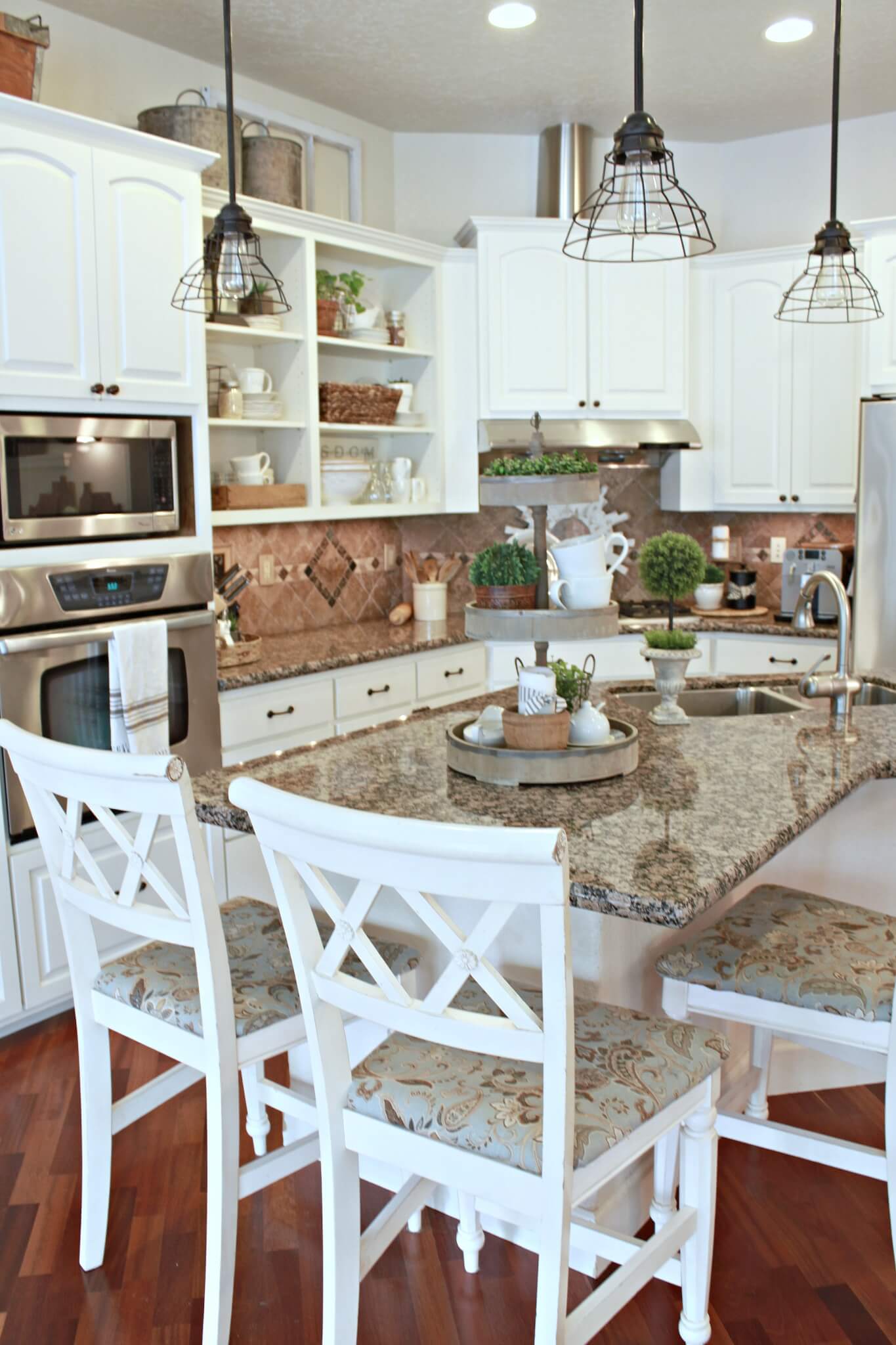 I hope you've enjoyed this little glimpse into the heart of our home. Painting these cabinets was one of our most intimidating, largest projects to date, yet so worth it in the end. I would do it all over again in a heartbeat.
Jaimee
Save
Save