Yes, we took our beautiful sweet time on the boys' bedroom refresh, but this week we finished the details and I'm eager to show you the final result.
As a reminder, here is the Inspiration Board I designed to keep us on track in this space. Repeatedly, I find myself returning to Inspiration Boards to ground my choices and keep my creative distractions on task. Maybe you can relate?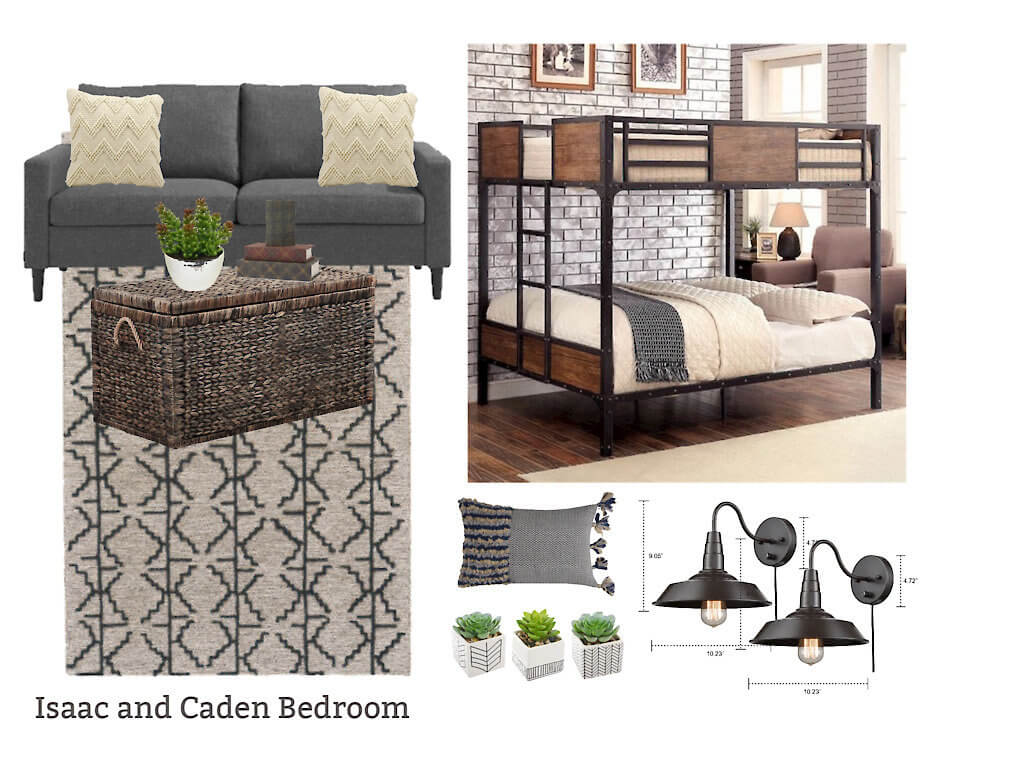 Here is our finished product.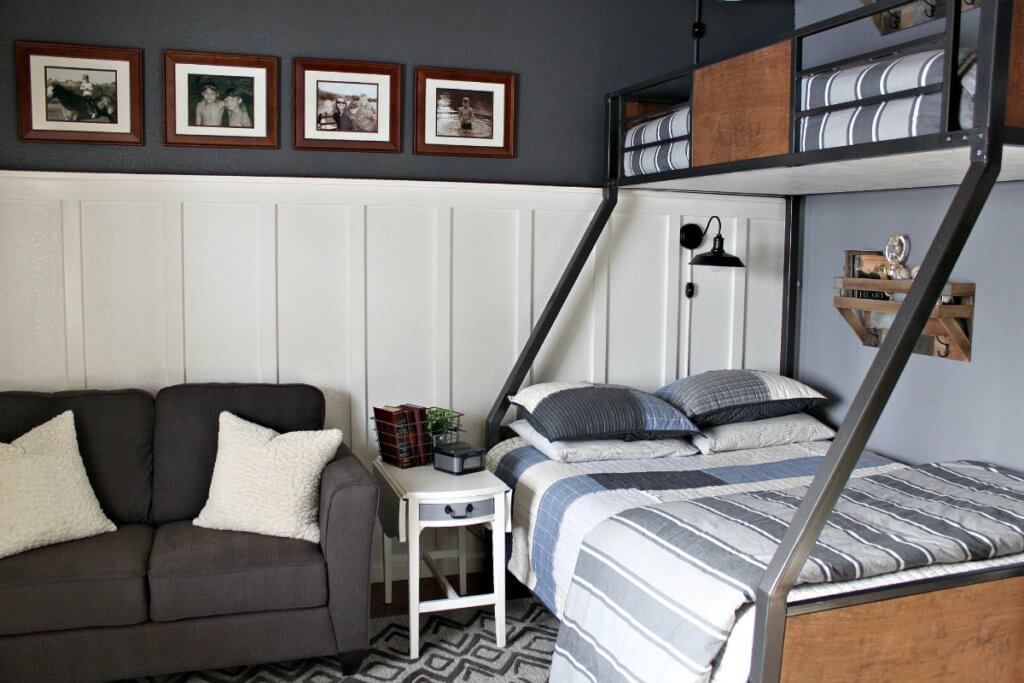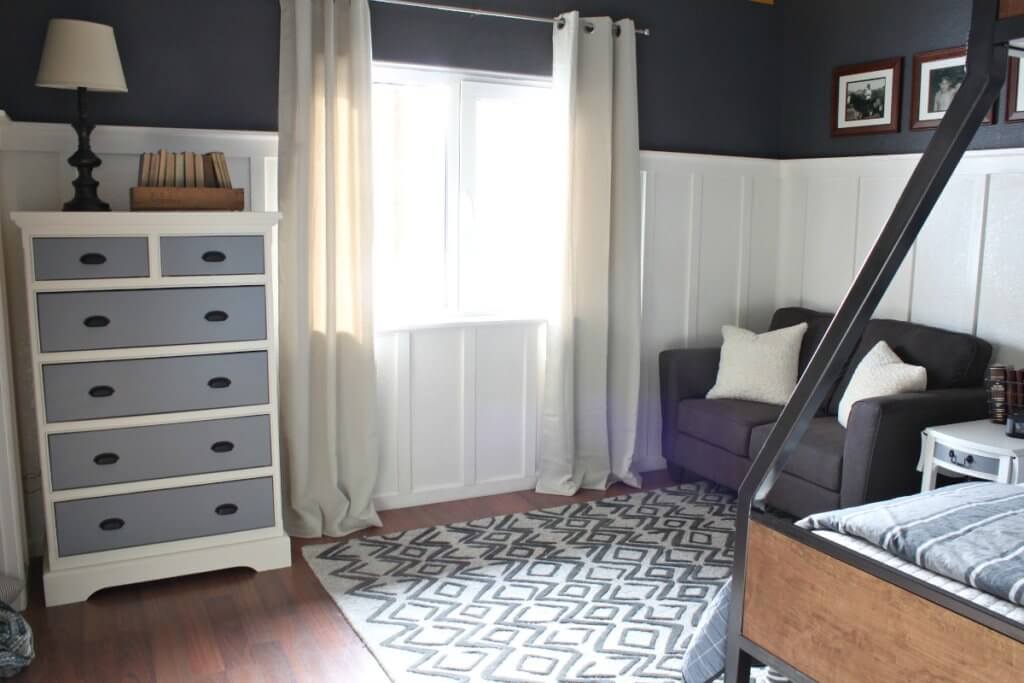 We stuck pretty closely to the plan. Fireman outdid himself designing and welding the bunkbeds. (I've begged him to write out the building plans as so many have requested, but he's been swamped with life projects and being a daddy to more children than he knows what to do with; I'm just not sure plans will ever happen. But if it does, you'll be the first to know!)
For those who like this kind of detail (like me!), wall colors are: Sherwin Williams Peppercorn above the board and batten wall treatment, with the bed wall lightened by 50%. Board and batten is painted SW Creamy.
The boys and I fell in love with the graphic Modovari wool rug from our local Fred Meyer, a steal based on similar wool rugs online. The Modovari rug set a youthful, bold vibe in the space and helped steer our other selections.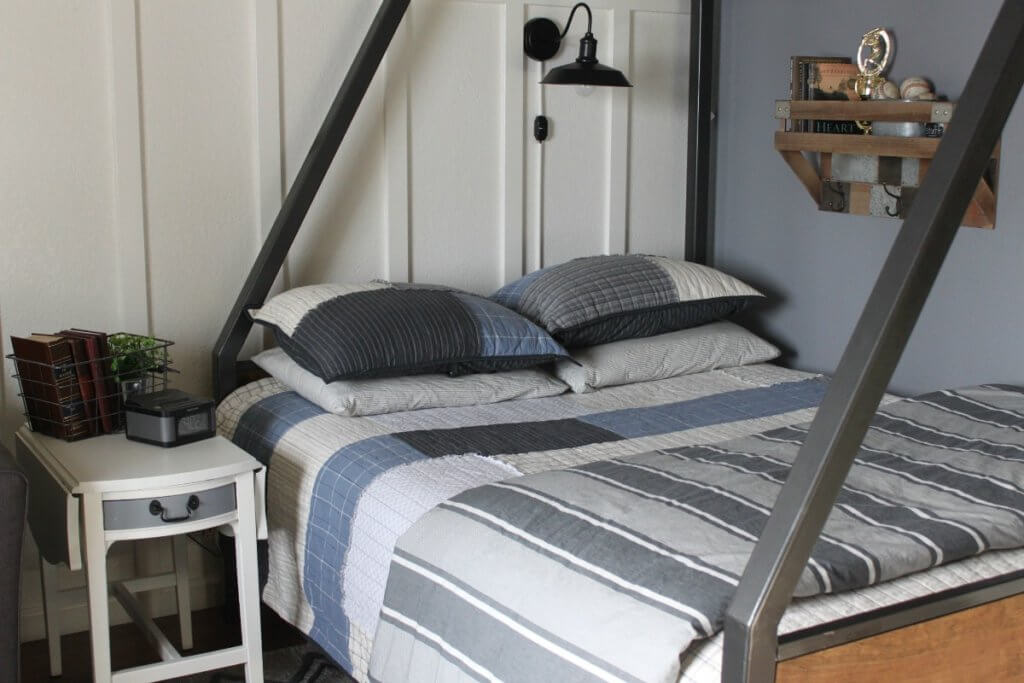 We found the patchwork quilt at Walmart and the striped duvets at pbteen. Because we live in Alaska, both boys still covet down comforters in spite of spring's inevitable arrival soon!
I painted two furniture pieces from pieces we already owned. I can't tell you how therapeutic it was to paint furniture again; it's been waaay too long!
The dresser was in our son's bedroom originally but needed a fresh coat of paint to match the new color scheme.
This nightstand was also a fun transformation:
I found two shelves for above the boys' beds at a 50% clearance sale and thought they added a fun touch. Sconces are from Amazon.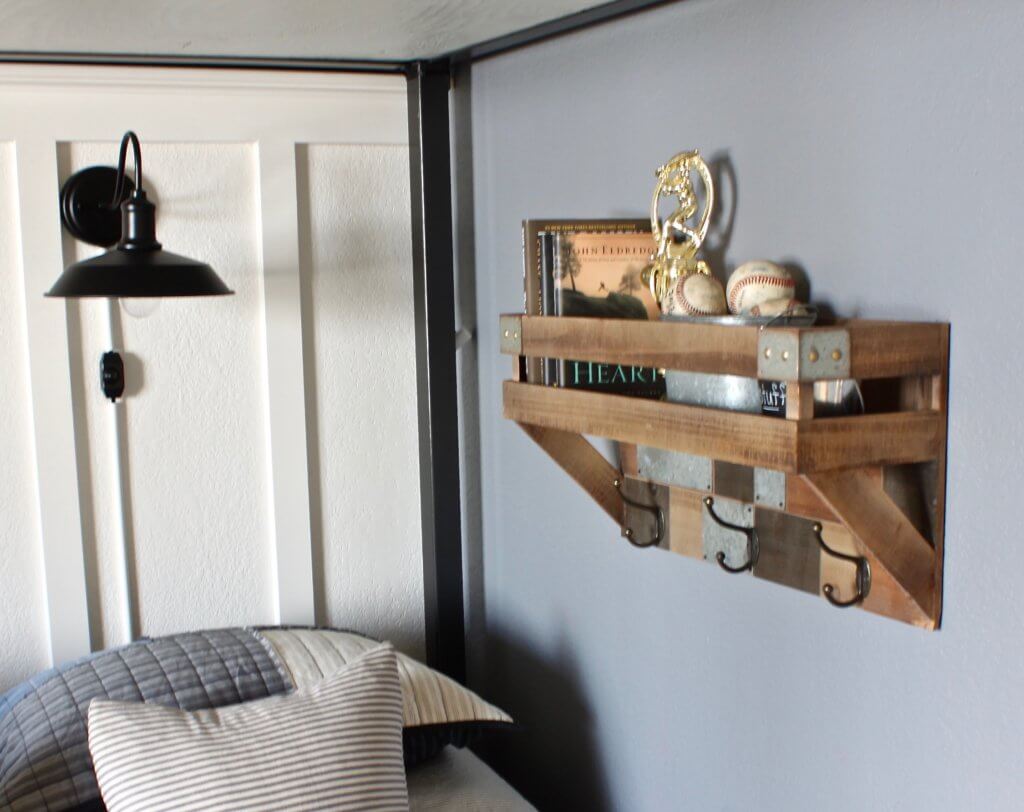 Finally, I lined up this row of old school books as a tribute to Fireman's father; they belonged to him as a child and I absolutely adore them.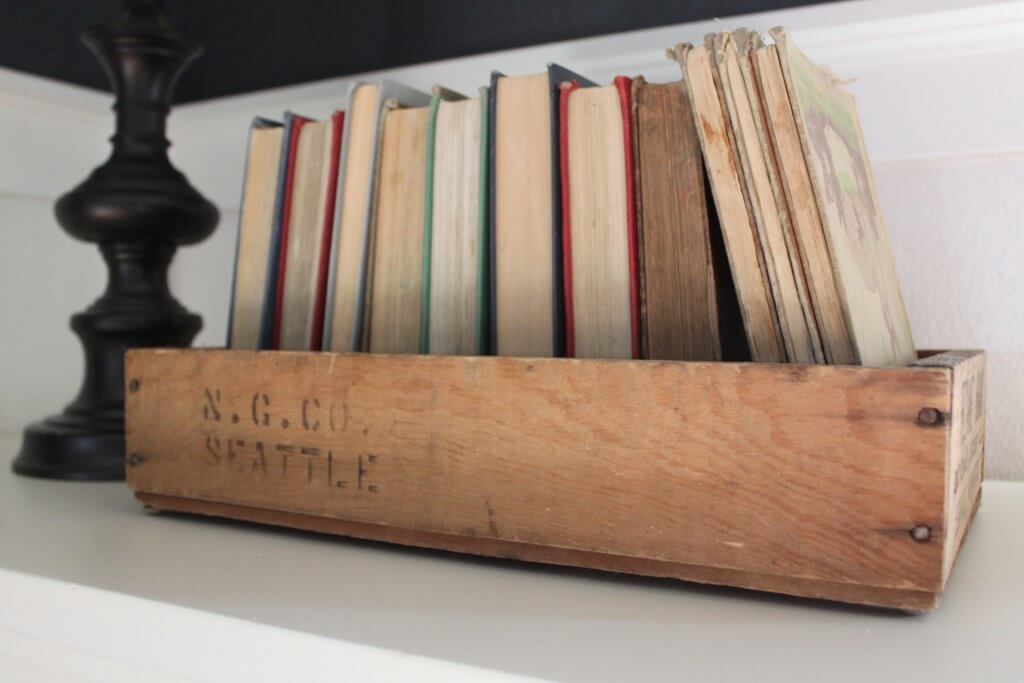 As some of you may know, this bedroom transformation was prompted by the December arrival of four foster children to our home, siblings who happen to be our 3 nieces and nephew. The boy is 14 and is sharing this bedroom with our 17 year old son. These two charismatic young men share hoodies, Michael Jordans, and Playstation controllers daily, yet what warms our hearts most is their selfless acceptance of one another during this challenging life adjustment.
Designing a joint bedroom for these two boys was a true delight.
One of their "please, Mom!" requests was "could we please, please, please have a gray loveseat in our room?" After selling an older loveseat we no longer needed, I found this perfectly sized piece on sale for only $134 dollars. It is the Metropolitan Loveseat in Smoke with a masculine, tweed fabric. No, it's not high quality, but for this setting and for two teenage boys, it is PERFECT. I was tickled with the price, and they are tickled to have a place to hang out and visit in their room.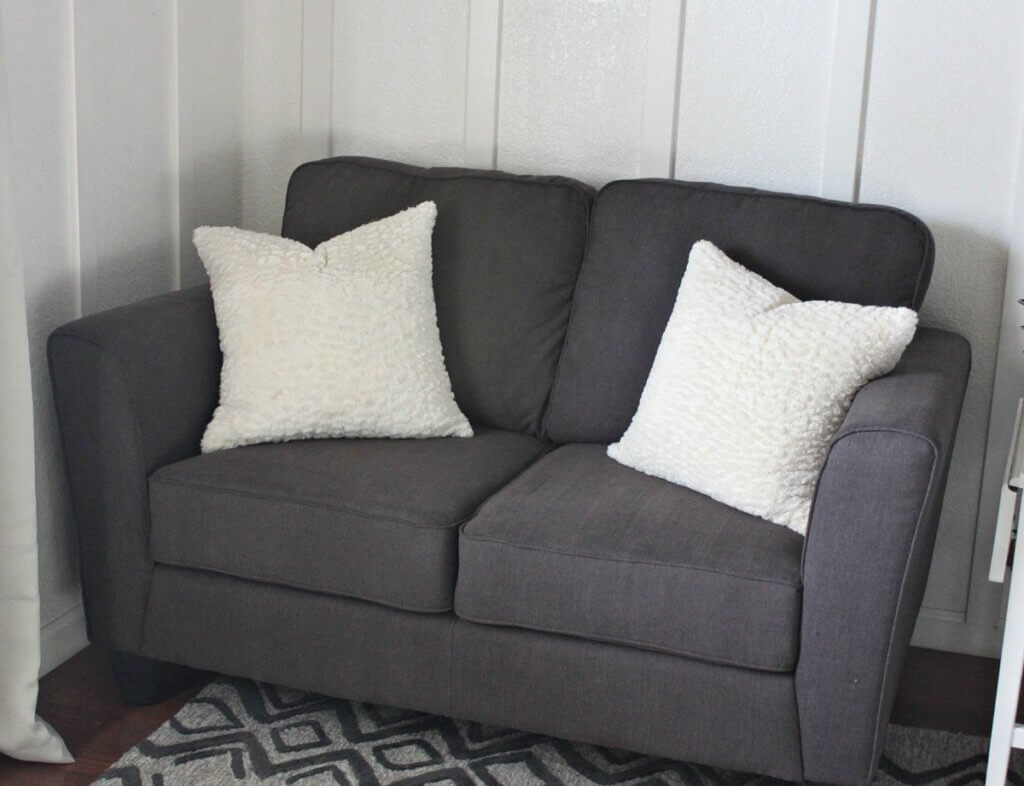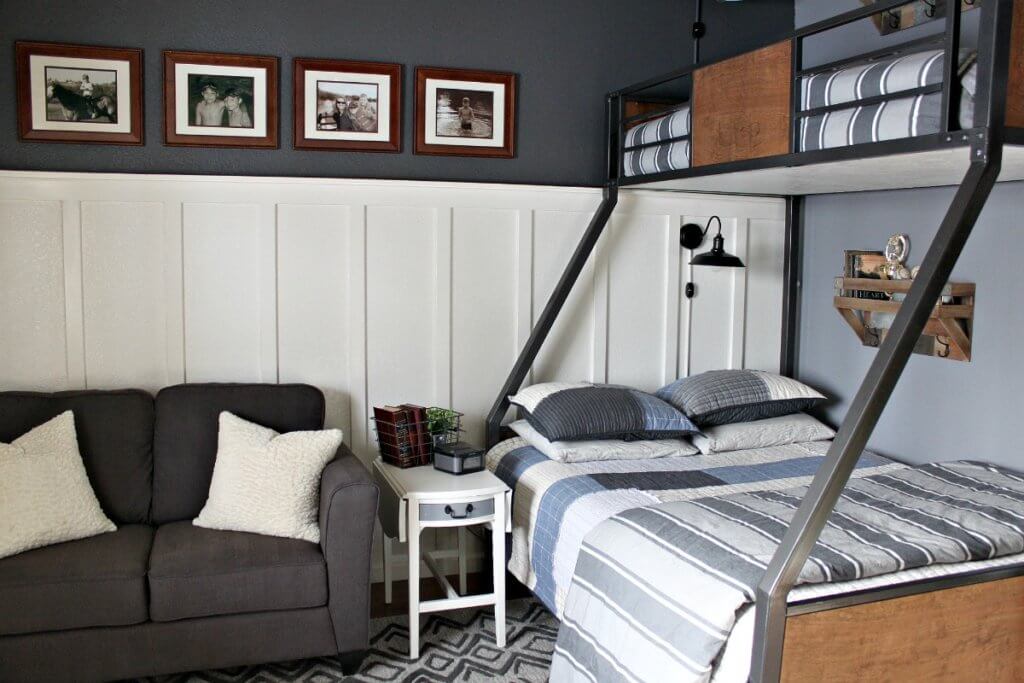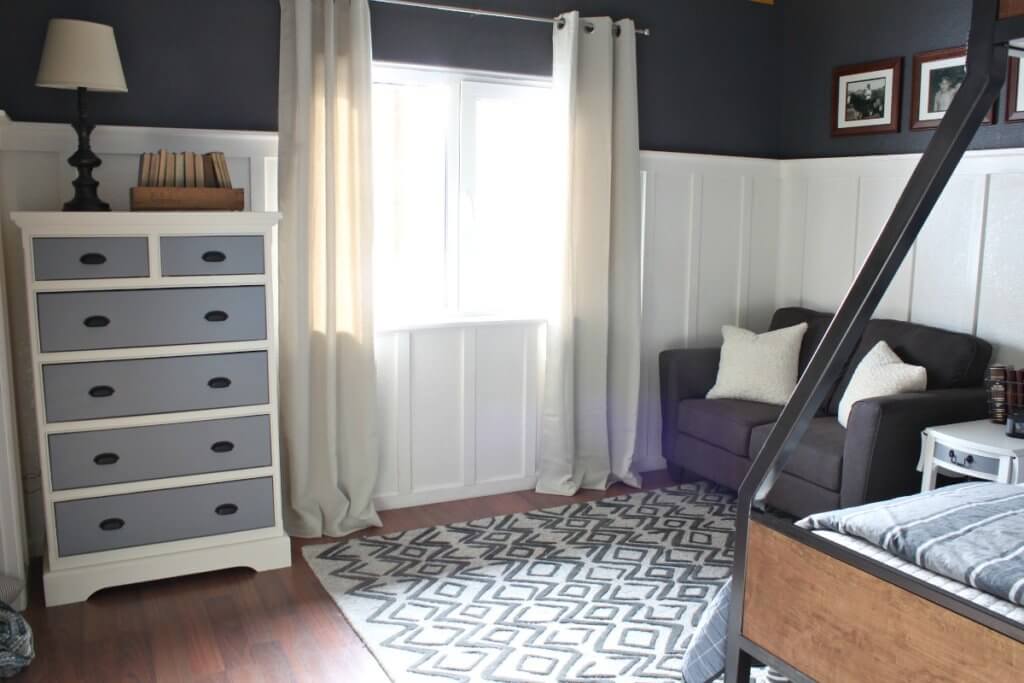 If you'd like to see what our son's room looked like before, hop on over to this post to see the details, including how we installed his board and batten.
Have a wonderful weekend, friends!